From canine fitbits to personalised nutrition regimes, a new raft of technology is fast changing the definition of a dog's life 
The phrase 'a dog's life' used to be a negative thing. Today, the phrase could easily provoke envy. For pooches are being pampered and cats are being cosseted like never before. Chilled premium petfood, fancy clothing, wearable tech and fun novelties are being thrown around like choccy drops.

We've become used to petfood that mimics what humans eat. At Christmas, pets can choose from a menu that would rival a traditional turkey dinner. While Sainsbury's is offering a three-bird feast, Lily's Kitchen has crackers and Advent calendars.

Now the humanisation of pets is going beyond luxury food. We want to give them the same life experiences as mankind. Take Love Ur Dog, a shiny new hotel in Merseyside dedicated to dogs that features memory foam beds, under-floor heating, TVs and mood lighting. You can get the penthouse for £45. It's already taken multiple bookings for 2020.
All this has inspired a number of new products aiming to cater for the new breed of pet owner - from Fitbits for dogs to electronic petfood taste testers. No longer just a novelty, these devices are starting to become a serious business.

People are beginning to treat dogs like a "member of the family, almost like a brother or sister" says Andrew Nowell, founder of pet tech business PitPat. "Traditionally they had a more functional purpose, but now real love is coming through, they are being treated like children. Owners are not prepared to leave them at home, so you have things like doggy day care, where they expect them to be entertained. And now there are discretionary purchases like luxury food, dog beds or carriers, rather than just a collar and a lead. There has been a real shift in the market."
"Now there's luxury food, dog beds and carriers rather than just a collar and a lead"
This is where his product comes in. While humans are taking care of their health with a Fitbit, they can buy a pet version: a PitPat. "Over the last few years wearable technology for humans has absolutely exploded," says Nowell. "We are essentially doing the same thing but for dogs. It's a device that straps on to their collar, measures their activity, and sends the data to an app on your phone."

The owner sets up a profile on the app for their dog based on its age, weight and breed, to determine the right goals. "A Chihuahua needs a very different amount of activity to a Great Dane, so our app has all this information and every day you try and hit that exercise goal."

Admittedly, this technology is still far from mass market. PitPat has so far sold "over 30,000 devices", against an estimated eight million dog owners in the UK.
But Nowell is convinced the market is reaching a "tipping point", especially as outside companies are starting to see the potential. Much like a teenage driver being monitored by an insurance company for a better deal, he says insurance companies are now providing PitPats along with their policies. "They want the owner to keep their dogs happy and healthy," he says. "And an owner will generally get cheaper insurance if they have one of our products to demonstrate the dog is walked every day."

For the particularly tech-savvy, these activity devices could even be linked to nutrition. Over in the US, online startup PetMio has developed a system that determines the right food for your individual pet based on exercise information. For example, an increasingly sedentary dog will receive food with a lower fat content. A smart pet bowl will even measure how much of the food your pooch is eating to make sure it is receiving the right amount.
Dogs on the catwalk: how fashion for Fido took off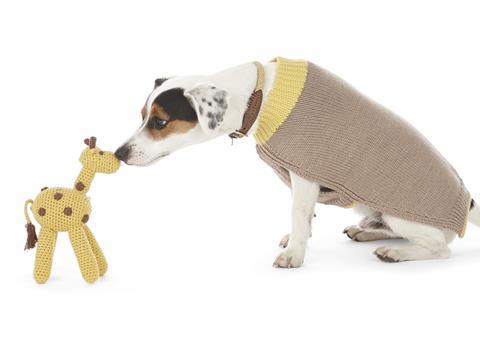 Chelsea is one of the most stylish areas in London, filled with expensive houses, cars and clothes shops. So maybe it's no surprise that in 2011, Chelsea Dogs, which started out offering dog walking, day care and pet taxis, launched the Chelsea Dogs Online Boutique.
It made it into Vogue magazine in 2012 and now sells a huge range of luxury outfits for 'discerning dogs', including a tweed jacket for £50. It also sells jumpers made from British alpaca yarn and coats from 'top designers including Danish Design, Mutts & Hounds and Doodlebone'.
Adding a bespoke twist, coats come in a "variety of sizes to suit all breeds". And in a nod to influential mini dog carriers with massive Instagram followings, it offers anyone planning to Instagram their pet showing off their latest designs a healthy 10% off.
It's one of the many petwear brands catering for owners who are increasingly willing to splash the cash. Even more recherché is Mungo & Maud Dog and Cat Outfitters, whose cashmere pullovers sell for up to £154.50. It says 'when the weather nips, a cashmere or merino wool pullover is what's called for… so your dog looks fabulous even when the weather is not'.
Urban Pup, meanwhile, provides "the fashion-conscious with stylish unrivalled couture for their pets". It offers a more contemporary and affordable range of everyday fashions.
It sells a huge range of 'boy fashion' and 'girl fashion' items, including sweatshirts, dresses, t-shirts and coats, all of which can be personalised. Its range is comprehensive, extending to bathrobes and pyjamas and even formalwear, including a 'Bride Wedding Dress with Veil' and a 'Big Day Tuxedo with Bow Tie Collar' for £15.85.
It was founded in 2007 by a group of friends who loved pets and fashion in equal measure. Urban Pup's founders say they "loved the idea of looking after our pets and keeping them warm and safe, but in style. But when we looked around we could see a lot of clothes available for pets but nothing that could be described as couture or high fashion."
That's all changed. And there is no sign of this 'catwalk' coming to an end.
Bespoke petfood
In the UK, things haven't got quite this Jetsons-esque just yet. Still, online players are doing some pretty ground-breaking stuff. Tails.com, for example, uses "complex algorithms" to create personalised petfood for a specific animal, based on answers to nine questions about the pet's breed, gender, age, weight, how much exercise they enjoy, health issues, taste preferences and whether anything needs to be excluded, like a wheat intolerance.
The result is a custom blend of kibble that comes with a personalised scoop to determine exact portion control. "We adapt the blend to your dog's changing nutritional needs, striking the right balance of protein, fat, fibre and carbohydrates at every stage of their life," says Tails.

As it's hardly practical to stock personalised petfood blends in the mults, much of this activity is online for now. But bricks and mortar retailers are equally confident in the role of pet technology. Pets at Home, for one, believes demand will only grow. "The petcare sector has really embraced technology," says Claire Gavin, director of private brands and innovation. "GPS trackers, automatic food dispensers, ball launchers, electronic pet doors - we don't see this slowing down any time soon."
"GPS trackers, food dispensers, ball launchers… we don't see this slowing down"
To keep on top of the latest developments, Pets at Home holds regular innovation days, which Gavin says "have seen some great ideas that have gone on to be really popular solutions for pet owners". Not all of this innovation has to be as intricate - or as pricey - as exercise trackers and smart bowls. Gavin stresses the company invests "a lot of time researching products that make it easier to keep pets healthy and happy in a safe and simple way."

Take Pedaldish, which recently won a chunk of investment from Dragons' Den. The covered dish, which opens only when pets step on to the adjoining ramp, means flies can't get to it and floating airborne microbes are kept away, reducing the risk of infections.

That the notoriously tough Deborah Meaden took a stake in the company shows just how much appetite there is for innovation in petcare. So much appetite, in fact, that even mainstream grocers have got in on the act. Last year, Sainsbury's revealed it was using a technological tongue - rather than human taste testers - to ensure the "quality and taste" of its petfood.

Designed by Japanese company Intelligent Sensor Technology, it can taste up to nine different types of petfood at a time, with individual sensors measuring salt, sour, bitter, sweet and umami. Then it pings the result to a PC, which translates the information into a taste profile. Sainsbury's says the device is so sensitive that when it slobbers over some petfood it can detect 0.03g more of salt added per 100g. Crucially, Sainsbury's says the sensors "allow the device to analyse the same flavours as the tongue of a cat or dog" rather than a human. That means it can create even better taste for your four-legged family member.

The humanisation of pets means this kind of technology is only set to grow. So start preparing for the mass arrival of pet exercise regimes, personalised nutrition and even hotels with under-floor heating. A dog's life certainly isn't what it used to be.
Innovations in petcare technology 2018
Click on an image to expand