From reducing plastic to taking out sugar and decoding the palm oil furore, this year's food and drink shows in Birmingham will tackle the industry response to today's ethically minded consumer
Consumers have never been more conscious of what they're eating and drinking. In the era of reusable bags and clean eating, the nation is applying fresh scrutiny to the supermarket aisles. Whether it's plastic packaging, palm oil content or food waste implications, being ethical today is a complex game.

So this week's food and drink shows at Birmingham's NEC - including the National Convenience Show, Forecourt Show, Ingredients Show and Farm Shop & Deli Show - will focus on catering for this ever-more conscious consumer. That means answering some tough questions, weighing up the implications of difficult demands and considering some cutting-edge innovation.

When it comes to tough questions, Farm Shop & Deli has its work cut out. The show, now in its ninth year, will be home to a debate on the hot sustainability issues of plastic, packaging and palm oil. The session will be hosted by author, chef, broadcaster and Love Food Hate Waste campaigner Richard Fox. "It's a lot to cover, and it's a big panel with a lot of experienced people with a lot to say," he says. But he's confident the session can get to the heart of the topic. "One of the big angles will be the disparity between what UK shoppers are demanding and what is being delivered," he explains. "These issues grow by the day and they are consumer-led."

Farm Shop & Deli is an ideal place to discuss this gap between expectation and reality, he believes. "Consumers are getting hot under the collar before big retailers have got a chance to do anything about it," says Fox. "But that's good news for smaller retailers like those Farm Shop & Deli focuses on, because they can react much quicker."
"It's a lot to cover, and it's a big panel with a lot of experienced people with a lot to say"
Plus, Iceland head chef Neil Nugent will be on the panel to offer the perspective of a larger operation. Iceland's bid to remove palm oil from all of its own brand food has been well-documented - and attracted its share of controversy, too. In the session, Nugent will "share some of the discoveries and difficulties we had along the way". But primarily, he wants to focus on the practical considerations of such a move. "It's had a massively positive response but it's been really, really tricky," he says. "And you need to manage how you work not only with your suppliers, but your suppliers' suppliers, going all the way back to the source. I'm going to be happy to answer any questions around that."
Over at The National Convenience Show, sustainability will also be high on the agenda. It will specifically look to address how the time-poor, space-poor convenience store sector can cater for the rising demands of shoppers. The session 'How to solve the problem of c-store plastic' will examine new anti-plastic regulation on the horizon, and look at how stores are implementing more sustainable ways of merchandising, selling and packaging products.

There will also be findings from shopper insight agency Him on how important these anti-plastic efforts are to consumers. Convenience Store editor David Rees says the session will cover "how shoppers think about plastic and plastic waste in general and whether it's a factor in how they shop, and whether they might actually switch from one outlet to another just on the basis of plastic waste and plastic packaging".

Rees says the findings should prove food for thought. That's not just in terms of what's on the shelves, but the shelves themselves. "If you think about c-stores, they are full of shelving and labelling and PoS material and all these things are made of plastic, so is there something in the way the shop is set up that you could change in order to reduce plastic and plastic waste? So we are looking at the plastic issue in an operational sense as well."

As Rees says, innovative thinking is vital to tackling the plastic problem. Luckily, there's no shortage of that at The Ingredients Show, back for a second year after a barnstorming debut in 2018. The show will be looking at cutting-edge solutions to reduce plastic pollution like Podpak, which has created an enzyme that makes plastic break down in two years, rather than 200.

The show will also offer another perspective on the palm oil conundrum. Sessions will examine consumer concerns over the ingredient and question whether a truly sustainable supply will ever be possible.
Plus, there will be a spotlight on another ingredient causing consumer concern: sugar. Experts at the show will specifically look at the ongoing challenge of reformulating products to remove the white stuff, all without affecting taste.

"It's not easy to just swap out sugar for another ingredient," says Flora Southey, senior editor at Food Navigator. "They all have their unique issues. Stevia is a big one; it's natural and calorie-free but has a bitter aftertaste. So invariably manufacturers are faced with adding another ingredient to mask that, which means adding to the ingredients and listing them on the packaging, which consumers don't want - they want clean label."

As Southey points out, all this isn't helped by the disparity between the "push for reduced sugar that's coming from the government and regulators and what consumers appear to want". Indeed, while most consumers claim to want low-sugar products, you need look only at the backlash against reformulations of Irn-Bru and Lucozade to see that isn't always the case.
"Many drivers will charge overnight at home, but many will still need en-route charging"
Finally, it's not just the obvious areas of food and drink that are facing sustainability issues. For forecourt operators, it's not just the stock they're selling that has to pass muster with the more conscious consumer. Operators also need to be alert to the rise in electric and hybrid cars.

Offering charging facilities is going to be essential in the future, says BP Chargemaster COO Dave Newton, who will be taking part in The Forecourt Show. "The electronic vehicle industry is moving forward at a rate of knots. The cost of vehicles and the range of mileage is coming down fast, so they will soon be able to travel up to 450 miles on a single charge."

But charging is an issue. "Many drivers will charge overnight at home, but many will still need en-route charging and that needs to be fast." At the moment, it's still slow. "For forecourts we are seeing a lot of companies focus on Rapid Charging, which is 50Kw, but that still takes 45 minutes to get around 150 miles of charge," says Newton. "What's missing is Ultra Fast charging, which is 150Kw. That will deliver 100 miles in 10 minutes."

And if there is anything this new era of consumer-led sustainability requires, it's a speedy response.
Food and drink shows 2019: what's on offer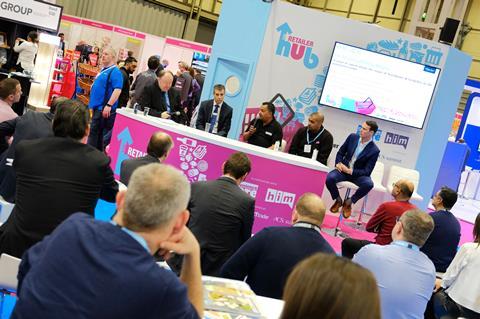 When: 8-10 April
Where: NEC Birmingham
Why: Now in its 28th year, NCS is a one-stop destination for all things convenience. Big brands exhibiting include Alpro, Booker, Boost Drinks, General Mills, Grenade, Mondelez and dozens more. Delegates can also choose from a number of sessions offering insights into the rapidly changing sector. The Retailer Hub will discuss the challenges of running a convenience store in 2019, such as how to solve the problem of c-store plastic and how to keep staff motivated. And a 'Snack to the Future' session will investigate what the future of the lucrative snacking category looks like in the convenience space.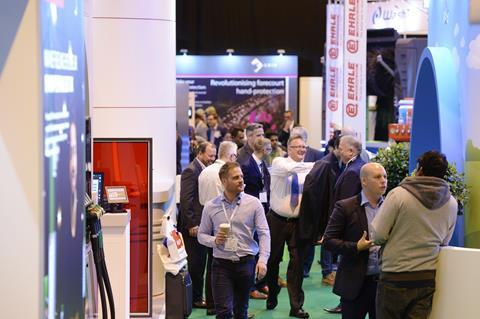 When: 8-10 April
Where: NEC Birmingham
Why: The world of forecourts is changing fast. And, as visitors to The Forecourt Show will find out, there is plenty more change on the horizon. Exhibitors will include the British Oil Security Syndicate, which will be talking to retailers about dealing with thieving drivers zooming off without paying for their petrol, and GripHero, which will showcase its environmentally friendly hand protectors. There is also the opportunity to diversify with Photo-Me's handy 24/7 launderettes. Plus, the oil companies will be out in force, with BP, Greenergy, Gulf, Harvest Energy, Jet, Murco and Shell all appearing at the show.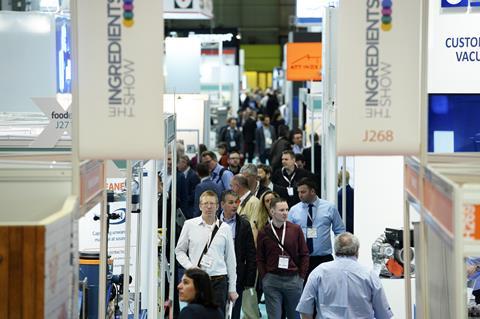 When: 8-10 April
Where: NEC Birmingham
Why: Anyone involved in developing, reformulating or creating new products will get plenty of inspiration from The Ingredients Show. As well as seeking out the ingredients tipped to play a part in the future of food and drink, visitors will hear from a host of global industry experts on issues as diverse as good fats versus bad fats, the contentious issue of palm oil, how edible seaweed packaging could replace plastic and how smart manufacturing and IoT will drive the next industrial revolution. Tasting sessions will also awaken tastebuds to the latest innovations in the market, such as edible insects.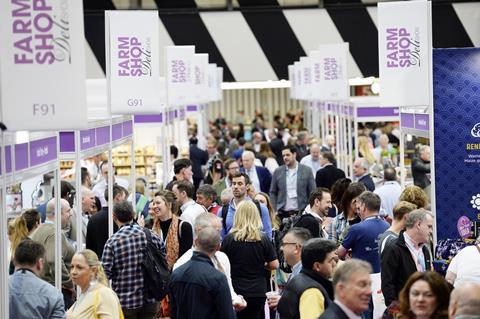 When: 8-10 April
Where: NEC Birmingham
Why: For nine years the Farm Shop & Deli Show has proven itself the leading event for delis, farm shops, restaurants, garden centres, food halls, butcheries and bakeries. This year the show will focus on healthier food, with exhibitors showcasing their products in a dedicated 'Healthy & Natural' area. There will also be dozens of sessions sharing insights on brewing healthy beer, how to cash in on the $4.2tn global wellness market and how to make plant-based food and drink sexy. If that wasn't enough, the winners of the 2019 Farm Shop & Deli Awards, in partnership with The Grocer, will be revealed at the show.