Confectioners have been happily living in the present this year. But now they will have to look ahead to challenges on the horizon
You've got to love it when sci-fi becomes reality. Like Nike launching self-tying shoes in 2016, or DeLorean announcing the development of a flying car a year later. Both concepts featured in 1989 film Back to the Future II, the subject of a recent meme in which time-travelling crackpot Doc Brown warns: 'Whatever happens, don't go to 2020'.
Chocolate brands may feel far more positively about this year, at least in terms of business. Take-home sales have surged by more than a quarter since lockdown, equating to an extra £133.2m [Kantar 12 w/e 12 July 2020]. In fact, the main challenge has been getting enough supply to the retailers.
But now they need to look ahead. And time travelling into the future looks far more perilous. The category is facing the pressures of a recession, growing numbers of consumers shunning dairy and a government ban on ads and deals on HFSS goodies.
So what does the future look like for chocolate? What mega-trends are shaping the category and who's cashing in?
That shoppers are growing more concerned about their health is hardly news. Concerns around nutrition, diet and health have been reshaping the entire food and drink world for some time. But it's fair to say chocolate has been relatively slow on the uptake – not least because of its status as an indulgent treat and the intrinsic need for high levels of sugar.
"Chocolate is not a health product – there's no denying that," says Montezuma's MD Bruce Alexander. "But we are seeing a move of consumers towards chocolate that is healthier."
"Vegan equals 'healthier' in consumers' minds despite that not necessarily being true"
At the same time, what it means to be 'healthier' is changing. It no longer simply equates to fewer calories or less sugar. Indeed, recent sales of reduced-sugar chocolate lines have been lukewarm at best. It can also mean free from allergens such as gluten or dairy. There's also a growing number of plant-based offerings, which often actually contain more sugar than standard chocolate but are perceived to have wider environmental benefits.
So health can refer to that of the planet as well as ourselves. Regardless of what the nutritional data says, "vegan equals 'healthier' in consumers' minds," continues Alexander. He says the rise in vegan chocolate has been driven by both consumers and manufacturers. "It is the beginning of a movement," he forecasts. "We are getting massive requests in particular for our chocolates that use rice milks, and there are many coming in that use oat milk."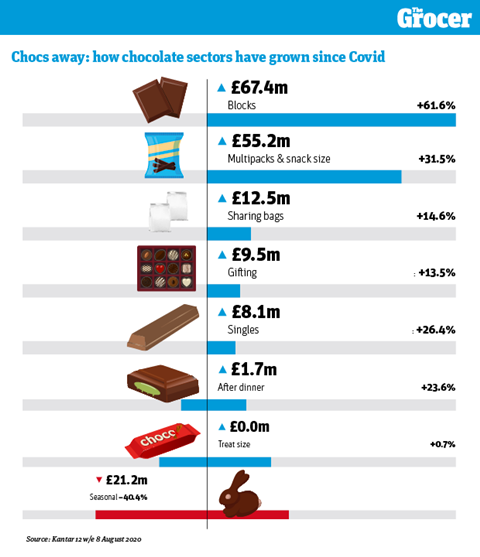 Chocolate is one of the UK's biggest fmcg categories, reaching 98.7% of British households in the past year.
However, seasonal events are crucial to the value of the category. This year, due to the coronavirus outbreak, Easter failed to live up to expectations.
This was down at least in part to older shoppers – who generally spend more on chocolate gifts than other demographics – staying at home.
Still, brands benefited from strong residual sales, with shoppers picking up deals in store after Easter.
Prices for standard chocolate have remained static, though there are signs of premiumisation in the market.
Brands are outselling own label, but in recent weeks own-label sales have picked up to grow faster than branded.
Vegan chocolate
Indeed, the past year has seen a slew of vegan launches from big and small suppliers alike. Take Galaxy, for example, which in November 2019 unveiled a trio of entirely plant-based chocolate bars encased in recyclable and compostable packaging.
This is a prime example of the power of a vegan claim. Because on the face of it, this product shouldn't work. Galaxy's vegan chocolate bars are pretty calorific, weighing in at 581 to 599 calories per 100g, compared with 545 calories per 100g for its standard chocolate.
Plus, it's expensive. A 100g bar of its vegan choc costs an eye-watering £3. A 110g bar of Galaxy milk chocolate cost just £1 in Tesco at the time of writing. That Galaxy opted for this price point, even with the full financial and operational weight of Mars behind it, is reflective of the costs involved in manufacturing vegan chocolate.
"It certainly is expensive because of the raw materials you need to use and the controls you need to put in place," says Emma Perrett, marketing controller at free-from chocolate brand Nomo. "We are really working hard in terms of our efficiencies, but whether we will ever be able to get to the same price as mainstream chocolate is unlikely."
"Vegan chocolate is expensive because of the raw materials and the controls you need"
Luckily, this premium hasn't put off consumers. Nomo made close to £1m in sales over the past 12 weeks, which gives it confidence in the future of vegan chocolate. "We do think it can be a force to be reckoned with," says Perrett, adding that the way free-from chocolate is ranged "may have to change". At Easter, for instance, she says Nomo's eggs were buoyed by retailers positioning them alongside mainstream chocolate.
Still, Perrett admits the extra costs involved means free-from and vegan chocolate is unlikely to ever be a real threat to its dairy-based counterpart.
Plus, it faces competition from a chocolate that tends to be naturally dairy-free: dark. It is benefiting from both vegan lifestyles and a growing lust for healthier indulgences. Kantar analyst Sophie Ellis says its upward trajectory is likely to continue – an assertion backed up by Mondelez trade communications manager Susan Nash. "We don't expect [dark chocolate] to slow down," she says. "It's driven by important factors including mature consumers and their changing tastes and preferences."
She points to the success of Cadbury's Darkmilk, a more accessible hybrid of milk and dark chocolate. According to Kantar's Ellis, this is "performing well in all formats". Mondelez puts this down to the SKU luring shoppers from further afield, with approximately 18% of its sales incremental to the block chocolate category. Others clearly see the potential: premium competitors Montezuma's and Tony's Chocolonely (see p60) have both launched takes on the formula in the past year.
Brands with larger formats have been able to leverage the increase in in-home consumption far more than those reliant on out-of-home formats such as single-serve bars.
Equilibrium is slowly returning between formats, but "we do not expect a return to pre-Covid levels until well into 2021 at best," says Nielsen client team leader Charlotte Oakley.
As social distancing continues, shoppers are sticking with what they know, and have flocked to leading brands – hence Cadbury Dairy Milk's stunning 25% growth.
Its owner Mondelez's success was also aided by rival Mars' misfortunes: the Galaxy owner suffered a mechanical breakdown at its factory in March, which significantly hindered supply of its key brands.
Posh chocolate brand Lindor racked up an impressive 10.9% gain despite its key gifting occasions proving less lucrative this year. Oakley says this points to "a continued shopper willingness to buy more premium confectionery".
Obesity strategy
Still, dark chocolate isn't immune from the pressures facing the wider chocolate category. It may contain marginally less sugar than milk, but most dark variants are still classed as HFSS products.
That is particularly pertinent considering the government has launched a fresh crusade on obesity. The impact of the coming ban on HFSS display promotions is not to be sniffed at: statistical modelling by IRI has suggested it could cost one unnamed leading confectionery brand £12m alone a year.
Industry response to the government strategy has been polarised. "I completely understand why the government is doing this," says Alexander. "The level of promotions in many categories has been getting out of hand, and I think a reduction on promotions is a good thing overall. The biggest focus needs to be on promotions on countlines, because those are for individual consumption. Sharing packs require a different point of view."
"The level of promotions is getting out of hand. A reduction would be a good thing overall"
However, Andy Baxendale, technical director at Sweet Dreams Confectionery, disagrees. "It makes no sense to treat [chocolate] the same way they did cigarettes," he says. "No one would argue that cigarettes are intensely bad for you. But a bit of chocolate once a day? This is the wrong way to go about it."
Meanwhile, Mondelez's Nash says it's too early to judge the government's plans. "Until the full details of the proposals are known, it's too early to speculate on the specific impacts. We believe any proposals should be evidence-led and proportionate, making sure they drive the right outcomes."
It's tempting to draw comparisons with the soft drinks industry levy, which came into force in 2018, in terms of scope and the potential cost to manufacturers. It led to a swathe of reformulations and relaunches from major soft drinks brands. But to suggest that chocolate suppliers could simply do the same fails to address that chocolate does not lend itself to reformulation as well as Coke or Fanta.
Reduced sugar chocolate
That's not to say suppliers haven't already tried. Both Nestlé and Cadbury have made big investments into new recipes and technology to cut the sugar out of chocolate: Nestlé with its 2019 launch Wowsomes and Mondelez with Cadbury Dairy Milk 30% Less Sugar. But there's a problem: it just hasn't picked up steam like they thought it would. In fact, Nestlé axed the Wowsomes brand early in 2020. At the time, Nestlé did not comment on the decision but stressed it was "working on some new and exciting products".
The Grocer was unable to obtain sales data for Cadbury Dairy Milk 30% Less Sugar. When asked to comment on why low-sugar bars have reportedly struggled to gain mass appeal, Mondelez simply said the bar "allows retailers to tap into this clear demand with a category-leading household name".
To add insult to injury, the reduced sugar option is still classed as an HFSS food, so will be subject to the same restrictions on display promotions as advertising.
Perrett believes these 'better for you' SKUs are unlikely to sell well for one simple reason: they don't taste as good. "Unless you're type 2 diabetic or have health issues, you really don't want to compromise on taste," she says.
"Unless you are diabetic or have other health issues, you don't want to compromise on taste"
From a production viewpoint, the problem with removing sugar from chocolate is it's akin to "removing alcohol from whisky", says Baxendale. "Sugar has two purposes: there's sweetness but it is also a bulking agent," he explains. "If you take the sugar out, you are in the position of having to replace the body of the chocolate – typically sugar is about 50% of its mass."
And there isn't one product that can replicate both of sugar's effects. "You then have to go down the route of sugar alcohols and polyols, which are intense sweeteners," he continues. "Then the problem with polyols is they can have a laxative effect – if you put more than 10% in your recipe you'll have to put a label on it saying [that], which is not really what you want to see when you're buying a bar of chocolate."
Another issue for the chocolate giants is they "are frightened that any new, no or low-sugar variants might affect their established brands", emeritus professor of nutrition policy and London Metropolitan University Jack Winkler previously told The Grocer.
Hence reduced-sugar launches are denied the marketing budgets allocated to their regular counterparts. These SKUs are caught in a double-bind between unconvinced consumers and over-cautious suppliers.
That's not to say this will be the case forever. Hames Chocolate director Carol Hames argues the introduction of reduced-sugar chocolate needs to be "a gradual process over the next few years". "With the best will in the world, it just isn't the same yet," she says. "You can't quite get that taste."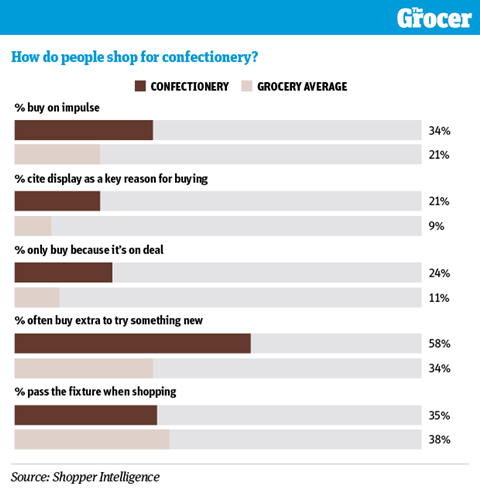 Confectionery shoppers are highly impulsive and many purchases are unplanned. In fact, more than a third (34%) of shoppers buy in this fashion.
This means that how chocolate is displayed in store is key to triggering those purchases – more than a fifth of shoppers cite display as a key reason for them buying into the category.
Display isn't the only reason – promotions are a key driver too. But with the government's incoming regulations on HFSS promotions and the end of buy one get one free deals, suppliers will soon need to look to other means to justify a secondary display.
Portion control
So for the moment, soft drinks-style reformulation does not look like a silver bullet. Ferrero customer development manager Levi Boorer argues portion control is more effective. "We have always offered our products in small, single-wrapped portions because small portions allow people to enjoy their favourite products as part of a balanced diet," he says.
While Ferrero supports "the aim of tackling the complex issue of obesity and are working with the UK government and the wider industry on this important challenge", there are "many different factors" involved, he adds.
Mondelez is similarly going down the portion control route, having spent recent years cracking down on calories. The past few months saw the giant announce plans to bring Fudge, Curly Wurly, Chomp and Barny sponge bears under 100 calories, and it plans to bring all its multipack bars under 200 by the end of next year.
"Small portions allow people to enjoy their favourite products as part of a balanced diet"
Ritter Sport head of marketing Katy Clark says portion control packs "are one of the ways brands can help consumers make informed choices and manage their calorie intake". It plans to launch a new countline format in early 2021 containing two portions, both under 100 calories.
Of course, portion control also leaves brands wide open to accusations of shrinkflation, given that in most cases smaller products result in higher prices by weight.
That's not to say shrinkflation is new to the chocolate category – confectionery has been one of the hardest hit by shrinking pack sizes since the Brexit vote. But "at some point there has to be a limit", says Montezuma's Alexander. "There is only so much product you can reduce – ultimately the consumer won't want to pay," he says.
Cost pressures
The temptation to shrinkflate will only grow as manufacturers face mounting cost pressures. Both Ghana and the Ivory Coast (which together produce almost two thirds of the world's cocoa) have introduced a 'living income differential' tariff on exports, adding a premium of $400 to the price of every tonne of cocoa, in a bid to lift farmers out of poverty.
"This is going to have a massive impact," says Hames. "It's good that this is going to farmers – they deserve it, and ethical trading is a necessity. But this comes on top of Brexit and potential tariffs from that point of view." It's likely this "real pressure" will translate into price increases down the line, she adds.
One potential way to regain margins is to cut out the middleman. Many suppliers began selling direct to consumers when lockdown commenced in March and, for some, it has revolutionised their businesses.
"DTC gives us awareness and exposure that we just didn't have before," says Montezuma's Alexander. "At Easter we saw people ordering our chocolate as gifts because they couldn't see each other, and our web orders grew tenfold. It was monumental."
"At Easter people were ordering our chocolate as gifts and our web orders grew tenfold"
Order sizes grew, too. "Inevitably if you're paying a delivery charge they are much larger, bulk or gifting purchases. And with something like our 100% cocoa chocolate, I was on our website yesterday and people were buying 12 to 15 packs at a time."
All this was happening while sales of Easter eggs were slumping at the mults: take-home sales of traditional Easter chocolate fell 48.7% to just shy of £23m [Kantar].
"There was a slow start in terms of shopper recruitment before lockdown," says Kantar's Ellis. Another key factor, she says, is that many Easter chocolate purchases are made by older shoppers who were more cautious about leaving the house.
"We also saw a decline in premium Easter lines. This was in part due to the fact that premium products are typically more often bought in the lead-up to Easter, when we were in lockdown. Residual sales were also very important this Easter, as people picked up great deals after the event in store." Restrictions have now eased, but with the autumn and winter bringing fresh fears about a second wave, it's no surprise brands are upping their DTC game fast. "We're excited to be working on a DTC site which will include flavours not available in stores, a range of gifting items along with a level of personalisation," says Ritter Sport's Clark.
But it's not as simple as just running an online shop, she stresses – without considering format and exclusive offers, it's easy to end up competing with the mults. "Brands need to give consumers an alternative to the block chocolate they can simply add to the basket when doing their weekly shop," says Clark. "They need a reason to take the time to go to their website directly and purchase."
Christmas sales
If brands do want to take the plunge in DTC, now is the right time to do so. Because we're fast approaching Christmas, which is the most crucial time for the confectionery category. Indeed, last year's festive season brought in £1.3bn for confectionery [Kantar].
A repeat of Easter would be very hard to stomach, but Ferrero's Boorer is upbeat. "Even with the uncertainty we're facing for Christmas 2020, we still expect the demand for confectionery products – including Advent calendars and main gifts in particular – to remain. We know shoppers are keen to spend more time with their loved ones, having spent so much time apart in recent months. Branded confectionery lines would be among those seeing the biggest lift."
"Despite the uncertainty, we still expect demand for confectionery to remain"
Some go as far as to say this could result in a 'blowout' Christmas, so long as Covid can be kept at bay. Such optimism is echoed among certain world leaders. Boris Johnson wants England to return to normality by then. Trump, typically, has gone one step further. In May, he pledged the US would soon return to being the "best economy in the history of the world". A month later, it was announced the States was in recession.
Which leads us neatly back to the start of this story. Last year, Back to the Future screenwriter Bob Gale revealed Donald Trump was the inspiration for wealthy supervillain Biff Tannen, who campaigns to become president of the US, which has become a lawless, dystopian wasteland in Back to the Future II.
Sound familiar?
Protein bars' explosive potential in snacking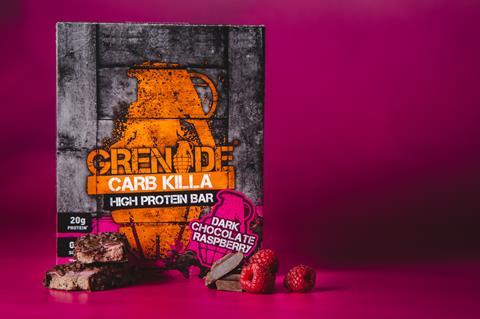 Big-name brands such as Mars and Snickers have offered protein-enhanced bars for some time now. But as yet, protein isn't quite the buzzword in chocolate that it is in other categories. That could all change if suppliers like Grenade get their way.
The sports nutrition brand has been busy trying to create crossover appeal between chocolate and healthy snacking with its Carb Killa bars. It believes the time has come for this market to explode.
"For shoppers looking to make healthier snacking choices, protein is an obvious choice with studies proving that protein helps you stay fuller for longer but with less food," says Grenade head of category Mike Simons.
That confidence is being backed up by a swathe of NPD in this area. See Bulk Powders, which this year created a range of vegan protein chocolate buttons that offer a substantial 10g of plant-based pea and rice protein per 40g pack.
While not technically a chocolate bar, Nestlé is hoping its Yes brand will tempt shoppers seeking out both protein and indulgence. It rolled out its Almond, Peanut & Double Dark Chocolate and Cashew, Blueberry & Dark Chocolate bars in July, citing growing demand for "more innovative" sources of protein.
That said, introducing protein into chocolate has its technical challenges, says confectionery consultant Andy Baxendale. "There are some protein chocolates that are not very palatable – if you want to [make high-protein chocolate] you have to be on a mission.
"You can do things like use pea protein centre, with a 50/50 chocolate/protein mix, which allows you to make a high-protein claim on your packaging, and then use flavours to mask [the taste of pea protein] and you will end up with a nice product."
As health grows in importance among consumers and the government, expect plenty more protein confectionery launches to come.
Innovations in chocolate 2020


Daniel is The Grocer's food and drink editor and is responsible for our product coverage across all fmcg categories.

Daniel has written about food and drink for the majority of his career: prior to joining The Grocer in 2017, he covered food and drink news on pub industry title The Morning Advertiser, and wrote features for VICE magazine.

Follow Daniel on Twitter: @WoolfsonExists