Fancy a wee dram? You're not alone. Brits are quaffing whisky like there's no tomorrow. And there's nothing wee about the growth.

The figures are impressive: every category of whisky is up. Even blended whisky, whose position as Britain's favourite spirit was this time last year savagely usurped by vodka, is back on top with a whopping £34.6m growth in take-home sales (4.5%) to £805.3m [Kantar Worldpanel 52 w/e 17 June 2018].

Sales of single malts are up £7.6m (3.6%), trendy single grains such as Diageo's Haig Clubman are up £2.9m (32.1%) and imported whiskeys including Irish and bourbon have surged (13.1%), adding a cool £22.1m in extra value. All of which adds up to £67.2m more whisky sales - an extra 2.7 million litres.

Admittedly, the whisky boom pales in comparison with gin's growth. The explosion of mother's ruin shows no signs of slowing, with sales up more than a third (34.6%) on last year to £528.8m. But that Brits are hammering gin like it's water will be old news to anyone with a TV set by now. So what's next?

The effect gin has had on the wider spirits industry is monumental. As well as turning a generation on to Fever-Tree (whose growth usurped that of Coca-Cola in The Grocer's Britain's Biggest Brands report this spring), experts credit gin with bringing a legion of new shoppers into spirits. It's also helped convince them that a quality tipple is worth paying a bit more for - that the average price per litre of gin is up almost 6% has had no effect whatsoever on Brits' thirst for it.

"The boom in gin has made the general consumer a lot more aware of what they're drinking," says Kieron Hall, national spirits ambassador at The Lakes Distillery, which is currently considering an IPO. "People are researching their drinks, they're proud of what they're drinking and they want to be seen drinking certain products."
"The boom in gin has made the general consumer more aware of what they're drinking"
And just as the entrance of a slew of trendy challenger brands such as Whitley Neill and Edinburgh Gin heralded the onset of the gin explosion, the same is now happening in whisky. Tess Wicksteed, strategy partner at brand agency Here Design, says whisky has woken up to the appetite for a drink with "real integrity" and a point of difference.

It's not confined to Scotland: a host of English distilleries, most notably Cotswolds and The Lakes, have launched initial single malts this year. Even the global big boys are bringing fresh new brands to market, such as Diageo's 2017-launched Irish whiskey Roe & Co, many of which are free of the age statements common to more established brands.

"When you lose the age statement, it allows for lots of 'gin-like' propositions - the brands that are doing this well are routed in a heritage and a quality story," says Chris Ellis, commercial director of Pernod Ricard, which has just launched 'sweetly peated' single malt brand Allt-A-Bhainne to target younger shoppers. "It's all the weird and wonderful stuff around the edges of the category: English whiskies, Japanese whiskies for instance."

Many new independent entrants have the gin boom to thank for even being able to lay down whisky stocks in the first place. After all, whisky needs to age for at least three years before it can legally call itself such.

"Our intention was always to be a whisky distillery, but when you're putting together that business plan it becomes apparent pretty quickly that you're going to need revenue streams to keep you going beforehand," says Daniel Szor, CEO of the Cotswolds Distillery. "Gin gives you a product you can start selling straight away." It's also a solid way of justifying a brand's potential value to investors, he adds. "In our round of crowdfunding on Crowdcube we managed to raise £3m, in part because we had so much evidence of impressive performance by a strong product."

That many of gin's biggest success stories are investing so heavily into whisky - The Lakes Distillery, for instance, has already begun casking for its 2043 release - bodes well for the sector's coffers.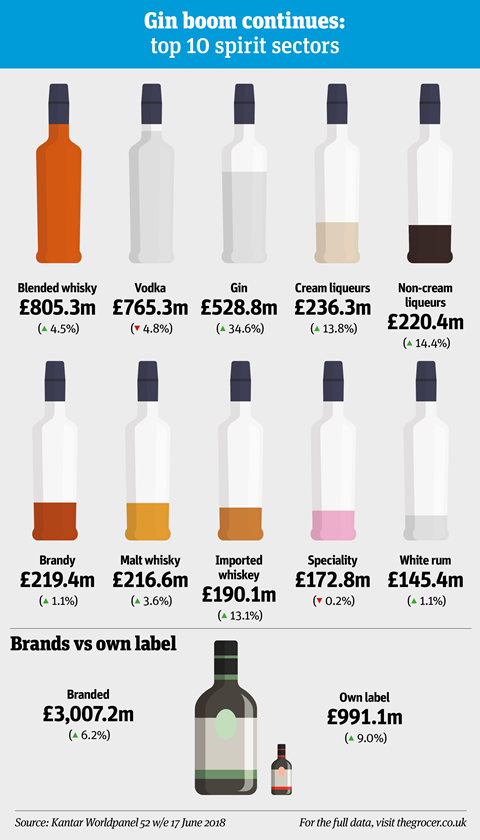 Find the full data at the bottom of this report
Big names face losses
That's not to say it's been smooth sailing for all whisky brands. Blended as a category might be back on top, but some of its biggest names have suffered severe losses: Bell's, for instance, is down 3.4% to £140m, while long-suffering Whyte & Mackay is down 5% to £69m. Only Grouse (up 2.5% to £216m) and Grant's (up 6.4% to £75.2m) are in growth [Nielsen 52 w/e 14 July 2018].

One senior industry source warns against reading too much into the performances of Grouse and Grant's. "Grant's, Grouse and Bell's play a game every Christmas," they warn. "Essentially, whoever pays the most for feature space in the retailers will be the winner and their numbers will look good."

The message is clear: there's still work to be done on refashioning long-standing blended brands for a younger audience. "Blended scotch whiskies are the key commodity of the industry, which means they are seen as second-class citizens to single malts," says Sam Simmons, head of whisky at Atom Brands.

"When you come into a category that is already quite confusing and the brand is called 'Chivas Regal' or 'Hanky Bannister', that doesn't tell me anything about the brand. The younger generations need to know because they're going to take a picture of it and want to be seen with it."

Which explains why heritage-rich imported whiskeys are doing so well by comparison. Jim Beam, for instance, has upped its sales by almost a quarter (23.4%) to £41m [Nielsen]. Jameson is up 20% to £38m and is embarking on its first ever TV campaign ahead of the festive season. Sales of Maker's Mark have grown by 48.7% to £2.5m amid its first major UK marketing push in almost a decade.

Blends have taken note. Grant's has renamed its flagship SKU Triple Wood and added new Smoky, Rum Cask and Sherry Cask 8yo variants. Whyte & Mackay, meanwhile, has turned to NPD, releasing The Woodsman, a new blend encased in a trendy embossed bottle it claims gives "traditional blend behaviours and flavours the chop", last month. Chivas Regal is playing on the vogue for imports with its latest blend, part of which is aged in Japanese mizunara casks.

Diageo, meanwhile, is set on boosting Johnnie Walker's UK presence. The blended brand (up £289k to £18.1m) commands an indomitable market share on the world stage but has historically played second fiddle to Whyte & Mackay and William Grant at home. Now Diageo is looking to turn the tables with a £150m investment in its Scottish distillery and plans for a state-of-the-art visitor centre in Edinburgh. It's also ramped up NPD, including a range of Blender's Batch whiskies specifically for bartenders and a new Ghost & Rare blend for its high-end Blue Label range.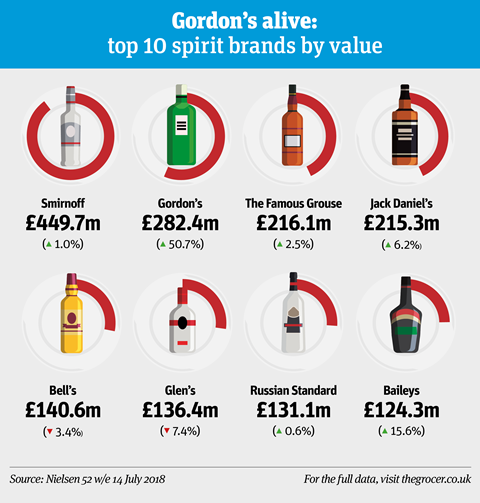 Find the full data at the bottom of this report

The way retailers approach the category is changing, too. "Even in the supermarkets we're seeing a big improvement in the way whisky is retailed, such as more detail on the flavours and back story on the shelf-strips, embracing in-store tastings, a wider range on sale and a focus on educating staff," says the Cotswolds Distillery's Szor.

There is still room for improvement. One senior industry source says small stores are "massively" lagging behind in merchandising whisky and concentrating simply on replenishment. Were small stores to catch up, further growth could follow.

Of course, whisky isn't the whole story. The Wine & Spirit Trade Association previously tipped rum as a contender for gin's throne, and it's enjoyed a solid year. White, golden and dark rums have added a combined £21.2m in sales, with dark rums racking up the highest percentage (14.7%) and absolute (£13.6m) growth [Kantar]. Cheaper than whisky and popular with the younger crowd - 79% of 25 to 34-year-old spirit drinkers have enjoyed a tipple, according to Harris Interactive poll in May - rum is inspiring a number of premium launches. Bacardi, for instance, is hoping its Anejo Cuatro will help it win back sales stolen by Captain Morgan, which has replaced it as the off-trade's biggest rum brand.
The trouble with rum
The potentially limiting factor with rum, says Atom Brands' Simmons, is that it's "quite closed and quite obscured" at a time when consumers are keener than ever for transparency. "The more questions you ask, the more mystery arises, and that is not a safe base on which to build premium brands. It is very hard to get an answer about age statements - are they just averages or is that just a number they put on the bottle? Because unlike scotch there are no universal regulations. People can add things like apple juice, cognac, scotch, sugar, all that is permitted."
"Rum is quite closed and obscured but consumers are keener than ever for transparency"
None of this ruins the liquid itself, he adds. But it's "unfortunately not where consumer interest is now. We want to know what's in our drinks and even things like calories."
Vodka, meanwhile, may be in overall decline, but Pernod Ricard's Ellis stresses this is nearly completely driven by the value end falling away. Indeed, premium brands such as Absolut (up 13% to £59.7m) and Cîroc (up 22.34% to £16.4m) are absolutely flying [Nielsen]. "Premium vodka is in really good shape, but value vodka has been hit by things like minimum unit pricing and shoppers wanting to premiumise. Consumers aren't trading out so I would not give up on vodka.

"In gin the action has been around botanicals, in vodka it has been around flavours. You could imagine a series of localised vodkas putting a slightly different spin on it. There is just not as much 'weird and wonderful' stuff to choose from yet."

For the meantime, though, we'll take a scotch on the rocks.