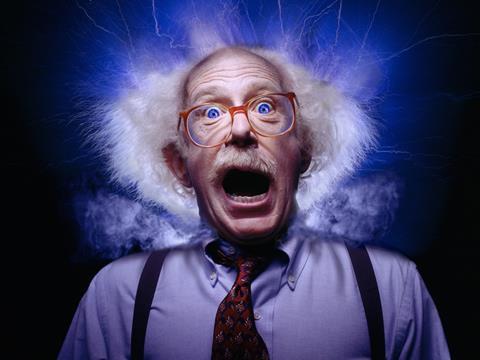 Strange but true: as the population ages, battery sales could be in for a boost. That's because the elderly are increasingly reliant on devices such as blood pressure or glucose monitors, home help alarms and hearing aids.
And these require batteries. "Movements in devices and demographics mean the category looks healthy," says Energizer marketing director Todd Berault. "The number of devices in a typical UK household requiring batteries is up 3.6%, partly driven by health devices. The average UK household now buys an average of 49 batteries a year."
The batteries sector, like many of those reliant on healthcare devices, could certainly do with a shot in the arm. Sales have dipped 0.3% on volumes up 6.8% [Kantar Worldpanel 52 w/e 23 April 2017]. Prices are sliding.
So just how big an opportunity is the grey pound for battery manufacturers and their retail partners? Who stands to make the most of this opportunity? And what other opportunities and challenges does the market face?
There can be no doubt that the British population is ageing. In 1976, 14.2% of Brits were aged over 65; last year that number stood at 18% [ONS]. By 2046, 24.7% of Brits are expected to be over the age of 65, so it's a safe bet that the number of us relying on devices such as hearing aids and alike will increase.
It's not just that we're getting longer in the tooth. More than four million Brits now have type 2 diabetes; that number is expected to rise to five million by 2025 [Diabetes UK]. The condition can be managed through regular blood tests (with monitors, some of which require external batteries), diet and exercise.
Discounters keep battery market flat
Then there's the growing use of fitness trackers, which looks set to continue in light of the five million type 2 diabetics who'll be on doctor's orders to exercise by 2025. Some of these devices have built-in batteries, while others rely on smaller specialist cells such as lithium coins and zinc carbon batteries.
Sales data varies on current rates of growth for specialist batteries, partly because definitions of 'specialist' vary. Our Kantar analysis suggests lithium and zinc carbon are winning share, up 0.5% and 9.7% in value respectively. Nielsen data says miniature & specialist cells are up 6.4% [52 w/e 1 July 2017].
Growing sales of specialist batteries, which carry a significant premium over standard batteries, will help offset the deflation that's flattened growth for the overall market over the past year. "Prices are being pushed down by growth through value retailers such as Lidl, bargain stores and pound stores," says Kantar Worldpanel analyst Tesni Steele Jones. "Now nearly one-third of shoppers pick up at least one battery product in value retailers over the course of the year."
Bargain channels
"The battery market is still struggling to grow as, despite more trip volume, prices are down, lagging behind the inflation we're seeing in the wider grocery market," continues Steele Jones. "Value retailers continue to become more important over traditional grocery and high street outlets as shoppers continue to hunt for cheaper prices. This is perhaps a reflection of what we are seeing at a total grocery level – as shoppers move their grocery spend, their battery spend shifts as a consequence."
Indeed, more and more batteries are being sold through bargain channels, despite a significant slide in battery sales at Aldi (see p50). Value sales at Lidl have surged 16.4% year on year, while the combined total sales through bargain stores and round-pound retailers grew 8.9%. Of the big four, only Morrisons is in growth, with sales up 2.5%.
Growth in these channels, which tend to rely on either own label or lesser known value brands, is sapping brands' power, although it's worth noting that brands still account for 85.3% of the total market. Overall, branded battery sales have dipped 0.5% to £214.1m on volumes are up 6.6% [Kantar]. Own label is up 0.7% to £42.2m on volumes up 7.4%.
But according to Energizer's Berault, growing demand for specialist and lithium coin batteries driven by increasing use of healthcare devices at home will chiefly benefit brands. "Due to the high value of these products, consumers will be looking for long-lasting high-quality products that can be trusted to help these high-drain devices perform to the best possible ability."
It's not just the nation's ageing population and health issues exercising battery manufacturers right now, of course. The long-mooted internet of things is finally becoming a reality, so as more households install electronic temperature controls, electric blinds, smoke and carbon monoxide detectors and event locks, more batteries are being used. Tim Clark, Panasonic Energy's sales manager for the UK and Ireland, says the sector continues to reflect such technological leaps.
Brands vs own label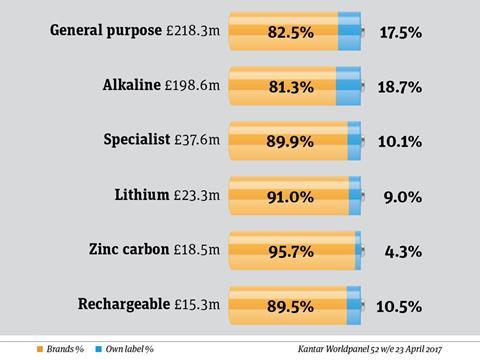 "If appliance trends change, battery trends change," he says. "Specialist trends are being driven by more slimline sleek objects like key fobs, toys and remotes. And retailers are receptive to these developments."
Another bright spot for the sector is the arrival of ever more sophisticated toys on the market, which require more and more batteries to make them operate all their bells and whistles. "We think the long-term prospects are very good," says Energizer's Berault. "We're watching trends and noticing more high drain devices, which require high performance batteries."
Toys
Toy sales and batteries are inextricably linked, with the 12 weeks running up to Christmas being dubbed as the 'golden quarter' in the industry. In fact, around 40% of annual battery sales come during this period, so smart retailers are working with battery brands to get PoS right and maximise the synergies between the two categories.
A case in point is Duracell's ongoing partnership with the Star Wars franchise, which saw Britain's biggest battery brand run TV ads, digital and social activity, in-store marketing and limited-edition packs to mark the the release of Rogue One last Christmas. The coming release of the eighth film in the Star Wars series, The Last Jedi, will be marked by Duracell partly through a partnership with toy lightsaber manufacturer Hasbro.
According to Duracell associate marketing director Christina Turner, such activity is a crucial element of its efforts to fight back against the rise of budget retailers and cheaper brands, often sold in large multipacks. Turner does lament the devaluation of sales by cheaper retailers, but believes that the message about false economy is getting through. "Our commitment to the category is constantly innovating, and getting out the message that buying premium is worth the price," she says.
Merchandising and point of sale activity are crucial, with many brands seeking multiple sitings alongside toys and other electrical goods, as well as at till points and gondola ends. "Making the most of the category by getting the ranging right, bringing in effective in-store promotional material and utilising space to maximum effect will pay dividends," says Panasonic's Clark.
Natalie Carney, trade marketing manager for the UK & Ireland at Varta, the German battery giant, agrees on the importance of making sure batteries are in the right position in store, but she argues there are other factors that need to be considered. "Shoppers make lightning quick decisions about the value for money and performance of batteries at point of sale, and often find the multitude of competing performance claims and percentages confusing," she says.
Therefore, clarity on pack and in PoS is paramount, with a growing number of brands opting to move device suitability icons to the front of pack to allow shoppers to make decisions more quickly in store.
"We spend a lot of time and research thinking about what we can communicate on pack," says Berault. "We aim to make things simple with icons, and keep the offer really clear. It's important to speak in shopper language not battery expert language."
Berault says this is paying dividends, claiming one mult saw a 51% surge in sales after replacing a rival with Energizer at the checkouts. From September, the brand is partnering with 20th Century Fox and Google Play, offering a movie download to own with each purchase of promotional packs. This will be communicated on packs and in-store.
Movie tie-ups
Duracell and Energizer aren't the only brands tying up with movies. Panasonic has partnered with the latest instalment of the Spider Man franchise, Homecoming, with an on-pack promotion offering shoppers the chance to win a trip to New York backed up at point of sale. "It creates a bit of in-store theatre and promotions really work to drive sales in this highly impulsive category," says Clark.
Duracell is also playing the environmental card with its Big Battery Hunt campaign, a joint initiative with Tesco and 40 schools across the country aimed at encouraging children to collect used batteries from their homes for recycling. The campaign's first phase saw 80,000 batteries saved from landfill and the brand is now looking to extend it.
"Children are a really powerful agent for changing our habits, like reminding parents to bring batteries with them to recycle," says Duracell's Turner. "We are now looking at the results of The Battery Hunt and doing the finetuning to get the programme into a mass scale, hopefully with a rewards or points scheme of some kind."
Playing to shoppers' environmental concerns could also help rescue the category's poorest performing subsector: rechargeables, which have seen sales tumble 15.9% to £14.6m on a 15.8% decline in volumes.
Pound shops steal share in batteries
"Rechargeables still have plenty of room for growth, as consumers gain more awareness of their environmental benefits and the value for money that they offer," says Clark. "With people becoming more environmentally conscious and 46% of UK shoppers saying they would 'definitely consider buying' rechargeables, we need to make the most of on-pack messaging and in-store PoS material to get the message across that rechargeables could prevent 40 billion discarded batteries annually."
There's another kind of rechargeable unit that's worth keeping an eye on: external mobile phone power packs. Last year's Pokémon Go craze saw a spike in sales of mobile phone power booster units, according to Varta's Carney. In September the brand is launching My Powerbank (rsp: £16.99), a customisable charger for younger users.
"Staying abreast of technological developments and managing inventories of these products is the biggest challenge for retailers," says Carney. "Not only do capacities increase with every season, but suppliers are offering a wide range of colours, materials and add-on features."
Innovation
Indeed, the most significant battery innovations have been in the mobile power packs market, rather than in standard batteries, with everything from solar chargers to self-powered turn-handle products hitting the market in recent years.
In standard batteries, change is more about evolution than revolution. "The battery market has seen a common trend of brands choosing to renovate rather than innovate," says Kantar Worldpanel's Steele Jones. "One of these brands is Energizer, which has recently redeveloped the chemistry of its Energizer Max brand to provide a longer lasting product. In addition to this, Energizer's Eco Advanced NPD from last year continues to grow value, now worth £14m, and maintaining a penetration of nearly 4%."
Batteries: top advertisers
In other words, there's no need to reinvent the wheel, but it can be improved. One such example is Duracell's efforts is to cut the chance of lithium batteries being ingested by children, with potentially fatal consequences, by improving the packaging of its products. "The industry is doing a number of things to ensure these batteries don't lie loose around the household," says Turner. "We've added a clear diagram on packaging and are keeping two cells separate in packages, so the unused battery can't be reached by little hands."
Safety, of course, is a focus for all. As is battery life. In 2016, Energizer Ultimate Lithium AA was relaunched after being re-engineered to extend its lifespan. "This was to reflect the demand for high drain pulse devices – it is now the world's longest lasting battery, lasting 11 times longer than Energizer Classic," says Berault, adding the product was awarded a Which? Best Buy award last December. "There are increased numbers of devices that require high drain batteries and this pattern is going to continue. Longer lasting batteries will be crucial."
In other words, with all of us living longer, so must our batteries.