Forget a classic margherita. Keralan chicken, Mexican steak and BBQ pulled pork are the new toppings making waves in the pizza category. No longer just a traditional Italian dish, all cuisines are welcome on the trusty dough base. (In some cases, even the base is being replaced, as seen in this month's Morrisons Yorkshire Pudding Pizza.) All this innovation seems to be working: supermarket pizza sales are on course to top £1bn this year.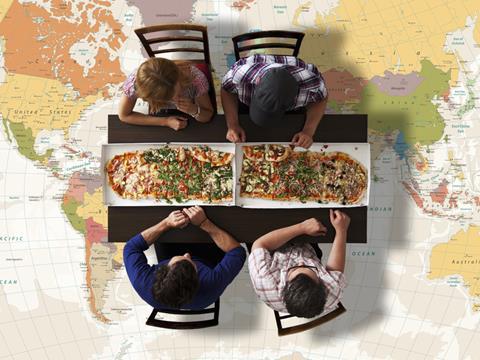 "Consumers are buying and eating pizza more often," says Kantar Worldpanel analyst Claire Liboureau, pointing to market growth of 4.4% to £972.9m on volumes up 1.4% [52 w/e 5 November 2017]. "Pizza is becoming ever more popular and is now bought by 84% of the population. That's a rise of one percentage point since last year."

So why is Britain going potty over pizza? Which retailers, brands and trends are driving the growth? And what will pizza players need to do to ensure sales smash that £1bn landmark while maintaining volume growth?

The rising demand for meals requiring minimal preparation, pans and fuss is one factor behind pizza's growth. Free time is falling and work hours are increasing; from 2009 to 2016, the average working week grew from 36.8 hours to 37.5 [OFT]. And so shoppers are looking for a quick meal fix.

That's great news for pizza, says Co-op fresh pizza buyer Kelly More. "Consumers are looking for quick and convenient meal options with low cook times," she says. "This need has driven the popularity of pizza. It also fits nicely into the sharing trend, allowing customers to create special nights in with friends at low cost. It's a significantly cheaper entertaining option than heading out."
"Pizza fits nicely into the sharing trend and special nights in with friends at low cost"
But a standard margherita lacks the 'wow' factor when you're entertaining. So producers are incorporating cuisines from around the globe. Forget about the world on a plate; shoppers can now tuck into the world on a pizza base.


"Pizza toppings have become much more diverse," says Ian Ritchie, sales director at ingredients supplier Dawn Foods. "Consumers no longer have to choose between Italian and Indian or Mexican - they can savour these on one pizza."

It's enough to make traditionalists choke on their quattro stagioni. For no cuisine is off limits. The Co-op credits a steady stream of innovation under its premium Irresistible label - such as a Keralan chicken pizza and the new Mexican steak with chilli jam line - for its 7% sector growth [Kantar].

Everyone's at it. Chicago Town has a new cola BBQ pizza and Goodfella's has launched its first vegan pizza to tap the trend for meat avoidance. Muscle Food's high protein pizzas are winning growing distribution, and Schär reports booming sales of its gluten-free versions.
Even traditional fare is getting a Neopolitan makeover. Asda has put cheesy chips, mac 'n' cheese and even a full Christmas dinner (complete with sprouts and cranberry sauce) on its pizzas, helping to drive a 6.6% surge in sector sales, the strongest growth of the big four.

The NPD is continuing, says an Asda spokesman. "The flatbreads we have introduced to our pizza counters have been a great success," he says. "For Valentine's Day we're launching new heart-shaped bases on our pizza counters. In pre-packed pizza, we're also launching new flatbreads in March. We are also planning something special for the World Cup."

Toppings might be getting more exotic, but that doesn't mean classic Italian styles are falling out of favour. Dawn Foods notes growing demand for rustic torn meats such as prosciutto. The traditional form of fresh stone-baked is still the fastest growing sub-category, up 12.2% in value and 8.7% in volume. The more American frozen deep pan is down 0.9% on volumes down 2.5%.

However, even traditional formats are getting a makeover with new flours, says Philip Bull, MD of flour supplier Eurostar Commodities. "Pizza bases made from vegetable flours will grow, tying in with the gluten-free trend," he says. "These alternative flours are made from beetroot and spinach, creating a standout purple or green pizza base, which tastes delicious to satisfy discerning healthy eaters and hungry kids."

Dr Oetker is thinking along similar lines with the launch of its new Yes It's a Pizza duo - a spinach crust base with broccoli, mushroom & mozzarella and a beetroot crust with courgette, smoked ham & red onion. "Targeting pizza lovers and fresh food preferers, the range brings permissibility, vibrancy, freshness, excitement and full-on flavour," says executive head of marketing Jan McKee.

It all ties in with the healthy eating trend. Eurostar is tipping easily absorbed and naturally low in gluten sprouted flours as a trend to watch and has launched its Spiffing brand to cash in. Others suggest low-carb offerings using veg such as cauliflower as a base, or even the 'chizza' - pizza on a chicken base.

"The past few years have seen the introduction of Muscle Food's low-calorie/high-protein pizzas into many high street retailers including Sainsbury's and Morrisons," says Muscle Food chief operating officer Steven Curran. "As the category becomes more aligned with fresh categories such as healthy convenience, our belief is that our low-fat and high-protein frozen pizzas will flourish further."
It's a view shared by Schär, which has seen sales of its gluten and lactose-free pizzas rise 13.7% to £1.2m on volumes up 13.9% [IRI 52 w/e 9 December 2017]. "We believe healthy pizzas will be the next big trend," says lead category manager Roger Harrop.

While not everyone's convinced of the long-term potential of gluten-free pizza, few disagree that pizza's versatility puts it in an ideal position to adapt to consumer trends. Evidence can be seen in Goodfella's new vegan offering, says brand manager Rob Hunter.
"Pizza bases made from vegetable flours will grow, tying in with the gluten-free trend"

"It's still too early to confidently say whether gluten-free is mainstream," he says. However, he firmly believes that veganism "is changing the consumer landscape". "The number of vegans in the UK is now more than 500k and a third of the population identifies as flexitarian. Initiatives such as Meat Free Mondays and Veganuary are adding growth."
Prices on the up
The launch of pizzas with foodie or health-orientated cues is driving prices up. The average price of chilled pizza is up 4.5% and frozen prices are up 2.1%. A spokeswoman for Sainsbury's, which is currently trialling a Zizzi takeaway counter in Balham and a pre-ordering service that allows customers to personalise hot pizzas in four other stores, says shoppers are demanding more.

"Customers are increasingly looking for ways to bring the restaurant experience to the comfort of their home," she says. "There are some other trials currently running in our 427 pizza counters in order to make sure we're offering customers quality pizza in a convenient way. These include pay at counter, telephone ordering and faster ovens with a three-minute cooking time."

A growing number of shoppers are choosing to cook their own pizzas at home. Napolina says 900k households bought ambient pizza bases on an average of three occasions in 2017 [Kantar], with overall consumption up 6.1%.

Nevertheless, in a reversal of the previous year, when chilled pizza was the star performer, frozen is now outgrowing all other formats, with value up 5.5% and volumes up 3.3% [Kantar]. Chilled, meanwhile, has seen growth of 3.5% on volumes down 1.1%. Again, this is being driven by more premium offerings, says Goodfella's Hunter.
"There's a huge appetite for premium propositions within the frozen pizza category and we are reaping the rewards of that with our new premium Pizza Romano range," he says. "Throughout the frozen category we are seeing premiumisation."

Premiumisation makes sense, given the mounting cost pressures, says Eurostar's Bull. "As a commodities supplier we have a broad sourcing network around the globe. However, these are unprecedented times with a lack of clarity around workforce and exchange rate issues." Eurostar is seeking alternative supply chains in former Commonwealth countries over fears of a hard Brexit.

Rising costs are translating into higher retail prices, thanks to fewer deals, premiumisation and base price hikes. To an extent, this is driving growth in own label (though upper tier own labels are also pushing prices up) and Aldi and Lidl, with respective category growth of 29.9% and 42.7%.

Iceland is also winning share, with growth of 5.8%, driven in part by the launch of Pizza Express frozen pizzas. "The range has proved to be largely incremental and attracted a different customer to our pizza offer," says corporate affairs director Keith Hann. "There's been a push to premiumisation in frozen with a luxury offer now in most own-label ranges."

Kantar's analysis reveals that new launches under the Lidl Deluxe, Asda Extra Special and Morrisons The Best banners have been some of the key drivers of premiumisation in frozen, along with the Brooklyn Pizza Co brand and Chicago Town sub-brand Pizza Kitchen, which rung up just shy of £3m in its first three months on sale with its deli-style offerings.
"There's no better time than breakfast to enjoy a good pizza. The concept is not new"
But some contend that for growth to continue, new occasions need to be tapped. For example, Eurostar is developing a range of products aimed at pushing the idea of pizza for breakfast in the UK. "There's no better time than breakfast to enjoy a good pizza," says Bull. It's already being served in a handful of London eateries, including Crust Bros and Hai Cenato. "The concept is not new - it's very popular in the Roma region of Italy where you have a crunchy slice, a perfect little pizza served in small portions, firm enough to be a perfect base topped with cold meats, ham, raw veg and fresh fruits and served in the mornings."

So traditionalists can rest easy… until the next roast dinner pizza hits the market, at least.
Innovations in Pizza 2018
Click on the images below for full product information
Downloads
Image, Size 0.36 mb

Image, Size 2.75 mb