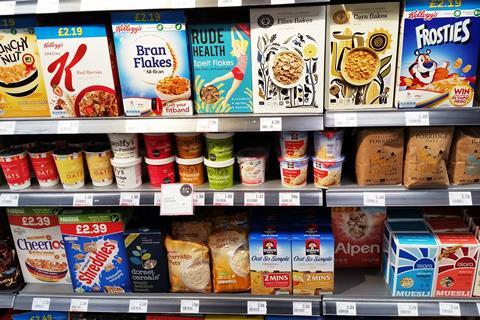 Breakfast Cereals UK is mounting a major push to change the perception of cereals - and urging government to reconsider its approach to the category.
The trade body, whose members include Nestlé, Jordans Dorset Ryvita, Mornflake, Kellogg's and Weetabix, has created a new 'roadmap' manifesto that "sets out the case for the nutritional importance of breakfast cereals in the UK diet, as significant contributors of fibre and micronutrients".
It contains five industry commitments: to help people eat more fibre and wholegrain, to continue to reduce sugar, to maintain low levels of salt, to continue to advertise responsibly and to make it easier for shoppers "to understand the nutritional content of our products".
"We want to honestly respond to the historical concerns about cereals," said Breakfast Cereals UK chair Gharry Eccles.
"We have reduced sugar [across all branded cereals] by almost 20% and half of that had been done before government targets came in, in 2015. And even before that we'd been working on reducing salt by 65%."
'Review of the evidence'
Breakfast Cereals UK also plans to embark on a significant lobbying offensive, asking the government to "have an objective review of the evidence" around the category and its health benefits.
Its roadmap contains five specific "asks": a strategy for promoting fibre and wholegrain intake, supported by "measurable targets", a "holistic and evidence-based" approach to policy, "recognition of the importance of breakfast and policies to encourage all children to eat a healthy meal at the start of the day", a "pragmatic approach in relation to advertising that recognises the benefits of industry promoting high-fibre and nutrient-rich foods", and recognition of "the positive intention of breakfast cereal manufacturers to address public health issues in relation to their products."
In the context of the current obesity debate, Eccles said: "Cereals are a relatively low-density food, of about 170 calories per portion. We've been committed to helping consumers eat healthier – 80% of branded cereals are high in fibre. We've also responded in our commitment to advertising sensibly. We don't advertise HFSS to under-16s and we've committed to front-of-pack labelling."
Indeed, it comes as new report by the Food Foundation this week showed the proportion of children's cereals with high sugar content had fallen by 12 percentage points in a year – heralded by Action on Sugar and Action on Salt as "an encouraging improvement".
However, in an Action on Sugar statement this week, nutritionist Zoe Davies said: "Rather worryingly, the average nutrient content of these cereals hasn't actually changed very much. In fact, many of these products still contain unnecessary amounts of sugar and salt and are low in fibre – not quite the nutritious kick-start to the day our children need."
Unintended consequences?
Eccles argued the government's new national food strategy risked curtailing the category's sales and could have unintended consequences for consumers.
"It's a fairly blunt instrument – the new nutrient profile model they're proposing would limit 80% of the products that are high in fibre. We wouldn't be able to advertise and promote those. There isn't really any evidence that the promotions themselves actually lead to more consumption – it really leads to larder filling. All it would do is put prices up if we weren't able to advertise and promote.
Cereals offered "incredible value" during times of economic uncertainty, he added. "Incomes are restricted and people are going to be looking at what they can spend on food. [With cereal] you can feed a family of four for £1. Food accounts for 17% of people's total income – it's a big chunk. Anything that impacts the affordability of nutritious food would be an unintended consequence of government policy.
"I was pleased the government are actually tackling obesity. It is a real issue. The principles are right and many things in it are right. But we want to be involved to shape some of the details."