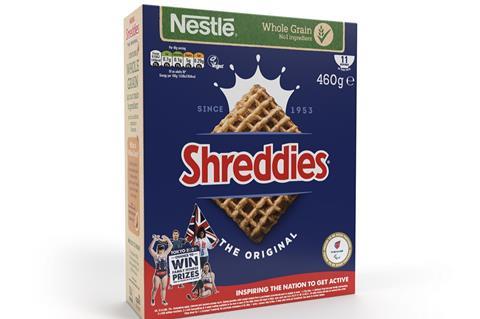 Shreddies has bucked the trend for shrinkflation with a packaging switch up in Tesco.
The Nestlé brand has moved from 460g and 720g packs into 630g and 1.1kg packs in the retailer.
The previous packs were sold at £2.50 and £3 respectively, while the new packs are being sold at £3 and £3.50. The 460g packs are already sold in other retailers, but the 1.1kg pack is only available in Tesco, Assosia data reveals [10 w/e 6 July 2022].
This means the price per 100g of cereal has dropped from 54p to 48p for the smaller packs, and from 42p to 32p for the larger packs in Tesco.
Nestlé did not offer comment when approached by The Grocer. However, it is understood the change was made at Tesco's request.
Indeed, it means Tesco now offers the cheapest price per 100g of Shreddies of the big four thanks to the introduction of the 1.1kg pack.
At the time of writing, Sainsbury's was selling 460g and 910g packs at £2.35 (51p/100g) and £3.15 (35p/100g) respectively online, while Morrisons was selling 460g and 630g packs at £2.49 (54.1p/100g) and £3.25 (51.6p/100g). Asda was selling 630g and 910g packs at £2.50 (39.7p/100g) and £3 (33p/100g).
The news comes as many brands have shrunk pack sizes while keeping prices the same over recent years to help mitigate rising costs.
Mars, for instance, recently shrunk the size of Twix bars used in its multipacks, The Grocer revealed this week, arguing it had been "absorbing the rising costs of raw materials and operations for some time, but the growing pressures we are facing mean that more needs to be done".
The trend for shrinkflation goes back even further, though. In 2019, the Office for National Statistics released data showing as many as 2,529 products in UK shops had shrunk but remained at the same price between January 2012 and July 2017.