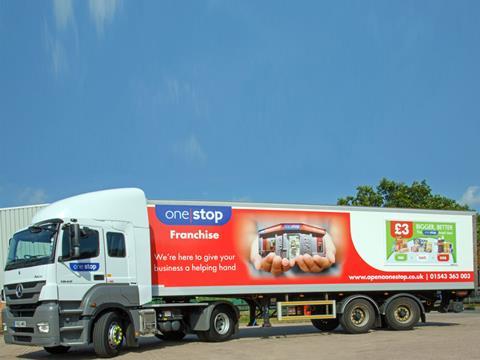 One Stop has rebranded its 85-strong fleet of delivery vehicles.
The new-look lorries now have new imagery to promote the convenience store chain's fast-growing franchise model.
A marketing space has also been added for One Stop to promote its latest deals, new ranges and community work.
The first lorries hit the road this week, and the new design will be rolled out across the fleet over the next six weeks.
"In updating our fleet branding, we've developed a great opportunity to push two key aspects of the business – our popular new franchise model and great deals in our stores," said head of marketing Lizzie Reynolds.
"We've already had a high level of interest in the advertising space from major suppliers, who are keen to be associated with our brand. We're anticipating that the franchise adverts will have a similar impact on retailers, once the fleet is out on the road," she added.
It is the latest move by One Stop to promote its franchise model.
Last week, it revealed it had taken out two digital advertising hoardings on the M6 between junctions eight and nine near Walsall football stadium to target passing motorists.