'Dodgy deals' exposé raises awkward questions for Tesco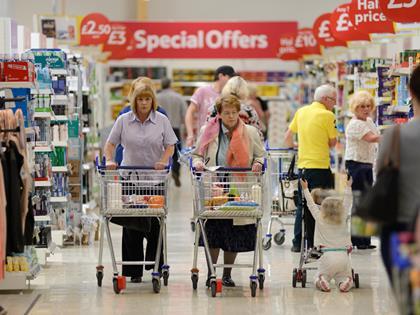 Dave Lewis rarely puts a foot wrong.
But today Tesco is at the centre of a hugely embarrassing scandal that casts doubt over Lewis' much-vaunted improvements in service.
Thanks to what seems an incredible failure at the most basic store management level, exposed by the BBC's Inside Out, questions are being asked about just how many Tesco customers may have been overcharged as a result of out-of-date multibuy promotional offers advertised on shelf.
The show claims (and, significantly, Tesco has thus far not denied this) that its undercover reporter was over-charged in 33 out of 50 Tesco stores visited over a three-month period, as a raft of on-shelf promotions were out of date and no longer valid at the checkout. Damningly, tonight's programme on BBC One hears from Tesco staff who blame staff shortages.
Because of the claims, Tesco was today facing the massive task of checking the prices in all 3,500+ of its stores as it frantically tries to nip the issue in the bud.
No doubt rival retailers will have been doing the same. Because while this particular investigation may have focused on Tesco, that's not to say the problem couldn't be more widespread.
'Dodgy supermarket deals'
This is particularly worrying as supermarket promotions have been under intense scrutiny, not least through the investigation by Which? into so-called "dodgy supermarket deals". This was more sophisticated and longer running, but yet somehow failed to pick up on the problem.
Which? has repeatedly accused supermarkets of manipulating shelf prices to make deals look better than they are. Yet in this case an unknown number of customers, at dozens of stores, were simply being overcharged because advertised promotions did not exist anymore. The BBC reporter found multibuy deals still on display days, weeks and - in some cases - months after the deductions were no longer being applied at the till.
This is not about a grey area - this is a black and white problem. Supermarkets now need to stamp out any uncertainty on this issue and fast.
As for Tesco, Lewis and his team have spent the past few years getting the basics right, with improvements in availability, service and, ironically, a reduction on promotions in favour of transparent everyday prices.
That hard-won reputation has taken quite a kicking today. The BBC revelations also damage the huge investment Tesco has made in strategies such as Brand Guarantee, which was all about providing assurance to customers. Now there will be questions.
Lewis must now face up to whether this most basic and fundamental lapse was caused by a breakdown in communication and a failure in systems – in which case that needs to be fixed, quickly. Or whether it is anything to do with lack of investment in staff on the front line.
If it's the latter, then Tesco has a much longer-term problem to worry about.