Loyalty will be key at the new discount Tesco
Speculation that Tesco has a new discount store format in the works may have taken some by surprise. But it has shown that it has learned to develop and run new formats. The thing that most interests me is how well it can bring its customer data skills to bear, to build an advantage in this notoriously competitive space.

If Tesco really is considering a move into the discount space, then its long history of diversifying the positioning of its store formats should serve it well; the success of Tesco Express, One Stop and Tesco.com are great examples. This move into Aldi and Lidl's territory could prove similarly strategic.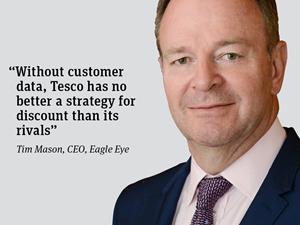 But can Tesco create a situation where it knows enough about any new discount format customers' shopping habits to fine-tune its offering and build a highly curated and keenly priced proposition in optimal locations? Otherwise, it will leave that ideally sized, 10,000 sq ft real estate to its rivals. Schwarz Group has also invested heavily in big data to bolster its customer insight as part of its expansion plans. But, when it comes to customer data, Tesco is a formidable competitor in any format. Without it, it has no better a strategy for discount than its rivals.

It will be strategically important for Tesco to know which of its potential discount format customers are net new, and which of them shop in other parts of its business. This ideally requires incentivising the customer to identify themselves. Although margins are already painfully thin, this makes it possible to support and streamline the customer journeys that also build and reward loyalty. Engaging with customers via digital touchpoints in-store is therefore crucial. In fact, store optimisation - via SEO/web presence, on-premise wi-fi, apps, digital coupons, connected tills, etc - is so much more profitable for your business than any refurbishment.

Providing highly curated and, if possible, personalised offers can incentivise customers in-store as well as online. In turn, it also helps understand the customer. That way, such data can drive insight, which supports actions that drive loyalty as well as sales. Amazon Go uses tech to offer convenience on steroids. The key is incentivising in-store digital engagement - and this is what customers want too, in the form of relevant, value-added offers and information.

It's arguable whether anybody's really managed to crack loyalty in grocery convenience, much less the discount space (even though loyalty can manifest itself in many ways). By comparison, coffee shops, whose businesses are also based on speed and convenience, are doing rather well with loyalty. The power to directly engage customers is a vital tool.

Tim Mason is CEO of Eagle Eye