Waitrose launches £35 Christmas wreath decorated with sprouts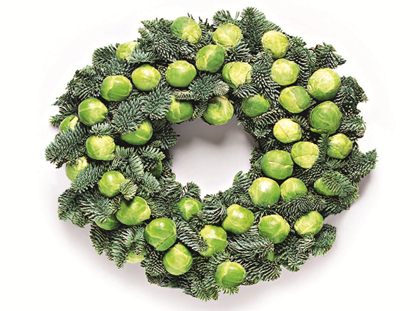 Waitrose has found a new way to market sprouts to customers who don't like eating their greens.

The retailer has launched a £35 Brussels sprout wreath, designed to be hung on the front door or placed on the Christmas dinner table as "a striking candle centrepiece".

The wreath is similar to the traditional design but, instead of the conventional decoration of berries or red ribbons, Waitrose has used sprouts.

The horticultural innovation is only on trial this year in Waitrose Food & Home branches. But it could roll out to all stores next year if the idea takes root among customers.

Using sustainable fir foliage from Scotland, the wreaths have been created in partnership with Waitrose's sprout grower and wreath maker, and each one has a tag that lets the customer know who made that particular product.

Waitrose said the innovation would enable those who "usually turn their noses up to eating the divisive veg" incorporate sprouts into their festive season.

"We wanted to create something more quirky as part of this year's festive horticulture offering," said Waitrose horticulture buyer Samantha Brett. "This seemed like a great opportunity to do something fun and creative with sprouts."

Earlier this week, the national media reported we could face a Brussels sprout 'crisis' this year due to a mild summer, late autumn and shortage of seasonal workers. But growers told The Grocer they were confident they would hit production targets with no difference in price.