A new number one. New entry criteria. But still the definitive ranking of the Top 50 independent food & drink retailers
A new number one. New criteria for entry. But still the definitive ranking of the Top 50 independent food and drink retailers in the UK, based on sales. And it's been a heady time for them. As Iceland CEO and founder Malcolm Walker told the annual lunch held last Tuesday to celebrate the latest ranking, in the 47 years since he has been running Iceland he has never known as much upheaval as he has in the last two years. He joined six other new entries in the table this year.
You can read all about them, and the rest of the Top 50, by scrolling down … or view the full list by clicking or tapping this link to our pop–up table.
1 (new)
Iceland ▲
---
Sales: £2.6bn (–0.8%)
---
Pre-tax profits: £66.7m (–15.9%)
---
Stores: 864 (+0.6%)
---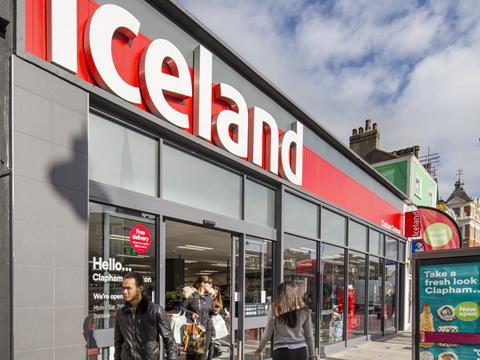 In the 47 years since maverick CEO Malcolm Walker founded Iceland, he's "done the lot". Partnership. Outside investor. PLC. Venture capital. And private again. "And I can tell you from my experience and with absolute certainty, private is best," he told guests as the keynote speaker at The Grocer's Annual Lunch this week.
Retaining management control, despite sizeable investment from South African investment company Brait SE, allows Iceland to act in the long-term interests of the business, "rather than reacting to the short-term needs of the City or private equity investors with their eyes on a quick, profitable exit".
This didn't prevent the chain from being dragged into the supermarket slump, of course, with sales in the last financial year (to 25 March 2016) flat and pre-tax profits dipping considerably, while EBITDA remained stuck at £150m (having peaked at £230m before he bought it back).
But Walker has a plan. A typically contrarian plan, in which he's "brought in an army of new buyers, trading directors and a crack online team", refurbished the head office with new air conditioning, extending the staff restaurant (a perk that costs Iceland £500,000), opened a new £2m product development kitchen producing lobsters, scallops and chateaubriand under the watchful eye of new in-house development chef Neil Nugent, upped innovation, quality levels – and prices – and beefed up its advertising through a new Power of Frozen campaign.
Iceland has also struck exclusive deals with brands like Pizza Express, Slimming World and McCain (it was the launch partner for its fresh chips).
It's not just the food that's improving. An upmarket refresh of its Clapham branch last October 2016, with bolder decor and self-serve coffee (but the same range and prices) resulted in a 40% increase in sales. It's now looking to roll the format out, initially in the London area, though significantly a trial in Chester achieved the same uplift as Clapham.
Meanwhile the cavernous new Food Warehouse stores have been a huge success, achieving bigger spend through introducing bulk buys, extra fresh and chilled lines, as well as "higher-priced lines that we trialled and thought we could never sell", but which have since been so successful they've been introduced across the Iceland estate. Run by Walker's son Richard, there are 36 now, with plans to open 25 a year. And online is growing "phenomenally", Walker adds.
Iceland sales are up 8.8%, according to the latest Kantar Worldpanel figures, out on Tuesday, making it the third fastest growing grocer in the UK after Lidl and Aldi. And such a turnaround was only possible "because we are PRIVATE, independent and looking at the long term".
"Having the freedom to do the right things for my business, for my people, and for society - not having to worry that my share price is going to fall and my job may be at risk if like-for-like sales or profits go backwards in the short term - that's what being independent means to me."
2 (4)
Euro Garages ▲
---
Sales: £1.7bn (+106.7%)
---
Pre-tax profits: £43.5m (+25%)
---
Stores: 341 (+74.1%)
---
Forecourt operator Euro Garages shows no signs of slowing down on its aggressive expansion across the UK, with an extra 142 sites added to its prolific estate in the last 12 months and sales more than doubling as a result.
Only last month founders and co-CEOs Mohsin and Zubair Issa bought up Little Chef from Kuwaiti-owned Kout Food Group for an undisclosed sum, before agreeing a £1m deal with collapsed indie rival High Noon Stores to take over its four stores.
Its merger with European Forecourt Retail during 2016, which operates sites across the Netherlands, France, Belgium and Luxembourg, has seen it grow internationally too, now managing over 1,500 sites in total.
Turning forecourts into more than simply places to fill up on fuel has been a big factor behind its success, says the business, crediting the integration of food-to-go brands such as Starbucks, Greggs and Burger King with driving interest alongside free parking, meeting spaces and free wi-fi. Now it is trialling a partnership with Sainsbury's Local and drive-thru KFCs.
3 (1)
TJ Morris ▼
---
Sales: £1,603m (+8.9%)
---
Pre-tax profits: £136.9m (–6.9%)
---
Stores: 426 (+8.4%)
---
Home Bargains operator TJ Morris credited strong sales to its aggressive growth strategy, which has seen it open 33 new stores in the past year. Bargain products are in demand and the group has no plans to slow down opening new stores until it reaches its target of a 700-store portfolio across the UK.
4 (2)
Wilko ▼
---
Sales: £1,464m (+1.4%)
---
Pre-tax profits: £25.9m (+15.5%)
---
Stores: 399 (+3.9%)
---
After a difficult few years Wilko is headed in the right direction and well placed for growth. Wilko's new retail director and ex Argos head of retail Anthony Houghton has set his sights on the capital. Houghton wants to see the variety retailer open up compact sites across central London that measure around half the size of its usual 18,000 sq ft format.
5 (3)
Farmfoods ▼
---
Sales: £728.9m (–14.4%)
---
Pre-tax profits: £20m (–3.7%)
---
Stores: 331 (–0.3%)
---
Struggling to compete against the rise of the discounters, frozen food chain Farmfoods has watched sales slump 14.4%. Slashing 450 jobs and investing only £3.4m in its 300+ stores compared with nearly £19m in 2014 have helped to keep costs down while ensuring minimal impact on profits.
6 (6)
Blakemore Retail ►◄
---
Sales: £497m (0.0%)
---
Pre-tax profits: N/A
---
Stores: 294 (–0.7%)
---
Blakemore, the UK's biggest independent convenience operator, has added three new stores in the past year but also trimmed underperforming shops from its estate in a bid to boost sales and profits. It's also introduced a new department, Retail Excellence, dedicated to implementation in-store.
7 (5)
Poundstretcher ▼
---
Sales: £429.5m (–2%)
---
Pre-tax profits: £2.4m (–15.1%)
---
Stores: 390 (–3.5%)
---
Owned by Rashid and Tayub Aziz, this discount chain has closed 30 smaller stores in less attractive locations while opening 16 new stores in retail parks in the last financial year resulting in a dip in revenues. Heavy sourcing from outside the UK has it is also vulnerable to the weakness of the pound.
8 (10)
Henderson Retail ▲
---
Sales: £294.1m (–2.1%)
---
Pre-tax profits: 6.3m (+11.9%)
---
Stores: 79 (+1.3%)
---
Fuel deflation dragged sales down in the Spar wholesaler's company-owned forecourt and convenience Spar/Eurospar operation but margins were strengthened by a strong promotional programme. Henderson wants to introduce new fresh produce ranges and "create new draws" suited to location.
9 (7)
Direct Wines ▼
---
Sales: £286.8m (+2.7%)
---
Pre-tax profits: £6.7m (–34.6%)
---
Stores: 21 (+10.5%)
---
Without the £16m one-off boost from the sale of Virgin Wine in the previous year Direct Wine's profits slumped, despite sales growth. In the UK it is confident its customer base will continue to grow thanks to new and improved marketing, increasing customer loyalty and a new HQ from which to execute its strategy.
10 (8)
Booths ▼
---
Sales: £276.6m (–0.7%)
---
Pre-tax profits: –£6.5m (N/A)
---
Stores: 29 (+0%)
---
Storm Desmond blew a hole in Booths' plans last year, with floods putting its top-performing Keswick store out of action for six months. Overhauling its leadership team alongside further "restructuring and refinancing" also contributed to a sizeable £6.5m loss (but a £2.5m saving in the longer term).
11 (9)
Heron Foods ▼
---
Sales: £275m (+8.8%)
---
Pre-tax profits: £8m (+332.4%)
---
Stores: 251 (+5.5%)
---
The Hull-based frozen food operator has been reviewing its estate, with 13 new openings, including a former My Local site and the closure of many old and underperforming stores, while ongoing plans to relocate stores to more desirable locations as it expands across the North and Midlands continue.
12 (11)
Berry Bros & Rudd ▼
---
Sales: £145m (–4.6%)
---
Pre-tax profits: – £640k (N/A)
---
Stores: 2 (0%)
---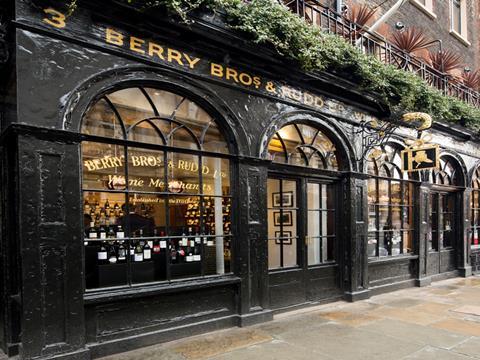 Brexit has delivered a "monumental challenge" for Berry Bros & Rudd, or indeed anyone in the business of importing wine, thanks to the plunge in sterling and the level of uncertainty the referendum spread around wine producers worldwide. But Berry Bros had problems long before the referendum took place, suffering an alarming slide in fortunes that saw it lose £7m in 2013 and £5.6m in 2015. It acted, finally, appointing former Tesco group wine director Dan Jago as CEO alongside chairman Simon Berry, deputy chairman Lizzy Rudd, and director of transformation Edward Rudd. Jago is not only alive to the challenges of Brexit but also the opportunities it offers it to export spirits to the Far East. And he moved fast to bring Berry Bros into the modern world operationally and make it leaner. In 2016 the business recorded its best year of trading for four years.
13 (12)
Park Garage Group ▼
---
Sales: £129m (–6.4%)
---
Pre-tax profits:£158k (–88.4%)
---
Stores: 59 (+3.5%)
---
In May this national forecourt operator switched supply from P&H to Bestway. Weeks later the forecourt operator poured an enormous sum into store improvements and expansion. The major refits, to new 'lifestyle' branding, also impacted sales as eight stores were closed for a month.
14 (13)
CJ Lang ▼
---
Sales: £119m (0.5%)
---
Pre-tax profits: N/A
---
Stores: 116 (–1.7%)
---
Scottish Spar distributor CJ Lang blamed deflation and poor weather for problems on the wholesale side last year. Meanwhile its retail estate is still "feeling the pressure from intensifying competition, including other symbol groups". It promises to modernise ranges and target the fresh food and food to go categories.
15 (15)
HKS Retail ►◄
---
Sales: £102.9m (+19.5%)
---
Pre-tax profits: £553K (+18.3%)
---
Stores: 60 (+93.5%)
---
HKS had already grown sales by £16m before the acquisition of Brobot Group in 2015, and together with other acquisitions, annualised turnover is reckoned to exceed £250m now. HKS operates Spar, Londis and Costcutter branded forecourts with concessions from Subway, Millie's Cookies and Costa.
16 (14)
The Kay Group ▼
---
Sales: £101m (+4.1%)
---
Pre-tax profits: £3.1m (–15%)
---
Stores: 17 (+13.3%)
---
To counteract "aggressive" acquisitions by large independents, the Spar forecourt operation is opening more greenfield sites in the North of England. It has completed two sites in Crewe and Nelson with a third in Irlam about to begin construction. The group also operates franchises with Greggs, Subway and Costa.
17 (NEW)
Abel & Cole ▲
---
Sales: £72.3m (–2.7%)
---
Pre-tax profits: £134k (–94.5%)
---
Stores: N/A
---
Pressures from a volatile exchange rate and "the availability, quality and price" of suitable organic produce not only stifled growth at William Jackson-owned food delivery service Abel & Cole, but dealt a serious blow to profits, adding a sizeable £1.4m in costs and eating into the online retailer's bottom line.
18 (NEW)
Appleby Westward ▲
---
Sales: £66m (N/A)
---
Pre-tax profits: N/A
---
Stores: 63 (N/A)
---
Spar wholesaler Appleby Westward is now a retailer in its own right, having taken over the 63-store Gillett's (Callington) estate from Mark Gillett's family last June after he passed away aged 51. Prior to the takeover Gillett's was making significant improvements to its margin, up by 26%, it said.
19 (18)
Frozen Value ▼
---
Sales: £60.1m (–6.3%)
---
Pre-tax profits :£1.7m (+0.9%)
---
Stores: 108 (+0.9%)
---
Trading as Fultons Foods and Jack Fultons this Yorkshire frozen food operator has struggled to grow its top line in the deflationary market conditions but it remains on the lookout for new commercial sites between 2,500 and 6,000 sq ft in size in the North of England and employs over 1,000 people.
20 (NEW)
Quality Save ▲
---
Sales:£58m (+2.1%)
---
Pre-tax profits:£1.02m (–25.9%)
---
Stores: 22 (+15.8%)
---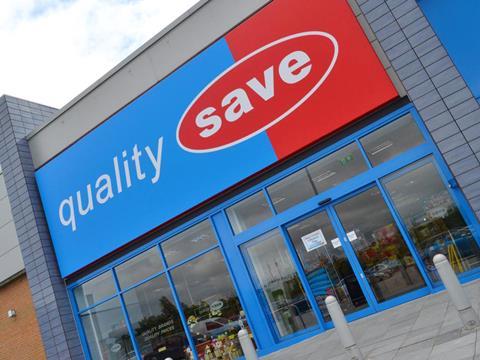 The discount variety store is now a thriving spin-off of Home Bargains with 23 stores, in retail parks and high streets, across the North of England. TJ Morris supplies the discounter with everything from stock to PoS and has been working on the rollout of chilled and frozen fixtures across its estate over the last year.
21 (19)
MPK Garages ▼
---
Sales: £57.7m (–5.5%)
---
Pre-tax profits: £139.7k (–68.3%)
---
Stores: 26 (+4%)
---
Shanti Majithia, MPK's 70-year-old owner, exited the business in April last year as part of a £14m recapitalisation of the Leicester-based forecourt operator, in which BGF took a minority stake through a £7m investment. It plans to double in size over the next two year, rebuilding sites and opening new ones.
22 (24)
Riverford Organic Farmers ▲
---
Sales: £51.9m (+9.9%)
---
Pre-tax profits:£853.2k (+7.7%)
---
Stores: 0 (+0%)
---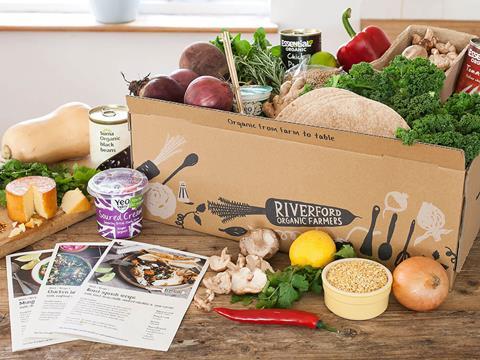 A tiny tweak to the name back in April 2016, from Riverford Organic Farms to Riverford Organic Farmers, coincided with a boost in sales and a return to profitability following a drop in profits in 2015 after heavy investment was made in operations, marketing, additional staff and new IT systems.
The rebrand was aimed at reinforcing the veg box delivery's "authority" when it comes to vegetables and introduced a new strapline 'live life on the veg' (though it also offers meat, dairy and store cupboard staples). It was also introduced to "celebrate that we are an independent, personal business and farmers at heart" said the business. Launched in 1987, Riverford is now shifting more than 50,000 boxes of vegetables a week, and in 2014 it started offering recipe boxes (50% of which are vegetarian). It now sends out over 1,100 every week.
23 (24)
Chartman ▲
---
Sales: £51.2m (+8.2%)
---
Pre-tax profits: £1.3m (–25.9%)
---
Stores: 11 (+22.2%)
---
Chartman has snapped up two service station sites in Lydford-on-Fosse in Somerset and Winterbourne Abbas in Dorset, which will open later this year. It has also embraced the growth of coffee to go and vaping by expanding its ranges and has partnered with Deliveroo for an alcohol delivery service in Exeter.
24 (21)
Roys ▼
---
Sales:£51.2m (–2.1%)
---
Pre-tax profits:£1.1m (32%)
---
Stores: 9 (0%)
---
Investments in technology and tweaks to the layout of its nine stores helped department store operator Roys keep sales on an even keel as well as pushing up operating profits by 33.6%. The business says it's committed to finding new outlets too, 120 years after the first was opened by brothers Alfred and Arnold.
25 (22)
G101 Off Sales ▼
---
Sales: £47m (–13.4%)
---
Pre-tax profits: –£23k (N/A)
---
Stores: 43 (0%)
---
The Glasgow-based convenience operation has successfully completed the refurbishment of its entire shop portfolio from off-licence to c-store but the dip in sales shows it is still getting to grips with the new offer. It plans to strengthen its senior management with new members who have expertise in the sector.
26 (20)
Sewell Retail ▼
---
Sales: £47m (–13.4%)
---
Pre-tax profits: £861k (+99.8%)
---
Stores: 12 (0%)
---
Stagnant store numbers are set to change as forecourt business Sewell on the Go has set out a proactive acquisition strategy beyond its Hull and East Yorkshire heartland. Over the past year, it has been improving its convenience offer and adding franchise partnerships with food to go specialists like Subway.
27 (25)
Amathus Drinks ▼
---
Sales:£45.6m (+35.2%)
---
Pre-tax profits:£1.7m (–22%)
---
Stores: 4 (+0%)
---
Snapping up Bablake Wines in 2015 has helped specialist drinks retailer and importer Amathus boost its top line as well as taking it one step closer to a national network. Investment in extra staff to help drive those growth plans forward did impact profits though, adding an extra £10m to its cost of sales.
28 (27)
Cook ▼
---
Sales:£45.1m (+15%)
---
Pre-tax profits:£2.7m (+17.2%)
---
Stores: 85 (+4.9%)
---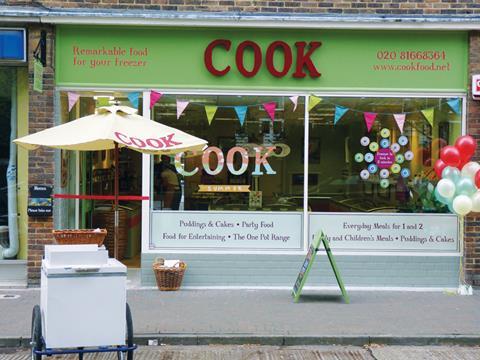 Posh frozen food retailer Cook has clung firmly to its independence since first launching 20 years ago. Dreamed up by co-founders Edward Perry and Dale Penfold the business has come a long way, from convincing a couple of banks to lend £20k for the venture in 1997 to hitting more than £45m in sales and their highest recorded pre-tax profit to boot last year. And while "retaining a healthy degree of paranoia regarding the ever shifting retail landscape" the company says it's confident this double digit growth is set to continue. In only the last year it has opened five brand new stores, refitted a further two and released a raft of successful NPD, include its popular new Thai range, low-calorie Pots for One and Christmas lines. Production records were "broken once again" at its Sittingbourne facility and a new Puddings Kitchen was opened in Somerset while it continues to refine its new concessions business with 21 'Super concessions' now up and running.
29 (NEW)
Manor Service Stations ▲
---
Sales: £43m (–17.3%)
---
Pre-tax profits: £1.1m (17.3%)
---
Stores: 11 (0%)
---
The long-term decline of fuel prices has been difficult for this Costcutter forecourt operator, based in the North of England and owned by the Brough family. It has increased margins and recently spent £1m on a high-spec refurb doubling its Oakwood Gate site and adding a drive-through Starbucks.
30 (29)
CK's Supermarket ▼
---
Sales: £40.6m (+14.5%)
---
Pre-tax profits: £1.2m (–42.5%)
---
Stores: 24 (+20%)
---
Chris Kiley's Welsh supermarket chain has invested £5m, including £1.5m on its Llanelli site, consolidating its buying and warehousing, to support growth and squeeze more value from its own food production. In a busy year its latest store opening was in Burry Port last month.
31 (26)
Lawrence Hunt ▼
---
Sales: £40m (–3.7%)
---
Pre-tax profits: £616k (–54.9%)
---
Stores: 28 (+3.7%)
---
The Spar retailer has invested heavily in its store estate, with refurbs at Willow Lane, Lancaster, Watling St Road, Preston, and Penworthman adding Amazon Lockers, Cook frozen ready meal concessions and self-service checkouts. Its latest store in Heskin opened in June.
32 (54)
Wineflair ▲
---
Sales: £32.1m (+16%)
---
Pre-tax profits: £203.2k (–66.7%)
---
Stores: 54 (–3.6%)
---
Opening 12 new stores in 2015 helped lift sales at Northern Irish wine merchant Wineflair, but their purchase also dented profits and two stores have since closed, but the offie – bought by Liquorland in 2000 – says it is looking to expand further despite ongoing pressures.
33 (28)
Symonds Forecourts ▼
---
Sales: £29m (–9.1%)
---
Pre-tax profits: £791k (+27.1%)
---
Stores: 9 (+12.5%)
---
Changing shopper habits and low fuel prices have drained sales from the South West-based Budgens and Londis forecourt operator. To counteract fierce competition and demand for better value, Symonds is opening new stores in "prime locations" and adding food to go partnerships.
34 (33)
Jempson's ▼
---
Sales: £25m (+7.5%)
---
Pre-tax profits: N/A
---
Stores: 5 (0%)
---
Jempson's is working on a multimillion pound facelift of its Rye supermarket (to open in June), with 50% more retail space for a fresh produce hall, better bakery offer, extended food-to-go range, more checkouts and an improved aisle layout. Jempsons also plans to boost own label production.
35 (NEW)
James Convenience Retail ▲
---
Sales:£25m (N/A)
---
Pre-tax profits:£122k (N/A)
---
Stores: 110 (N/A)
---
Retailer Jonathan James has snapped up GT News and Rippleglen operator First Stop News to build a new retail empire. JCR has been converting much of the store portfolio to Conviviality's Select Convenience fascia with a focus on food to go, which it says has delivered a 10% weekly turnover uplift.
36 (35)
Warner's Budgens ▼
---
Sales: £24m (+1.7%)
---
Pre-tax profits: N/A
---
Stores: 6 (+20%)
---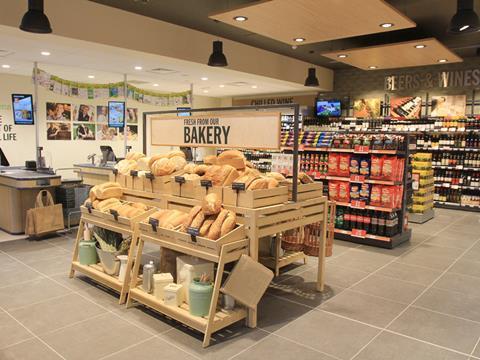 Warner's newest store, in picturesque Cotswold town Winchcombe, has a new mission-based format and features a coffee bar, fresh bakery and expanded food for now. Retailer Guy Warner is planning to refresh some of his existing estate in similar fashion.
37 (39)
Planet Organic ▲
---
Sales: £24.2m (+16.6%)
---
Pre-tax profits: £427.9k (+10%)
---
Stores: 7 (+0%)
---
In five years Planet Organic has gone from health hippie to mainstream. Both sales and profits are in double-digit growth and since its tie-up with Hubbub in November 2015 the brand says it can even give Amazon Fresh a run for its money in London, delivering high-end groceries in one-hour time slots.
38 (21)
Tout's Budgens ▼
---
Sales: £23m (+11.4%)
---
Pre-tax profits: £460k (+32.9%)
---
Stores: 6 (+50%)
---
Tout's most recent acquisition is a historic pub in Cleeve village, Somerset. A backlash from locals, who got the site listed as an asset of community value, prompted Tout's to hold a public consultation and unveil plans to build a Budgens supermarket, a forecourt, a pub, a café and a hair & beauty salon in the village.
39 (36)
M&O Trading ▼
---
Sales: £23m (+15.3%)
---
Pre-tax profits: N/A
---
Stores: 44 (+0%)
---
The off-licence business from Surrey operates three fascias: Mulberrys, The Offie and Hartleys. It describes itself as the 'South East's largest independent off-licence' and prides itself on selling everyday ranges and a strong wine offer alongside quirky premium spirits and craft beers.
40 (40)
J&J Wilson ►◄
---
Sales: £20.3m (+2.4%)
---
Pre-tax profits: £617k (+28.9%)
---
Stores: 78 (+2.6%)
---
J&J Wilson's performance varies considerably from site to site depending on the success of each holiday park, with sales at some outlets up 28% and others down 15%. The family-run business may benefit from holidaymakers ditching foreign trips for a 'staycation' following Brexit and the depreciation of sterling.
41 (38)
Filco Supermarkets ▼
---
Sales: £20m (–6.4%)
---
Pre-tax profits: £112k (–64.6%)
---
Stores: 9 (–25.0%)
---
Welsh supermarket chain Filco has been pouring profits into an extensive modernisation rollout for all nine of its c-stores. Two refurbs are carried out per year and will see a complete update of all store fixtures and fittings as well as more space and better displays for fresh produce and local food & drink.
42 (NEW)
Daylesford Organic ▲
---
Sales: £20.1m (+37.3%)
---
Pre-tax profits: –£2.7m (N/A)
---
Stores: 4 (+0%)
---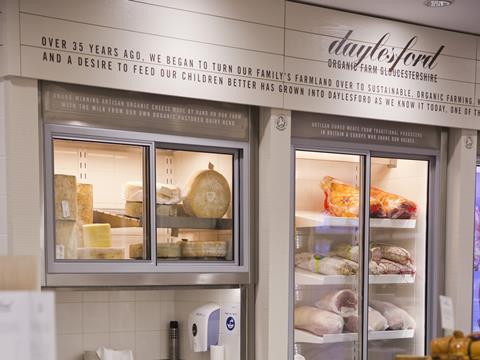 The 'Ferrari of farm shops' is a labour of love for Carole Bamford and while it halved losses last year, from –£5.2m in 2015, it remains a long way from profitability, having chalked up losses totalling £62.7m since it was started in 2003 (losing £1m in 2004, £3m in 2005, £3m in 2006, £8m in 2007, £10m in 2008, £11m in 2009, £4m in 2010, £4m in 2011, £3m in 2012, £4m in 2013 and £4m in 2014. On a more positive note revenues are in rapid growth and there are ongoing investments in new production facilities which have delivered successful NPD, including a range of trendy bone broths, and extensions to its Daylesford Farm shop in Gloucestershire and three fine food outlets in London, based in Pimlico, Notting Hill and Mayfair. Meanwhile sales are soaring on Ocado. Daylesford is its biggest supplier of organic meat, with annual sales up 44% year on year to £5.8m.
43 (43) ►◄
Tanners Wines
---
Sales: £19.6m (+4.5%)
---
Pre-tax profits: £539.7k (+5.2%)
---
Stores: 7 (+0%)
---
With its latest accounts filed ahead of the Brexit vote, the strong pound boosted sales at family wine merchants Tanners Wines. Greater range diversity helped too, as did success at its new outlet at a converted cinema in Chester. It has increased its warehousing space in Welshpool and upgraded its website.
44 (44)
Winemark ►◄
---
Sales: £19.1m (+2.7%)
---
Pre-tax profits: £491.6k (–8.9%)
---
Stores: 82 (+2.5%)
---
Northern Ireland's biggest off licence chain has faced a "challenging year in difficult economic conditions", writing £127k off on its balance sheet despite a small increase in sales. But Winemark upped staff numbers by 4.5%, and is a huge supporter of charitable causes, and even sponsors Ulster Rugby referees.
45 (37)
Kavanagh Retailing UK ▼
---
Sales: £17.8m (–20.7%)
---
Pre-tax profits: £1.6m (+294.8%)
---
Stores: 7 (0%)
---
The closure of its Hedge End store in 2015 hit turnover at Kavanagh Retailing but profits soared thanks to the proceeds being brought on to the balance sheet. Its latest refurb opened in Hinchley Wood in February 2016 with a new in-store post office, fresh range and an improved food-to-go offer.
46 (48)
Paul Stone Group ▲
---
Sales: 17m (+11.8%)
---
Pre-tax profits: N/A
---
Stores: 8 (+14.3%)
---
Spar retailer Paul Stone has snapped up the site of an old bank in his Manchester stomping ground and it will open as a new 40-seat deli and foodservice operation later this year. Exploring new routes to market is also on the agenda with Stone striking delivery partnerships with Deliveroo and Uber Eats.
47 (45)
Stans Superstore ▼
---
Sales: £17.9m (–6.6%)
---
Pre-tax profits: N/A
---
Stores: 2 (+0%)
---
A new Aldi popping up close to its flagship Shropshire store has put a spanner in the works at Stans, with its 'all under one roof' concept in direct competition with the discounter. To fight back, the family run business took on four new staff while building the community feel with specialist services like floristry.
48 (NEW)
James Hall ▲
---
Sales: £16m (+3.2%)
---
Pre-tax profits: N/A
---
Stores: 142 (+25.7%)
---
North of England Spar wholesaler James Hall has been boosting its retail side (the G&E Murgatroyd division), snapping up 30-store retail group North East Convenience Stores last July. Even if you subtract these, sales look low relative to the store total (and the staff count is 1,628) but James Hall are a shy bunch.
49 (49)
Proudfoot Group ►◄
---
Sales: £15m (+0.1%)
---
Pre-tax profits: £420k (–2.8%)
---
Stores: 5 (+25%)
---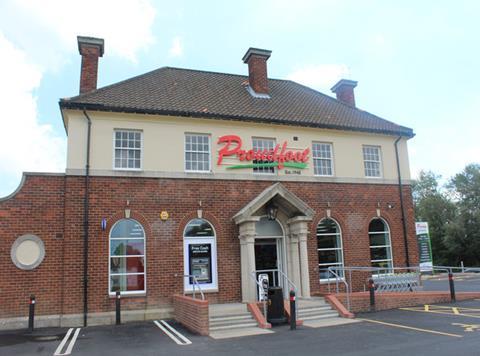 The long-term Nisa member opened store number five, a pub conversion, in May last year. The new 3,000 sq ft supermarket in Scarborough features a huge number of fresh and chilled lines as well as a new food to go counter serving freshly made sandwiches, pastries and takeaway coffee.
It will need the new store to perform well as the business is feeling the pressure – most notably in the form of increased competition from a new Lidl in Scarborough, but also, as it notes, the uncertain economy, price inflation post-Brexit, higher rent and rates costs, as well as extra staff costs following the introduction of the national living wage, which third generation family member Marcus Proudfoot, who oversaw the Scarborough store conversion and was appointed to the board of directors in September, says is "stressing profitability" at the group.
50 (41)
Jeroboams ▼
---
Sales:£12m (+0.9%)
---
Pre-tax profits:–£135k (N/A)
---
Stores: 7 (+16.7%)
---
The retailer's only deli and foodservice outlet, Mr Christian's, has been the focus in the last year. The store's layout, website, design and merchandise were updated, while a new catering arm was added, bringing more production on-site to boost sales of its easy-to-collect meals for one and two.
Methodology: The Top 50 ranks the UK's biggest independent grocery retailers by turnover. To qualify for inclusion in the Top 50, management or family must have a controlling stake in the business. Financial information was provided by companies or taken from Companies House using the most recent accounts available.