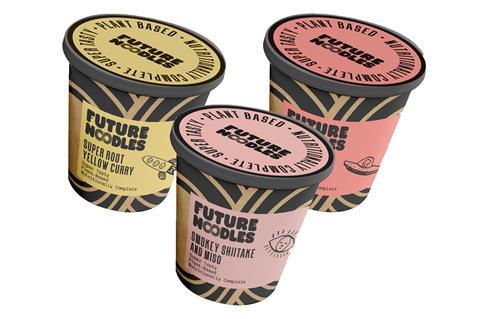 London chef Carl Clarke has launched a kickstarter campaign to fund the creation of Future Noodles, a nutritionally complete instant noodle brand.
Clarke, who is also the founder of restaurants Chick 'n' Sours and Chik'n, is looking to raise a minimum of £50k to launch the first Future Noodles flavour.
Within three days, he was able to reach half its target, raising just over £25k from 93 backers.
Delivered DTC, the instant noodles contain protein, fibre and 26 key vitamins and minerals. The brand also plans to operate a 'buy one, give one' policy, under which for every pack of noodles sold another is donated to vulnerable people.
The £50k target will allow the company to develop one of Future Noodles' three flavours – Spicy Kimchi, Smokey Shiitake & Miso Noodle Soup and Super Root Yellow Curry.
If the campaign overfunds to £150k all three flavours will be developed.
"Working long shifts in the kitchen, my late night snack would always be Japanese instant noodles and as banging as they tasted, I knew they weren't good for me," Clarke said.
"Aware that this is a worldwide problem and the busier our lives are, the unhealthier we all become, I started experimenting as I knew there must be a way to make instant noodles that were not only super tasty, but nutritionally complete.
"Having consulted some of the UK's leading nutritionists, scientists and food innovators over the last year, Future Noodles was born. Fast-forward and we're in the middle of a worldwide pandemic but rather than delay, we've adapted and expedited."