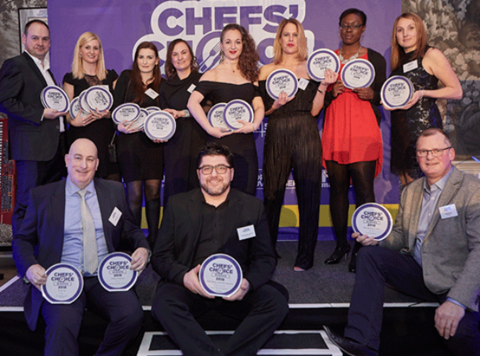 Ice cream brand giant Froneri scooped product of the year at the Chefs' Choice Awards last night at the Haymarket Hotel in London.

As well as winning the ice cream category, its Mövenpick Cinnamon Ice Cream also received the most marks from our expert judging panel across all 75 finalists.

Judges described it as "perfectly balanced", providing "great taste, innovation and texture".

The Chefs' Choice Awards, now in its second year, was created by William Reed to showcase the best suppliers, manufacturers and wholesalers in foodservice, It spans 27 categories.

A special new innovation award went to Prima Foods UK for its Gluten Free Choux Pastry Mix.

The major foodservice players all enjoyed success, with Booker the standout performer. The wholesaler won in five categories and received the highly rated accolade across seven.

The panel commended the wholesaler's BlackGate Signature Half Striploin as having "great taste and texture" and said it was "very good value for money".

Bidfood took away three gongs after winning the awards for ready meals, cakes, and morning goods & breads, Rival foodservice giant Brakes received the awards for the free-from and fish & shellfish categories.

The judging panel comprised a selection of chefs, journalists and food technologists, as well as culinary research and development managers.

Category winners and highly recommended entrants can display the endorsement logo across all of their packaging and marketing for free.

The awards were sponsored by the Cibus International Food Exhibition, which takes place in Parma, Italy from 7 to 10 May in association with Food Innovation Solutions and Good Sense Research. For a full list of winners visit chefschoiceawards.co.uk.