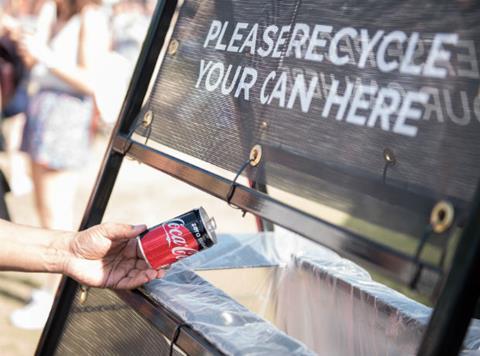 Coca-Cola has set out ambitious plans to double the amount of recycled plastic content in its bottles by 2020.

The manufacturing giant has given itself three years to up content from 25% to 50%, which it hopes to achieve by increasing the amount of bottles recycled by the public.

Coca-Cola has also set a goal for 100% of its plastic bottles to go to recycling facilities by 2020. The proportion of plastic bottles that are recycled has stalled at 57% in Great Britain - comparing poorly with countries such as Japan, where 90% are recycled.

It hopes to boost recycling rates with a heavyweight public campaign that will target 35 million consumers by the end of this year. The multimedia campaign will include a TV ad called 'Love stories' - featuring two bottles that are separated and reunited through recycling - messaging at its sampling campaigns, and a change to its on-pack recycling message later this year.

But Coca-Cola stressed that industry and government also needed to come together to tackle the issue. The company is part of Defra's working group to reduce littering, and will look to reform the current producer responsibility system to "encourage the collection and reuse of more materials". This should both encourage use of recycled materials in existing packaging and promote their use in new packaging designs.

As part of the group, Coca-Cola will also explore the possibility of new schemes such as an "on-the-go bottle collection and reward programme". It stressed this would not necessarily be a simple deposit return scheme, which has drawn criticism from bodies including the Association of Convenience Stores, but a solution devised "together with the industry".

Leendert den Hollander, general manager of Coca-Cola European Partners GB, said the company was keen to drive reform of the packaging collection system. "Our desire to double the amount of recycled material we use in our plastic bottles sends a clear signal that we want to play a positive role in supporting the circular economy," he said.

"Recycling rates in the UK have been stalling and we don't believe that's the right thing. As Coca-Cola, we said what can we do?"

Den Hollander admitted the "big, bold ambition" would need input from a number of stakeholders. "The move to 50% is a big step forward and we need the capacity and we need to make sure we have enough material we can use," he said. "There are many things that need to come together, and there are things we need to do in the industry and with government."

Coca-Cola began work to reduce its packaging more than 20 years ago. Its bottles use 50% less packaging than in 1997 and it has reduced the weight of its plastic bottle caps by 20% since 2014.