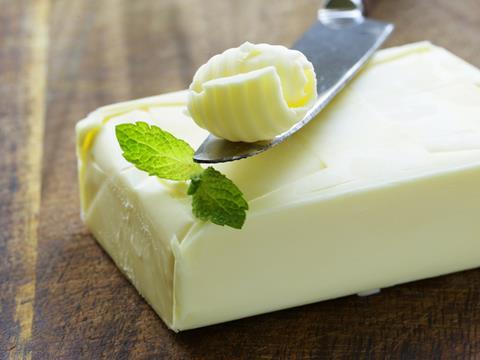 UK butter prices are surging again as the spread defies the slump in the wider dairy market.

Butter dropped 12% month on month in January alone. However, prices have surged 10% since February, reaching £3,725/tonne in April - almost double what they were last year.

In contrast, the wider dairy market has been relatively subdued since prices reached their highest in over five years last December. A seasonal downturn in demand has resulted in UK Cheddar prices declining 11% since the start of the year, while SMP prices have fallen 9% in the same time period.

The ongoing upward surge in butter prices comes amid growing demand as consumers switch from margarine back to butter. At the same time production has been limited by tighter milk and milk fat availability in the wake of low prices for dairy at the start of 2016, which - combined with incentives from Brussels - reduced dairy herd sizes across the EU.

In January, the UK dairy herd was down 2% year on year, with most decline in new dairy cows aged up to 12 months. Butter production was down 20% at 12,000 tonnes compared with last year's levels in the same month. Supplies have also been hit by growing export demand as sterling makes UK butter more competitive. This, combined with high butter prices in New Zealand, pushed UK exports up 58% year on year to 2,800 tonnes in January.

As the UK's dairy sector is in its spring flush, when production seasonally peaks, all eyes are on pasture conditions across the UK, which can affect the fat volumes in milk. However, even if milk fat supplies rise, it may not be enough to offset high global demand. The market will also have to see how Cyclone Cook in New Zealand will affect the global butter trade.