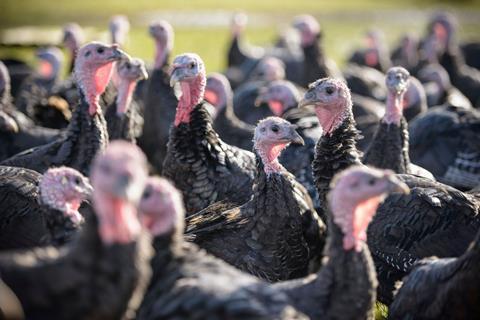 Wholesale turkey prices have soared on the back of a shortage of eggs caused by this summer's European heatwave, with tighter supplies expected in the run-up to Christmas.

Last week, frozen UK turkey prices were up 10.8% year on year to £1.86/kg, while fresh skinless and boneless UK turkey prices were up 17.5% to £4.70/kg, according to Mintec.

As first reported by The Grocer in July, temperatures as high as 44˚C led to "huge amounts" of eggs being lost earlier this year in France - which supplies about 25% of all the eggs used by British turkey farmers. In total, around 10% of the country's annual output was wiped out, leaving UK breeders struggling to source enough eggs to fulfil supermarket orders, said Kelly Turkeys MD Paul Kelly at the time.

The egg shortage means there are now fewer birds on the market, according to Mintec market analyst Rutika Ghodekar.

"Demand has outstripped supply," she says, adding the situation has been further complicated by a drop in egg imports from South America this year, "driven by rising fears related to salmonella".

Suppliers are suggesting "we may see turkey shortages this Christmas," says Christopher Johnson, food category manager at buying group Beacon.

It comes as UK turkey farmers are also facing potential cost rises from a shortage of labour, partly caused by uncertainty over Brexit, he adds. "While large retailers will have their turkey quota already assured, we may see independent retailers and hospitality businesses being hit hardest by lowered stock levels and increased prices."

Price hikes on turkey are likely be felt by shoppers this festive season, he suggests, and could lead them to switching to alternatives such as goose, chicken or meat-free alternatives.