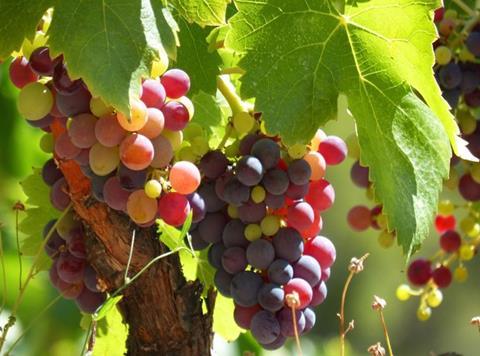 England's booming wine industry will not be slowed despite record frosts striking the country's vineyards throughout April, leading brands say.
Media reports of "any pronounced, long-term impact" have been overstated, according to Chris White, chief executive of Denbies wine estate, which lost approximately 70% of its primary buds to the frost.
"I think to say that it is catastrophic is a bit extreme. English wine and agriculture has to be sustainable and you have to be prepared for these things to happen," he says.
"The people it may shock are [producers] who haven't experienced it before and haven't been able to build up the capacity of wine to carry them through the issue.
"In terms of our own supply, we hold at least two years of stock for ourselves and for all our third party customers. Blips like this are nothing we're not used to, and we've prepared ourselves for it. There will be no issues with supply whatsoever."
Kentish winemaker Chapel Down's CEO Frazer Thompson echoed White's comments this week, reassuring shareholders the frost damage was "far from catastrophic".
"We have not seen April frosts as widespread as those of last week for in excess of 20 years. It is a rare occurrence and the outlook for our dynamic English wines industry remains bright," he says.
However, it is possible high demand for new grapes in the wake of April's frosts may drive grape prices up, warns Tamara Roberts, CEO of Sussex sparkling wine brand Ridgeview, which experienced "some damage" but not "anywhere near the levels that are being reported".
"Likewise, that will have a knock-on effect the following year when people try to restock," she says. "If we have a good year next year, again people will want to be buying up to increase and pep up their reserves, so grape prices could be quite high the following year."
Winemakers need to be able to manage losses such as these across two to three years, she adds. "Whether that requires you allocating stock to certain accounts or maybe not opening new markets to maintain your main customers, you have the ability to put that into your business plan.
"The most ideal way of dealing with this sort of thing is to not bottle everything during bumper years and keep some wine back so in the lean years you can add that in.But if you have two quite non-typical frosts late in the growing season as we have had, reserves are only going to last so long. So at some point there may be a dip in production."
English wine's total category value fell -16% to £11.1m in 2015, before regaining momentum and growing 26.2% to £14.1m in 2016 [Nielsen 52 w/e 31 December 2016]. However, the English sparkling subcategory was unaffected by 2015's decline - it rose 26.1% that year before shooting up 33.1% from £7.3m to £9.7m in 2016 [Nielsen].
The Southern counties have recently attracted attention from foreign brands looking to take advantage of its climate, such as Champagne Taittinger, which planted its first vines in Chilham, Kent on 3 May, kicking off a joint venture with distributor Hatch Mansfield.