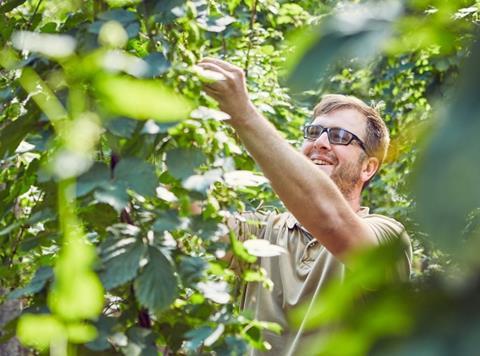 Herefordshire hop grower Brook House has begun selling its hops direct to brewers online, which it claims is a UK first.
Brook House has begun selling its 2017 hop crop on online marketplace the Lupulin Exchange, and plans to launch its own sales portal "in the near future".
Hops are traditionally sold through a third party merchant, but Brook House partner Will Kirby said the move would benefit brewers seeking "greater transparency, provenance, freshness and access to specialist varieties".
The rise of craft beer meant there was need for a "new approach to growing and sourcing", he added. "We all want to know the source of our fruit and vegetables, so why should hops be any different?"
Going forward the supplier would looks to grow and source "new and unusual" varieties of hop.
"Much like grapes, it's all about the terroir and there are some really interesting varieties grown in the US such as Citra and Amarillo that we want to introduce to the UK," said Kirby.
"I've been working closely with a group of American hop farmers and we now have a complete refrigerated supply chain to ensure these hops get to brewers in the best possible shape. Freshness is key."