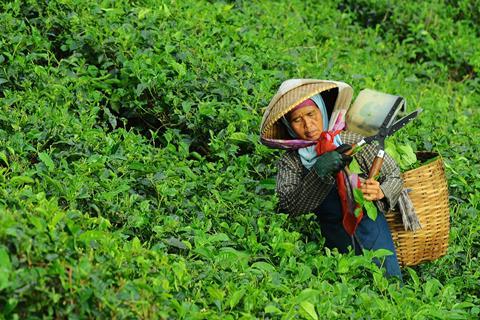 The price of tea from the three largest producing countries looks set to rise by as much as 40% over the next six months. This is largely as the result of reduced production in Kenya, the world's largest exporter of tea, according to a new report from Mintec.
The East African nation enjoyed a production glut last year that pushed down prices. However, 2019 is likely to see a 12% year-on-year decline in output due to droughts in March. This is expected to raise local prices and consequently global prices. Mintec estimates Kenyan tea will become 15% to 20% dearer in the coming six months – rising to as much as 270 Kenyan shillings (£2) per kilo.
The projected lower supply from Kenya will likely see buyers turn to Sri Lanka, where production is stable. Prices will increase by between 6% and 9%, Mintec predicts. It also forecasts a 35% to 40% rise in Indian tea prices – again as a result of the Kenyan shortfall, as well as measures by Tea Board India to improve the quality of the country's tea. The government body's strategy is 'expected to add further upward pressure on prices as lower-quality tea might be removed from the market' says Mintec.
However, UK tea suppliers insist they are prepared for such eventualities. A spokesman for Taylors of Harrogate says it is "well set up to respond to price fluctuations with long-term, forward contracts in place with our suppliers to ensure a sustainable price is paid if the market drops below the cost of production."
Many other brands are "already switching between suppliers to ensure they are getting the best deal possible" claims Suranga Herath, CEO of English Tea Shop. Most leading names in UK grocery "blend teas from multi origins to achieve a stable price and thus are prepared to absorb production issues in the short to mid-term".