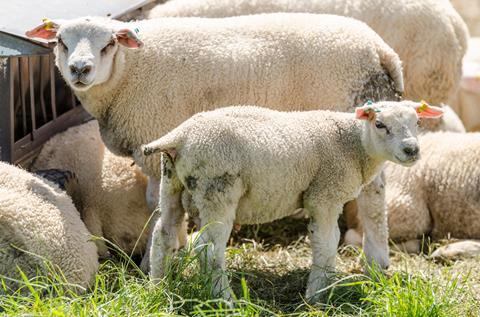 Tight supplies and an already elevated November price could keep lamb prices high into the new year.

The average GB deadweight lamb price rose by 3.5% in one week, from 16 November to 23 November, to £421.5/kg [AHDB]. This was up 6.4% year on year.

While the latest price is below the peak of £619.5/kg in May 2018 following the Beast from the East, it is 9.6% higher than the current seasonal five-year average of £384.6/kg, says AHDB analyst Rebecca Oborne.

Prices have risen as a result of a lower number of lambs being slaughtered, coupled with solid domestic demand and tighter supplies from Australia and New Zealand, Oborne suggests.

"Good grass growth during the summer means farmers have been bringing their lambs to slaughter earlier," she says.

This means there will be fewer lambs in the system in the new year, with AHDB forecasting there will be about 4.7 million available to slaughter at the start of 2020. There were five million available this year, and 4.8 million available in 2018.
New year supplies of lamb from New Zealand and Australia are also expected to remain tight next year. Import levels are forecast to be 5%-6% lower than five years ago due to soaring demand from China.

Prices could also be affected by other factors such as the weather in the new year. AHDB's estimates on slaughter numbers do not take into account the impact of potential bad weather on supplies.

A "terrible" lambing season in spring 2018 was a key driver in the record high prices reached last May, with soaring mortality rates leading to a 5.5% year-on-year fall in total sheep numbers.

It comes amid a rebound in lamb sales in the mults, with total spend on lamb by UK consumers up 2% to £435.8m in October [Kantar] and frequency of purchase up 1.9%.