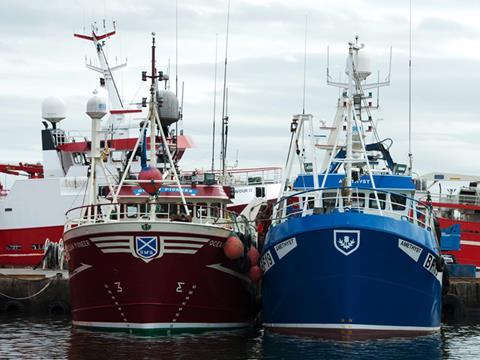 Improving stocks will see North Sea cod quotas increase by about 16% next year following bilateral negotiations between the EU and Norway last week.
Stocks of the species have been recovering for several years after a collapse during the 1980's and 90's. However, the latest increase in quota was unlikely to lead to lower prices in UK supermarkets, said levy body Seafish.
The final total allowable catch (TAC) for the species will rise from 33,651 tonnes in 2016 to 39,220 tonnes next year, with some 11% of the increase consisting of a top-up as part of the EU's new landing obligation – which aims to cut down on fish discards at sea – and will allow fishing crews to land what was previously thrown overboard.
Wholesale North Sea cod prices were up 31.5% year on year at £1.63/kg [Mintec, November 2016] as a result of a surge in demand across Europe, driven by cod being used as a cheaper alternative for salmon.
But as a result of this increase in demand and because imports to the UK had steadily grown over the last two decades (in response to dwindling stocks), a higher catch quota for the North Sea was unlikely to push down cod prices, said Seafish chief economist Hazel Curtis.
"We import about 90% of our cod from outside the UK, so that little bit extra on the home catch is unlikely to affect most retail prices in the UK."
Elsewhere, the North Sea whiting quota will remain unchanged. However, crews would benefit from an additional landing obligation quota top-up of 17%, taking the total allowable catch up to 16,003 tonnes.
The haddock TAC will fall by 45% as a result of scientific advice in reaction to tightening stocks, with the North Sea herring TAC down 7% and plaice up 1.2%.
An increase in quotas for cod and whiting were welcomed by Scottish fisheries secretary Fergus Ewing. However, he warned the increases had come at a cost, and had been agreed despite opposition from the UK and Ireland.
"We're pleased that the agreement now gives certainty on quota levels on some key stocks in the North Sea next year – this is particularly important for the cod and whiting that are introduced into the landing obligation in the North Sea next year," he said.
"However, we feel the cost for this deal is excessive, where the Commission has chosen to give away 110,000 tonnes of blue whiting to Norway as well as increase access to our waters for Norwegian vessels in 2017, with very little direct tangible benefit to the Scottish fishing industry," he added. "This is very disappointing, considering Scotland is the second-largest contributor to the overall package."
Scottish fishing crews also expressed "extreme disappointment" at the new quotas for Norwegian vessels, which sees Norway's percentage of the whiting catch to the west of the British Isles increase from 61% to 68%.
The increase would disadvantage the Scottish pelagic fleet in 2017, said Scottish Fishermen's Federation president Ian Gatt.
Final decision-making on all fish quotas for next year will take place on 12 December at a meeting of the European fish council in Brussels.