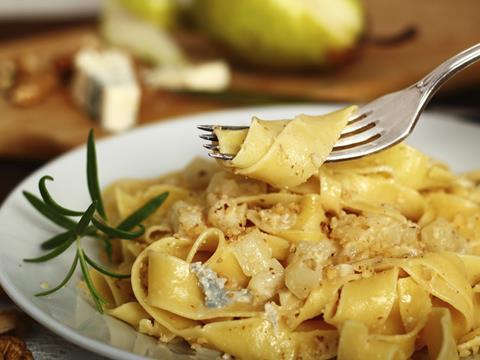 Pasta producers are seeing core ingredient durum wheat fall in price after months of double-digit increases - but have warned the market remains volatile and retail prices could rise.

Prices began rising last May, with crop levels of superior desert durum wheat and organic durum wheat particularly hard hit. Wet weather took its toll in France - providing 66% of UK durum imports - while high temperatures impacted Spain. The picture worsened in the summer when Italy suffered heavy rainfall and Canada, the largest global exporter, reduced planting. Prices peaked in November, hitting £352.20/tonne in France.

The situation has eased in recent months with the news Canada, France and Spain will boost overall durum wheat acreage for 2015/16. But although prices are falling, the cost remains 20% up year on year in France, despite falling 26% month on month (February) to £258.30/tonne. In Spain, which provides 20% of UK imports, durum wheat has dropped 4% to £285.50 a tonne, but remains 44% above last year's prices.

"This year looks very bleak," says Mal Pullan, UK commercial director of pasta supplier Pastificio Lucio Garofalo. "The market is very volatile as pasta producers are doing long-term deals to take up the volume. Most producers take a view on what they expect to pay for the year, and often the latter part of the year is their best educated guess. So in real terms we lose out in the first part of the year but recover through the second."

supermarkets have been resistant to price increases as a result of the cost of other commodities falling, says Ugo Foods Group senior account handler Beverley Singer, adding supplier margins are being squeezed. "It is therefore probable shoppers may notice a slight increase in the price of such products," she adds.