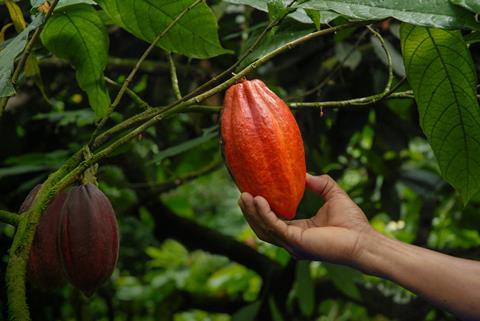 A group of cocoa buyers including Tony's Chocolonely, Aldi and Ben & Jerry's are pledging to pay farmers in Ghana and Ivory Coast up to 44% more than farmgate prices, in the face of increases that are "not enough".
Tony's claimed the farmgate price hikes introduced by the two largest cocoa producers in the world last month – 47% to $1,225 to $1,804 per tonne in Ghana, and 20% to $1,344 to $1,612 per tonne in the Ivory Coast – were still "too low to enable farmers [to make] a living income".
The Dutch chocolatier and other business partners that source cocoa through its Open Chain scheme, such as Huel, Ben & Jerry's and Aldi, have committed to paying their farmers an additional $316 per tonne in Ghana and an extra $714 per tonne in Ivory Coast.
This represents 18% and 44% on top of the current national farmgate prices in Ghana and Ivory Coast, respectively.
"While we believe that the farmgate price increase of cocoa in Ghana and Côte d'Ivoire is a step in the right direction, it's crucial to recognise that it isn't enough," said Joke Aerts, credible scaling lead at Tony's Open Chain, the industry-wide initiative led to promote supply chain transparency and better conditions for smallholders across cocoa-producing countries.
Cocoa supply chains are notoriously ridden with worker and human rights abuses, including high levels of child labour and sub-par wages, mainly caused by widespread poverty.
Every year, national governments attempt to ensure fairer conditions for cocoa farmers by setting new farmgate prices at the start of the cocoa season. This helps to protect producers from overly low prices and prevent smuggling to other neighbouring countries, where cocoa might sell for more.
The steep increases for the 2023/24 season have mainly been driven by a slowdown in cocoa production over the past year, which has in turn led to higher commodity prices across global markets.
Tony's said the raise was a "positive development for farmers" but that it was not enough to meet the Living Income Reference Price – a recent metric developed by the Fairtrade Foundation, which determines the price needed to move farmers out of poverty into a decent standard of living.
It urged other chocolate buyers to follow their lead in paying farmers more for their cocoa.
"Paying the Living Income Reference Price for cocoa is a core driver to enable farmers to earn a living income. Tony's Open Chain invite companies to commit to paying the LIRP," said Aerts, adding a "higher price for cocoa should become the industry norm".
Tony's argued that paying farmers more "does not result in significantly higher prices for consumers".
"Companies can choose how to absorb extra costs in their supply chain, which rise and fall year on year and are not all passed on to consumers in price raise," Aerts said.
"Last year, Tony's Chocolonely decided to invest more into their pricing to customers to facilitate a reduction in recommended retail price of its 180g chocolate bars from £3.49 to £2.99.
"A reduced RRP will ultimately encourage more shoppers to trial Tony's and increase its reach, accelerating the impact Tony's can make," he added. "There's more than enough money in the cocoa value chain, it's just going to the wrong people."