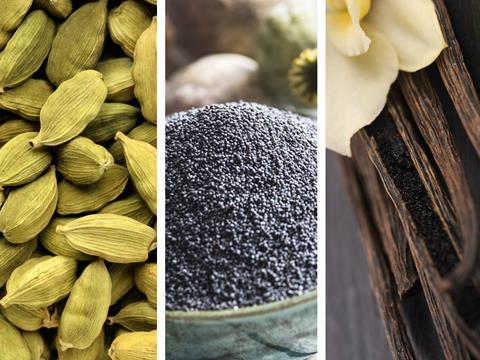 Cardamom prices hit eight-year highs in January as global weather conditions wreaked havoc in spice markets.

Suppliers have found themselves at the mercy of a 30% spike in prices after shortages emerged from key growing regions. High temperatures, followed by heavy rains during the monsoon season damaged the cardamom crop in India, while yields in South and Central America have also taken hits, according to Tasneem Alonso, joint MD at EHL Ingredients.

Prices have been rising gradually over the past three months. Supplies from India were trading at £17.79/kg during their peak in late January, up from £15.40/kg in November [Indian Multi Commodity Exchange]. Meanwhile, demand for the curry staple remained strong in the UK, leaving suppliers scrambling for volumes.

It's a similar story for Czech poppy seeds, where prices surged by a third to about €2/kg [Mintec] at the end of 2018 after growers in central and eastern Europe were plagued by the Beast of the East followed by the hot summer. Supplies in the Czech Republic - the world's largest supplier of the blue poppy seed - ran out prior to the start of the season, Alonso adds. This has contributed to global shortage of poppy seeds for baking and confectionery.

Meanwhile, despite almost two years passing since Cyclone Enawo nearly crippled Madagascar's vanilla industry by destroying 30% of the nation's crop, the market remains vulnerable to knock-on effects and price volatility.

Though vanilla prices have slipped slightly from peaks of more than €350/kg last July, they remain higher than that of silver at about €347/kg, says Stefan Sabo-Walsh, head of commodity research at risk consultancy Verisk Maplecroft.

"This marks more than a 250% increase in market price since the start of 2016," he adds.