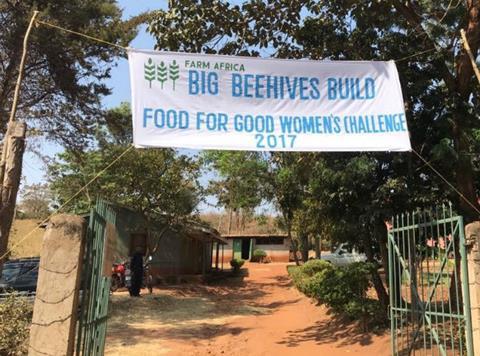 A team of senior businesswomen from across the food and drink industry have successfully built 120 beehives in Tanzania in only 72 hours.

The 14 women, including senior leaders from Sainsbury's, Moy Park and William Reed, eclipsed their 2015 record of constructing 90 hives in the timeframe, as part of Farm Africa's 2017 Big Beehive Build.

The project aims to boost the income of farmers in the Babati region from honey, while raising funds for charity Farm Africa.
Three days, 14 women and over 100 beehives to build …
"A 72-hour challenge is the beginning of a local community business," said team member Lorraine Hendle, managing director of retail and manufacturing at William Reed, which publishes The Grocer.
"The women, men and children of the Bermi community will all benefit from this resource."
The build marks second time a team from the UK food and drink industry has participated in the project. The modern Langstroth beehives built by the group will directly enhance local women's beekeeping businesses.
Babati's beekeepers typically use traditional beehives suspended high in trees, making them inaccessible for the women as it is culturally unacceptable for them to climb trees. However, the Langstroth hives sit in the ground. The equipment has allowed local farmer Regina Alfred to nearly double her output from 8kg-10kg of honey per year, to up to 20kg - extra income that will help her to send her children to school.
Honey production is also more sustainable than the alternative of felling trees in the Nou Forest region, where deforestation is rife.

To mark the completion of the challenge, the builders and local community held a closing ceremony to officially hand over the beehives, attended by local politicians, NGO workers, the local community and the businesswomen. "The Big Beehive Build's premise is beautifully simple: no bees, no trees. No honey, no money", added Jenni Bright, Farm Africa's head of fundraising. "Bees, as pollinators, improve the forest ecosystem, and equally fruit trees improve honey production, which helps local women earn more money."

While the Tanzanian leg of the Big Beehive Build is over, the team is still working hard to meet its fundraising target of £80,000. Until 14 January 2018, donations in support of the build will go to Farm Africa's Growing Futures appeal, which will help young farmers living in western Kenya develop sustainable horticulture businesses. Gifts from individuals based in the UK will be doubled by the government through UK Aid Match, meaning gifts will go twice as far.

● To help the team reach their total, go to JustGiving.com/BBB17.