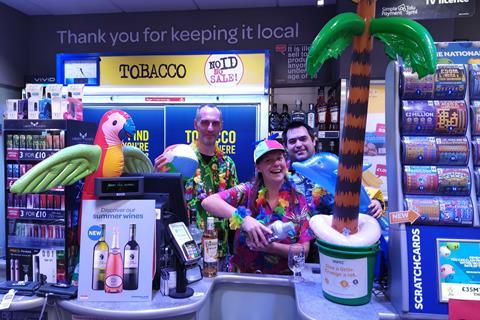 Blakemore Retail Spar stores have raised £25,000 for the NSPCC following a 'dress up or dress down' fundraising weekend.
The non-uniform event took place from 17 to 19 July across its stores in England and Wales.
It saw colleagues showcase a wide range of outfits, from fancy dress to pyjamas.
A few fancy-dress characters spotted over the weekend included Where's Wally, Superman, SuperTed, Buzz Lightyear and Mickey and Minnie Mouse.
Colleagues also organised raffles for customers and decorated their stores with flags, balloons and inflatables.
The funds raised will go towards helping the NSPCC to keep children safe from abuse and neglect.
Prior to the event, Blakemore Retail had agreed a prize of £50 for the store that raised the most money.
But the business said it decided to award £50 to stores that raised the most money in each region due to such an impressive turnout.
These were St Fagans in the south west, Reepham in the south east, Brumby Corner in the north east and Gwersyllt in the north west.
"The dress up or dress down weekend was Blakemore Retail's first big fundraiser since the coronavirus lockdown, so an important event in the calendar," said Blakemore Retail operations director Chris Bacon.
"Colleagues really threw themselves at the occasion and raised a phenomenal amount, far surpassing the £5,000 target we set. This was especially impressive as current circumstances mean that options for fundraising activities are more limited than usual."
"Our stores' enthusiasm and unwavering commitment to supporting the NSPCC's mission makes me incredibly proud. Well done to all involved."