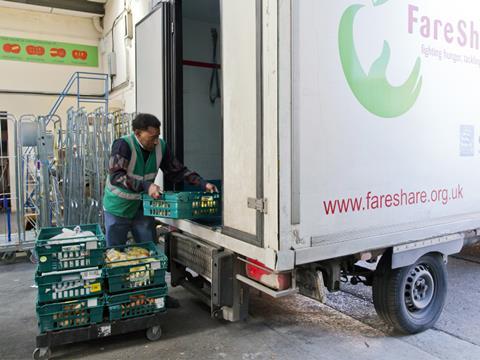 The UK's biggest redistribution charity FareShare is distributing four meals every second, but many families are still going hungry, it has warned.
The charity said it was ready to step up support further but was being hamstrung by the lack of support from government, with aid having been cut since pandemic restrictions were lifted.
Despite emergency measures announced this week by Chancellor Rishi Sunak to help families facing soaring energy costs and food inflation, FareShare said the government was now spending nothing on supporting food redistribution charities.
FareShare's annual results this week showed between April 2021 and March 2022, it redistributed the equivalent of nearly 2.5 million meals every week.
Across the period it redistributed almost 54,000 tonnes of food – the equivalent of nearly 130 million meals – as demand remained at a similar level to the previous pandemic-hit year of 2020-21, when FareShare redistributed 55,000 tonnes of food.
But unlike last year, when FareShare was given two grants by the government to purchase emergency food supplies, the latest figures show 88% of FareShare's redistributed food was made up of good-to-eat surplus food from across the industry. The rest was made up of donations and food purchased with grants designed for that purpose.
"FareShare's impact statistics highlight the ongoing demand for our redistributed food at a time of economic hardship for so many," said CEO Lindsay Boswell.
"We know from our recent survey that the cost of living crisis is having a huge impact on families struggling to cope, and the charities that support them. And demand for our food is higher than ever.
"But the UK government has removed all funding for food redistribution. So it's often cheaper for farmers to waste good-to-eat food than get it on to people's plates.
"With so many struggling to cope, funding food redistribution and stopping needless food waste is a no-brainer. It makes social, economic and environmental sense. And it's time for the government to act."