If the coronavirus outbreak has made shopping a concern for most, it's been 'complete and utter chaos' for charities and groups that redistribute food surplus and help the vulnerable. How can we feed the needy amid Covid-19?
Millions have lost their jobs or seen their incomes slashed. Children have lost access to free school meals. The elderly and vulnerable have been trapped at home for weeks. All are now looking for help to feed themselves and their families amid the catastrophic impact of coronavirus.
The result is unprecedented demand for food donations. "It's complete and utter chaos," says Lindsay Boswell, CEO of FareShare UK. Each of the organisation's 24 regional sites have seen spikes in demand, he says, "with huge numbers of people that now need us. It's been a case of stepping up and increasing our working capacity."
City Harvest has also witnessed 'skyrocketing' demand from vulnerable Londoners, prompting the charity to put out an urgent call for financial support last week to keep its vans on the road.
And the UK's 1,200-plus food banks, already at capacity before the pandemic hit, have been grappling to respond to a new wave of demand from those suddenly left without enough cash for food. But meeting that need is harder than ever. As supermarket shelves are stripped bare and the supply chain comes under massive strain, how can redistribution networks meet this unprecedented demand?
The crisis had an immediate and brutal effect on traditional forms of supply. The first half of March saw a major decline in both donations and surplus.
On the one hand, it was a case of shopper donations falling by the wayside amid in-store shortages. "While some people are fighting over the last toilet roll in their supermarket, the donations we rely on to keep the food bank open are dwindling," said one London food bank in an urgent appeal for help. It was a similar story across the country, as individual food banks reported "desperately" low supplies of essentials such as milk, oil and basic hygiene products. Meanwhile, networks such as the Caritas Food Collective, which addresses poverty within Westminster, urged people to "step up" their generosity amid the crisis.
"From the retail partners we work with we saw a superhuman effort on the part of store staff to keep up with demand"
At the same time, the unprecedented pressure on grocery supply chains meant there was less surplus to go around. "We've seen a major drop-off in donations because the general public has chosen to buy anything that any of the supermarkets will put on their shelf," says Boswell. "Suddenly the food sector has flipped rapidly to one where demand outstrips supply and, in those circumstances, there is very little surplus."
Surplus food made available via the Neighbourly platform, which works with a number of major supermarkets on redistribution schemes, declined by 30%-50% last week, adds CEO Steve Butterworth, though that varied by store, region and retailer. "That was to a great extent driven by a level of anxiety from consumers and the stockpiling that was going on. Though from the retail partners we work with we saw a superhuman effort on the part of store staff to keep up with demand and continue with donations where they could."
This dwindling availability of supermarket produce has prompted resdistribution networks to think differently. FareShare, for one, has opened up its network to all types of food donations, rather than just surplus. "In this emergency the old rules and the old world go out the window," says Boswell. "While we're completely and utterly maintaining all food standards we're no longer only dealing with surplus - we're actively asking the food industry for donations." Indeed, last week it held a crisis meeting with IGD, who it hopes "will play a co-ordinating role on that", and more than 70 food businesses to establish how to feed vulnerable groups that have been "cut off at the knees overnight".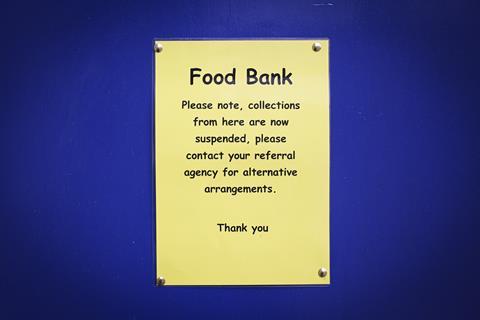 Foodservice surplus
Foodservice is another new source of supply. The sudden closure of cafés, restaurants and hotels has created huge volumes of surplus. Tessa Clarke, co-founder and CEO of food sharing app Olio, says the network has had "unprecedented" numbers of businesses reaching out from the foodservice sector.
City Harvest has similarly been "inundated" with donations from the likes of Nando's, Honest Burger, and Lloyds of London, says CEO Laura Winningham. It has seen donations rocket to 20 tonnes of food a day (they usually stand at 35 tonnes a week) after gaining over 70 new partners in less than 24 hours.
FareShare too has upped partnerships with the likes of Brakes, Compass Group and Bidfood to capitalise on the spike from foodservice. It comes as part of wider industry efforts to prevent huge volumes of food waste from the stymied hospitality sector, with an industry steering group set up to identify both commercial and non-commercial routes to market for the £20m worth of food now at risk of perishing.
"But that's a short-term blip while we act as a conduit to make sure that food isn't wasted," cautions Boswell. In the longer term, he stresses that donations of surplus from major grocers and manufacturers are crucial to meeting demand from growing numbers of vulnerable people.
That means collaboration between the grocers and organisations such as FareShare will be vital in the weeks ahead. Richard Wilding, professor of supply chain strategy at Cranfield University, points out that forecasting will be difficult for some time. "The current volatility means supply chain teams have to guess demand," he says.
Boswell recognises that guesswork will create "shortages and surpluses in equal measure as we move through what is an unknown situation", which will require close working with supermarkets to manage.
"The current volatility means supply chain teams have to guess demand"
Availability isn't the only issue that will require this collaborative approach. Because redistribution networks don't just rely on surplus - they also rely on huge armies of volunteers, sometimes complex logistics operations and charities or community groups to link them to those in need. Each of those aspects is proving challenging.
Take the act of collecting surplus food from stores. There had been a lack of clarity about the ability of volunteers to head into stores at all, says Butterworth, but the platform has now equipped charity workers with documentation that confirms their status as key workers, which can be used if questioned by police or supermarket employees.
"In terms of how to collect safely, too, we've provided best practice guidelines," he adds. For many networks and charities that has meant new contactless collection policies, limiting contact between store staff and volunteers while protecting the food's integrity.
Elsewhere there have been struggles in finding volunteers to carry out that role in the first place. London-based The Felix Project has said its resources are "under considerable strain" as a result of less food and also a deficit in volunteers able to drive vans and manage operations. With its donor partners struggling too, the project is predicting a potential deficit of £350,000.
To pool resources in the capital, networks joined together earlier this month to form The London Food Alliance. Boswell says he wants FareShare to act as "a backstop" for other organisations struggling to stay afloat. "We're essentially looking at being the supply chain for the social sector."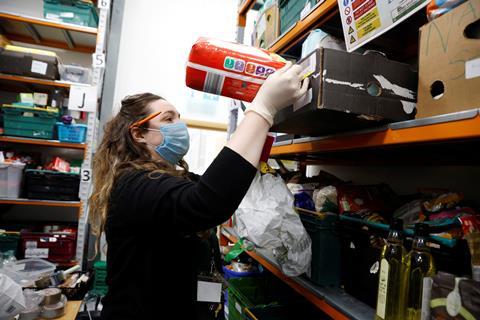 And that's not the only resource issue. Many of the charities and community groups that receive food donations have closed. That leaves grocers and redistributors with an additional dilemma: even where there is surplus, they're struggling to reach those in need.
"Sadly lots of charities have fallen by the wayside in a very short time at the local community level and schools have shut, which has changed the dynamics of demand," says Butterworth. (Although he points out there are still 12,000 vetted causes on its platform with which grocery stores can create new matches.)
City Harvest has also seen a third of its 300 charity partners close for the time being, says Winningham. Those 100 partners would have received 1.4 million meals over the course of the next 12 months, she points out. "Where do those people eat if our charity partners close?"
For FareShare, the answer lies in delivering food parcels closer to home. It's speaking to charities and community groups on the ground about co-ordinating the last mile. "We're saying if we can get the food parcel to you, can you mobilise the local community to do the last 100-metre delivery?" says Boswell. "They know where those individual doors are and can drop the parcels off and step back. We can support large numbers of people that way."
Luckily, one thing the crisis has caused is a greater community feel. That is evidenced not just by support for the likes of FareShare, but by the greater usage of peer-to-peer networks, mobile apps and platforms that facilitate surplus food being swapped between households. Olio, for example, has seen a 100% increase in people signing up to become volunteers, with 7,000-plus people now trained and able to collect and redistribute surplus among their local community. That's helping Olio cater for the "significant rise in people reaching out to us and identifying as vulnerable and facing food insecurity as a result of empty shelves in supermarket shops," says Clarke. "We're hearing over and over again, that is a lifeline.
"We're working hard to get people to share their stockpiles," she adds. "The reality is there is more than enough to go around, it's just unevenly distributed."
Commercial apps
That spike in demand at a grassroots level is even true for commercial apps such as Karma, which redistribute surplus food at cheaper prices than the supermarkets. "People don't know what to expect or how this will affect the economy, and for how long," says Elsa Bernadotte, president and co-founder of Karma. "People may have already lost their job or fear losing their jobs. Both are turning to Karma to access food at a lower price."
That demand is being met by businesses that are also seeking help from these apps. Foodservice players, producers and farmers are all signing up to access the app's user base and offload surplus directly as a means of bringing in some much-needed additional income.
Ultimately, though, these solutions are small scale compared with the power of the supermarkets. So it's encouraging that, despite the current challenges, they remain dedicated to the issue. They're "100% committed," says Butterworth. "It's been absolutely amazing to see how they've managed to spin the plates. If there is surplus available, it's made available."
Indeed, there have been substantial efforts to keep things going despite the crisis. Just this week, supermarkets and suppliers announced a joint campaign that will see more than 2,000 pallets of emergency food supplies delivered every month on a national level.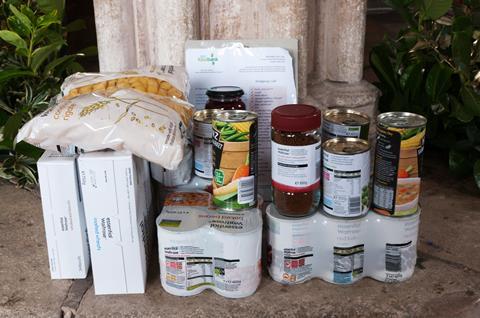 That follows a host of individual initiatives. Earlier this week, Morrisons revealed it was extending its production line in order to send £10m worth of food to food banks. The Co-op too will donate food to a value of £1.5m to FareShare. And Tesco is dividing £15m worth of food between FareShare and The Trussell Trust.
At the same time, Tesco is making a £1m cash donation to the two organisations. Asda has also pledged £5m, split evenly between FareShare UK and The Trussell Trust, to shore up their operations. For FareShare, this allows redistribution centres reliant on membership fees to stay afloat. "Now none of the FareShare operations are in danger of falling over, otherwise the majority would've gone bust," says Boswell.
M&S, meanwhile, has worked alongside Neighbourly to create a fund to support community groups in providing core services, including emergency food. The retailer has already donated £100,000 and will also donate when customers use their loyalty card and select Neighbourly as their preferred partner.
"I'm full of admiration for the food industry supply chain because it's recalibrated itself unbelievably quickly," says Boswell. "I can't imagine what work and pressure people at manufacturing, distribution and retail are under and yet they've ploughed through."
Olio's Clarke agrees the supermarkets "should be commended for the way they've leapt forward" in meeting these challenges. "It's been remarkable to be part of," she says. "In challenging circumstances, they're doing a brilliant job."
Sums up Butterworth: "We're in an incredibly unprecedented time and for me it's important that what we're seeing is a co-ordinated, collaborative effort to address the challenges that are out there.
"What was a challenge last week, is different to this week, and different again to the challenges next week."
And so the mantra in redistributing food is like everything else right now: one day at a time.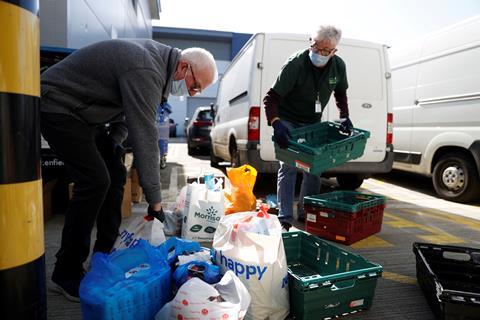 Communities around the UK step up to the plate
Faced with the dual challenge of more people in need and established charities struggling to reach them, a panoply of community initiatives has sprung up to help plug the gap.
Volunteers up and down the UK are now dropping off food parcels, picking up prescriptions and providing the elderly with a home-cooked meal while quarantined. Many are co-ordinated by Covid-19 Mutual Aid UK: a national initiative that began in Lewisham and has spread to 300-plus UK towns and cities. Tens of thousands have stepped up to help.
Many schemes have also sprung up to make the most of kitchens sat empty in cafés, restaurants and caterers across the country. One example is #DonateADinner. Launched by London caterer and chef Jimmy Garcia, the initiative asks for £3 donations that hospitality staff can use to whip up dinners for the vulnerable.
And elsewhere, there are efforts to mitigate the loss of free school meals for low-income families. Last week Olio launched its #Cook4Kids initiative, calling on communities to help cook school lunches in their home and make them available for free to those in need via the app.
"There is almost a Blitz spirit," says CEO Tessa Clarke. "Ironically people are valuing food in a way they haven't done for a long time."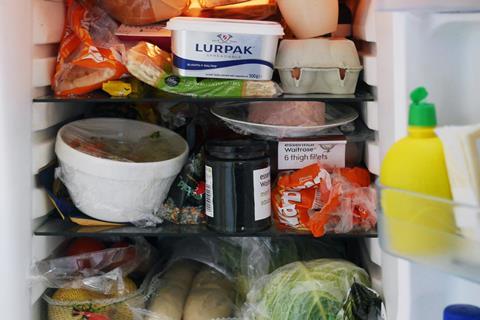 What about household waste?
Though there are signs Britain's stockpiling habit is petering off, it remains the case that there will be plenty of overflowing cupboards and fridges in homes right now.
In fact, taking part in the government daily briefing last week, the BRC's Helen Dickinson said there is now £1bn more food in people's homes than there was three weeks ago.
In all likelihood that will mean a short-term spike in household waste. "An immediate risk of increased food waste especially for fresh produce now exists," says Richard Wilding of Cranfield University. "If freezing is not practiced with discipline, we are in immediate danger of increasing food waste."
The waste sector is preparing itself for the deluge. Natural World Products, a waste recycling company in Northern Ireland, says it is predicting a "huge upsurge" in household food waste levels. "In a normal April, we would handle over 20 thousand tonnes of discarded organics from households in Northern Ireland alone, but that figure will in all likelihood be eclipsed this year," said the company.
Preventing this requires action among consumers, adds Wilding. "It can be avoided by behaviour change: our food choices, food shopping practices, and how much we think about what will happen to the food we buy. It starts and ends with consumers."