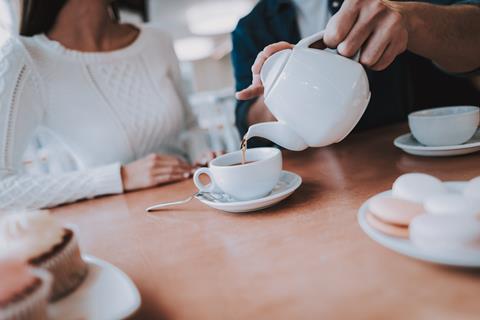 Next week we're launching the biggest project in our business right now.
It's not a new product launch or a multimillion-pound TV campaign. Nor is it an extension of our manufacturing capabilities.
Instead, we're joining forces with the UK's leading mental health charity, Mind, on a national awareness-driving campaign to encourage Britons to get talking.
So why are we doing this?
Mental health and wellbeing is more important than ever. Approximately one in four people in the UK will experience a mental health problem each year and our newly commissioned YouGov research, in partnership with Mind, reveals that half of UK adults keep their worries and concerns to themselves.
As an industry, too, mental health is moving up the corporate agenda. At Pladis, we started our journey in 2017 through an internal support programme called Positive Minds, following the tragic suicide of one of our colleagues. Our own programme offers 24/7 employee assistance support for our 4,600-strong workforce, mental health awareness training for all line managers and a network of over 100 dedicated mental health and wellbeing ambassadors across all our sites.
And we're not alone. As described in The Grocer's recent article on mental health in the workplace, several major fmcg employers now have mental health initiatives in place. Tesco, Co-op, Sainsbury's and Waitrose are just a few names in the industry that have signed the Time to Change Employer Pledge, committing to change the way we think and act about mental health.
But more still needs to be done.
Lives are becoming increasingly busy, pressure is high both in and out of the workplace and people aren't having as many meaningful connections.
We hope our new partnership with Mind will help address this, but we know we can't do it alone. To make a real difference in fmcg and beyond, we need the industry to come together and get involved.
We've already committed to supporting the opening of new Mind hubs around the country and training hundreds of new mental health champions, and we'll be unveiling new research that will delve into the nation's attitudes to talking about their problems.
Importantly, our in-store partnerships with multiple retailers and 7,000 impulse and convenience outlets will be key in helping us amplify the campaign's message in a sensitive and meaningful way. We have had fantastic support from our retail partners on the initiative and truly believe together we can make a genuine impact.
Some may question what right a biscuit brand has to run a nationwide campaign on mental health, but we think it is, in fact, a brilliant fit.
For a start, it's likely that people have been holding conversations over a cup of tea and a biscuit – in the UK at least – since the mid-17th century, so we've hardly reinvented the wheel here.
And isn't it great to think that a message so simple as 'Let's Talk' could make a real difference to many people's lives?
Whether it's by supporting our campaign with Mind or by creating their own programmes, we hope others in fmcg will seize the opportunity to put an end to the stigma around mental health.