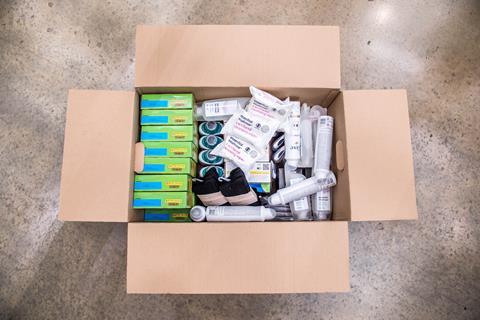 The packages include essential toiletries, snacks, tea, coffee and socks
John Lewis Partnership, in conjunction with the British Medical Association, is to deliver care packages to mental health trusts across the country as work continues to battle the coronavirus crisis.
Mental health trusts in the UK are under substantial pressure caring for patients, many of whom are Covid-19 positive or have been struggling to cope with self-isolation.
The care packages from JLP are designed to ensure healthcare staff have the supplies they need during a long shift.
In total, the John Lewis Partnership will have delivered 1,400 boxes containing more than 100,000 essentials to 500 hospital trust locations during the pandemic. This includes care packages already delivered to UK-wide critical care and intensive care units, which will receive a second delivery later this month.
Based on advice from the BMA, the care packages include a combination of essential items, including toiletries such as deodorant, shaving foam, hand cream, antibacterial hand gel and lip balm, as well as snacks, tea, coffee and socks.
JLP also announced this morning it would donate a further £1.4m to about 3,000 local charities helping those most in need during the pandemic. This brings the total amount of support given by the partnership to local communities – primarily food banks, those supporting the elderly, homeless and those most at risk from coronavirus – to more than £2.7m.
The £1.4m will be distributed to local charities with existing relationships with Waitrose and John Lewis shops. A new fund, called 'Your Partners Through It All Community Fund', will distribute £500,000 of the money to local charities nominated by staff, with donations of £1,000, £2,000 or £5,000.
Over the next three months, £900,000 will also be distributed by Waitrose shops to local charities known to them through their established Community Matters programme.
To raise funds for NHS Charities Together, the retailer will begin selling a limited-edition china mug (priced at £8) designed in-house, online at John Lewis and in 264 Waitrose branches. All profits from the sale of the mugs will be donated.
"The John Lewis Partnership is extremely grateful for the courage and humanity of everyone in the NHS working tirelessly to fight this virus – from intensive care to mental health," said JLP chairman Sharon White. "We are exceptionally lucky to have an amazing health service open to all and this is a small token to show our thanks."
BMA council chairman Dr Chaand Nagpaul added: "A deed such as this can make all the difference, and we are truly grateful to John Lewis and Waitrose for supplying healthcare professionals with essential items they might otherwise have difficulty getting hold of. We hope these care packages help ease, even a little, the stress, and bring some comfort to those doing so much for patients on the NHS frontline."