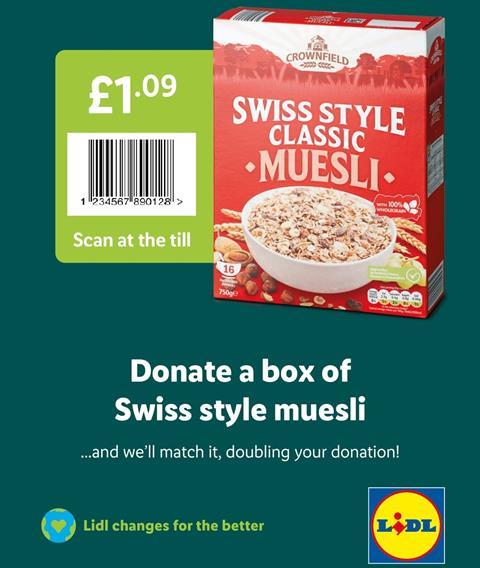 Lidl has launched a new scheme to tackle hunger through customer donations at the till, which the discounter will match.
Shoppers can donate products costing between 35p and £2.45 by having a flyer scanned along with their shopping at the checkout.
They can choose between five products – tuna, cereal, chopped tomatoes, milk or rice – and Lidl will donate the same.
The 'Teaming up to Tackle Hunger' scheme is in partnership with the community charity Neighbourly and aimed at making it easier for customers to tackle hunger in their area.
The scheme will run from 12 November to 9 December.
"The current situation continues to be very challenging for communities across the UK, which is why we are giving customers the chance to donate directly by picking up and scanning the donation flyers at the checkout," said Lidl GB CEO Christian Härtnagel.
"We believe it is important to listen to communities and our hope is that by offering donation flyers in store that we can give our customers the chance to help make a difference. Now more than ever it is vital that we can support communities in any way that we can."
Neighbourly CEO Steve Butterworth said: "Since early 2020, requests for help from local charities and food banks have more than doubled, so it is really important that we can continue to support isolated and vulnerable members of the community with food and basic essentials.
"By scanning one of the donation flyers as part of their weekly shop, customers will be making a huge difference to someone in their community during what can be a tough time of year for many people."
Lidl has been working with Neighbourly to distribute unsold surplus food to local communities since 2017. The 'Feed it Back' scheme has seen Lidl donate over six million meals to a network of 2,220 local charities.
The discounter also has permanent food collection points at all UK stores.