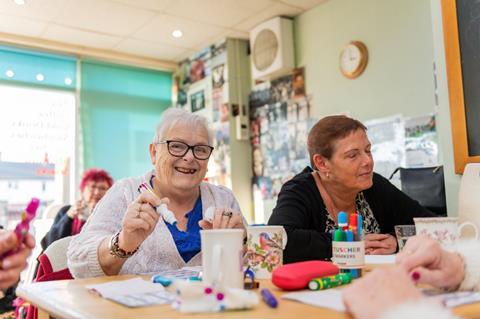 The retailers, along with Giffgaff and Danone Nutricia, are partnering with community charity Neighbourly

Over 1,200 community causes have already benefited from the Community Fund
M&S, Lidl, Aldi and the Southern Co-op are helping the vulnerable during the coronavirus crisis with a new injection of cash for community causes.
Along with Giffgaff and Danone Nutricia, the retailers are partnering with community charity Neighbourly to help projects such as food banks, homeless shelters, elderly care and youth clubs.
Over 1,200 community causes have already benefited from the Community Fund, each receiving £400 'micro-grants' in phase one of the project, which launched four weeks ago.
A newly launched phase two opens the grants up to charities and community groups supporting people suffering economically, socially or from ill health.
They can apply for micro-grants from a new fund total of £450,000, on top of the £500,000 already given in phase one, which included a donation from Coca-Cola European Partners.
M&S has also added the Community Fund as a preferred charity in its Sparks loyalty scheme, so that customers can easily add a donation at the checkout.
"We have already seen the immediate difference that these micro-grants have made, with the community causes receiving the money within days," said Neighbourly CEO Steve Butterworth.
"As lockdown continues, we want to ensure that as many eligible causes as possible benefit from the Fund, so that the most at-risk people receive urgent help."
Caroline Henderson, founder of Food and Friendship in Brighton & Hove, one of the organisations to already benefit, said: "We've been significantly impacted by Covid-19 and the donation has enabled us to buy equipment needed to convert our lunch club to a delivery service providing hot meals to very isolated and vulnerable people."
Nutricia MD Gustavo Hildenbrand said: "Looking after the elderly and those at risk in our community is at the heart of what we do as a business, and this has never been more important. That's why Nutricia is proud to make this further contribution to the Neighbourly Community Fund, helping local groups who are doing an amazing job of serving the most vulnerable in our communities during these difficult times."
Phase two sees Giffgaff and Southern Co-op backing the fund for the first time.
Southern Co-op will make a donation for each member vote cast in its board of directors vote this year.
The National Emergencies Trust is also a supporting partner of the Community Fund.