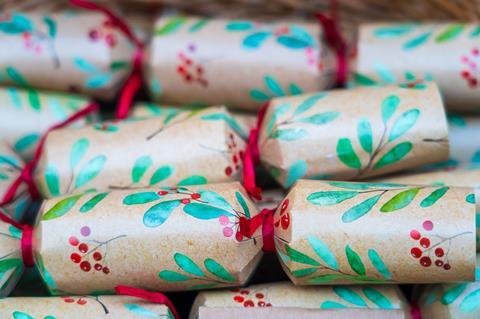 M&S is looking to raise £1,000 to help support hospices over the festive period through Christmas crackers featuring jokes from famous comedians.
The retailer has teamed up with 12 well-known comedians to create Christmas crackers to raise funds for children's hospice charity Together for Short Lives.
The crackers feature the favourite jokes of Dawn French, Paddy McGuinness, David Walliams, Keith Lemon and Omid Djalili, amongst others.
M&S is aiming to raise the £1,000 for the charity through profits generated from the Christmas crackers, which are sold at £15 for 12.
It is encouraging customers to donate to the fundraiser by texting LAUGH 5, or the amount of their choice, to 70470. Shoppers can also get involved by posting their own Christmas cracker joke on social media using the hashtag #GiveLaughLove or selecting Together for Short Lives as their chosen charity for their Sparks loyalty card account. This allows cardholders to trigger 1p donations to the cause each time they swipe their card at an M&S checkout.
"We are so grateful to Marks & Spencer and their loyal customer base for all the amazing ways they are helping children's hospices this Christmas," said Andy Fletcher, CEO of Together for Short Lives.
"Whether you're grabbing a festive bite to eat, sending Christmas wishes to family and friends with M&S's charity cards or pulling one of 'The World's Funniest Crackers' over the dinner table – please know that you are helping thousands of families, who rely on their local children's hospice, to live, laugh and love at Christmas time and beyond. 2020 has been a year like no other – and for families caring for a child with a life-limiting or life-threatening condition those underlying feelings of fear and isolation we've all experienced have really been amplified."