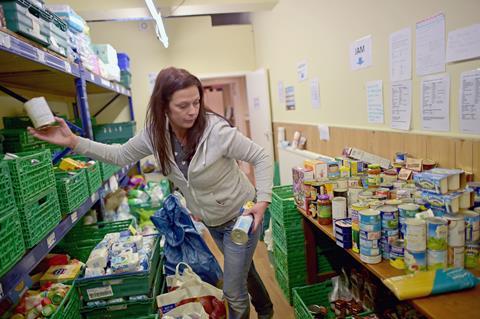 Morrisons customers have raised more than £500,000 to support food banks under a partnership launched at the start of the pandemic.
Under a deal set up in April 2020 with the Trussell Trust, customers have been able to add one of three pre-set donation amounts – £3, £5 or £10 – to their shopping bill in support of the charity.
The donation was added by Morrisons last year as a way of allowing customers who were unable to get into a physical store because of self-isolation to continue to help food bank centres.
The Trust today said over 1,300 food bank centres in the network had benefited.
In the past year its food banks have distributed a record 2.5 million emergency food parcels to people facing crisis, a 33% increase on the previous year, with 980,000 of those going to children.
Throughout 2020 and 2021, Morrisons has committed to donating £15m worth of products to local food banks and community groups, and a scheme has also been running on the supermarket's food boxes website. Customers can buy a £10 virtual food box to send to one of 50 food banks in the Trussell Trust network.
"We're overwhelmed by the generosity of Morrisons customers and are incredibly grateful for their support over the last year," said Sophie Carre, head of corporate partnerships at the Trussell Trust.
"Thanks to their generous donations, food banks in our network have been able to continue to provide emergency food and additional support for thousands of people in crisis. This support has also allowed us to keep working towards a UK where people don't need to turn to a food bank for food, where everyone has enough money to afford the essentials. We are proud to work together with Morrisons and its customers to achieve our goal of a hunger-free future."
"Throughout the pandemic, Morrisons customers have been determined to make sure no one was left behind," added Morrrisons CEO David Potts. "Even though this last year has been hard for everyone, our customers have been resolutely selfless and generous, regularly donating food at the drop-off points in-store, online via the food box site or as part of their online shop. The £500,000 our customers have raised so far for the Trussell Trust is an amazing achievement and will provide emergency food and support to the people in our community who really need it."