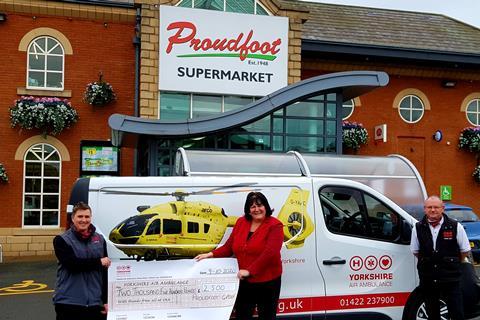 Scarborough-based retailer Proudfoot has raised £2,500 for Yorkshire Air Ambulance through the sales of its 5p carrier bags.
The funds were raised across its four supermarkets based in Newby, Eastfield, Seamer and Manham Hill over the past year.
It will contribute to the £12,000 needed per day to keep the charity's two emergency response helicopters maintained and operational.
One is based at Nostell Air Support Unit, near Wakefield and the other at RAF Topcliffe, near Thirsk.
The service currently attends more than 1,500 incidents a year – an average of five incidents per day.
"We would like to thank Proudfoot Supermarkets and their customers for their support and generosity," said Yorkshire Air Ambulance East Yorkshire regional fundraiser Rob Scott.
"This year, the Yorkshire Air Ambulance has lost approximately £420,000 in fundraising income due to the pandemic.
"It costs £12,000 a day to keep both of the Yorkshire air ambulances maintained and in the air and the £2,500 received from carrier bag sales will help greatly towards the vital funding of our service."
Every year, Nisa retailer Proudfoot Group supports four local causes with the proceeds raised through the 5p carrier bag charge in its stores.
This year, it raised £2,500 each for Scarborough Disabled Swimming Group, Wetwheels Yorkshire and Girl Guiding Scarborough, as well as the Yorkshire Air Ambulance.
Proudfoot will continue to raise funds for good causes via the carrier bag charge and look to make a further four donations as a result in 2021.
In addition, Proudfoot stores have supported local causes with more than £67,000 raised through Nisa's Making a Difference Locally charity.