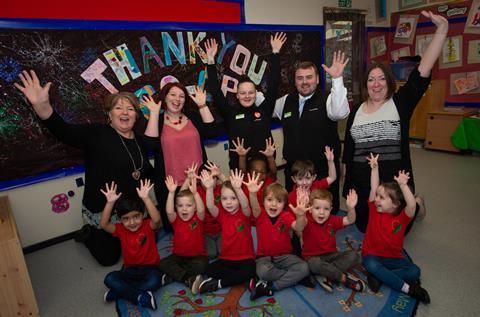 A Southern Co-op store has helped a local pre-school replace a broken boiler with a £1,000 donation.
Little Oaks Pre-School Frimley was left with only cold running water after one of their boilers stopped working in December.
A £1,000 donation from The Co-operative Food Camberley enabled the school to replace the boiler during the Christmas holidays.
"We first started supporting the pre-school after I read in a newspaper article that they'd been burgled in 2018. There was a lot of damage and, because they are a charity-based school, getting funding is quite difficult for them," said Ben Garbutt, former store manager at the Frimley Road Co-op branch.
"When I went down and met some of the children, I saw how lovely it was and what a great team they were. So last year we selected them as our charity partner, which involved holding fundraisers for them and helping them with their own events.
"They don't get a lot of funding so they were very excited when I told them we would be donating £1,000 to help with the new boiler.
"I am a father, so I know how important early learning is for children at that age. I am glad the money has gone to such a good cause and I hope I can make the same difference at my new Southern Co-op store in Aldershot."
Thanks to the help of co-operative customers and colleagues, a further £1,000 was also raised for the pre-school during 2019.
The donations were part of Southern Co-op's community engagement programme 'Love Your Neighbourhood', which aims to help communities become greener, healthier, safer and more inclusive.