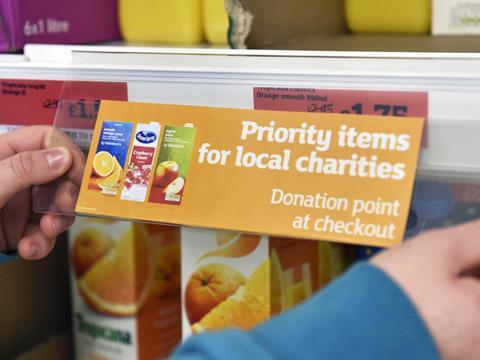 A petition has been launched urging supermarkets to highlight the products food banks most commonly need.

Following Sainsbury's introduction of an initiative in November 2018 to install signs in its stores alongside most-needed items, more than 104,000 people have signed the petition encouraging other supermarkets to follow suit.

The petition, published on 38 Degrees, addresses the CEOs of Tesco, Asda, Morrisons, Co-op, Aldi, Lidl and Waitrose, calling for them to roll out the initiative in their stores.
The scheme at Sainsbury's was designed by 13 National Citizen Service (NCS) graduates, who were tasked with coming up with a way to highlight priority products for food bank donation. The teenagers noted customers only saw food bank donation bins after finishing their shop, when it was too late to influence their shopping choices.

Sainsbury's trialled the on-shelf labels at its Exeter branch before extending the strategy across its store network in December 2018.

"While food banks should not need to exist, it is clear that nudging customers to donate with food bank-friendly labels can really impact the quality and quantity of products available for those in need," NCS Trust chief marketing and sales officer Miriam Jordan-Keane told the Grocer. "We couldn't be more proud of this group of young people and we truly hope there's more to come from their simple, innovative idea."