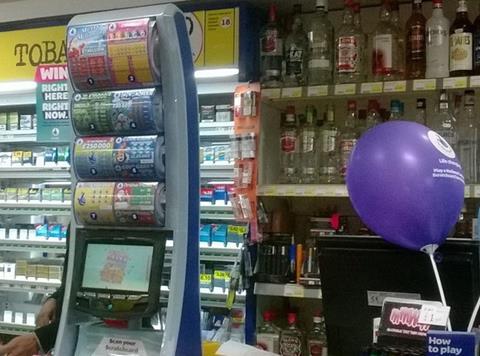 Camelot is rolling out 10,000 new standalone Scratchcard terminals this year as it looks to tap into the growth of Scratchcard sales, which have more than doubled in the past eight years.
The UK-wide rollout – which started this month and will continue throughout the year – follows the success of an 18-month pilot in which around 500 outlets sold Scratchcards as a standalone offering, Camelot said.
The new terminals will be equipped with a media screen and customer-facing Scratchcard dispenser.
"We know that, even after our hugely successful rollout of 8,000 terminals in 2012 – which offer the full range of National Lottery products – there is still huge but unsatisfied demand for National Lottery Scratchcards," said commercial sales director Duncan Malyon.
"These new outlets will help us meet that demand, by making the most of Scratchcards' unique position as an impulse product. The results of the pilot have been very positive, with sales being highly incremental."
He added: "Crucially, thousands more retailers will benefit from becoming a National Lottery outlet – resulting in more footfall and commission for them, even greater access to the category for our players, and significantly more money for National Lottery projects the length and breadth of the UK."
The new terminals will bring the total number of Camelot terminals up to 47,000.
Retailers interested in becoming a National Lottery Scratchcard outlet can register online.