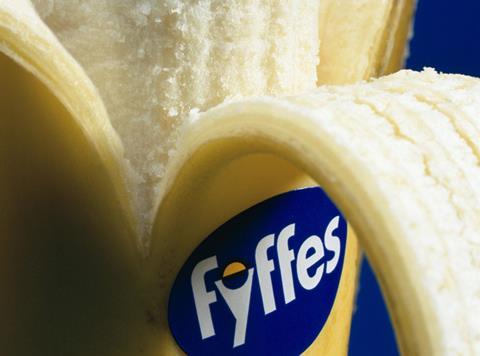 Chiquita and Fyffes are set to merge in a $1bn (£600m) deal that will create the world's biggest banana business.
ChiquitaFyffes will be headquartered in Dublin and listed on the New York Stock Exchange. The new company will sell more than 160 million boxes of bananas a year and will have a combined equity value of $1.07bn, with annual revenues of about $4.6bn and 32,000 staff in more than 70 countries.
About 50.7% of the new company will be owned by current Chiquita shareholders, with 49.3% to be owned by Fyffes. The Chiquita and Fyffes consumer brands will continue to exist separately.
Chiquita CEO Ed Lonergan said the merger was a "natural strategic partnership" for the two companies. "We know Fyffes well and our shared heritage will help to ensure a smooth integration as we work to bring best practices across geographies and business units to achieve substantial operating efficiencies."
Chiquita and Fyffes estimate "operational synergies" could amount to at least $40m by the end of 2016.
Fyffes executive chairman David McCann added: "We believe we will be able to use our joint expertise, complementary assets and geographic coverage to develop a business that can run smoothly and efficiently to better partner with our customers and suppliers ."
Beyond bananas
The merger would create the world's largest banana business, but would also give both companies additional scale in other fresh produce categories, the two companies said.
ChiquitaFyffes would continue to operate in the packaged salads and healthy snacks categories, and would be the number-one importer of melons in the US and the third largest global distributor of pineapple, they added.
Both companies stressed they would continue to be committed to sustainability and environmental best practice, and would add "additional organic, Fairtrade, GlobalGAP and Rainforest Alliance-certified capacity".
Chiquita and Fyffes said they expected their deal to close before the end of the year. The lead financial advisers on the deal are Goldman Sachs for Chiquita and Lazard for Fyffes.