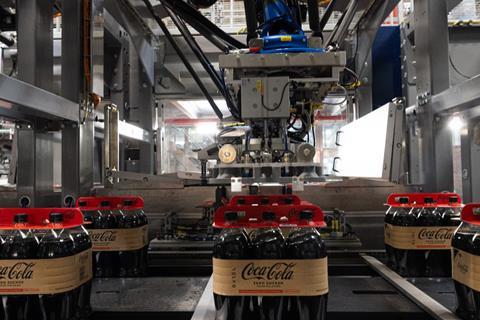 Coca-Cola is trialing new packaging it says could signal the death knell for large multipack bottles packaged in plastic shrink-wrap.
In a world first as an alternative to 1.5-litre multipacks of Coca-Cola, Fanta and Sprite, the company is piloting a 100% recyclable reinforced cardboard carrier and recyclable paper wrap, which is being trialled in Austria, ahead of a wider rollout if it is seen as a success.
It hopes the move will be similar to the introduction of cardboard carriers for cans, which kickstarted the beginning of the end of shrink-wrap packaging for smaller and lighter drinks.
Coca-Cola HBC and its manufacturing partners have been working with scientists for more than three years to develop and refine the new form of carrier, which is able to support the weight of a six-pack of 1.5-litre bottles, or around 9kg.
It is estimated that the rollout in Austria of the new secondary packaging – called LitePac Top – will save about 200 tonnes of plastic a year and significantly reduce production energy costs.
Marcel Martin, CCHBC's chief corporate affairs and sustainability officer, said it was an important milestone for the company, which is aiming to be net zero by 2040.
"This is the first-ever packaging solution of its kind for 1.5-litre multipacks of Coca-Cola, Fanta and Sprite," he said.
"It's the result of our entrepreneurial mindset, an absolute belief in collaborating with trusted partners and our focus on reaching net zero emissions by 2040."