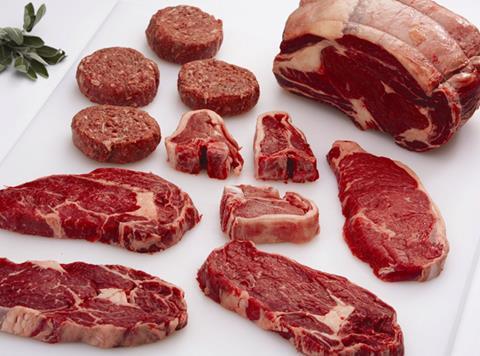 High meat prices helped Tesco meat packer Hilton Food Group increase its UK sales by 11% in 2013 despite a fall in volumes following the horsemeat scandal.
Overall UK volumes were down by 1.5% for the year, although the company said it returned to volume growth in the second half of 2013, as the effects of Horsegate started to tail off. No products packed by Hilton were implicated in the scandal.
CEO Robert Watson said he expected meat prices to stay relatively high in 2014, but the gap between inflation and meat prices was likely to narrow. "I don't think we'll see a drop in meat prices; just not such a large gap."
Hilton struck a new five-year deal with its sole UK customer, Tesco, in December, and now plans to invest £20m in a fourth production unit at its Huntingdon plant. Watson said Hilton had already upgraded its mince facility at Huntingdon, and the new unit would "further increase our capacity and help with efficiency".
Hilton also saw scope to increase its venison and veal packing, and expand its activities in the ready-to-cook sector, Watson said. Consumers continued to be value-conscious and were becoming increasingly concerned about food waste, which was likely to lead to more meat lines moving into skin packs, as those offered longer shelf lives, he added.
Hilton has not said by how much its new contract with Tesco will increase its UK volumes, but Shore Capital said in a note the deal was "expected to substantially increase volumes through 2014, building to a 40% above current levels over time".
Across the Hilton group, revenue increased by 9.1% to £1.1bn in 2013, with operating profit down marginally from £26m to £25.8m, reflecting start-up costs in Hilton's new Australian business. Bottom-line profit for the year was £19.4m, up 2.4% from £18.9m in 2012. More than 70% of Hilton's sales now come from outside the UK.
"Benefitting from the new contract with Tesco in the UK and the expansion of the activities of Hilton's joint venture in Australia, Hilton's medium-term growth prospects are encouraging," Watson said. He warned, however, that the shorter-term economic outlook in some European markets remained challenging, adding "2014 is likely to feature both comparatively high prices for meat and muted consumer spending, despite an improving overall economic outlook in some countries".
Analyst reaction
Panmure highlighted Hilton's unexpectedly strong cash flow, which meant the company had moved from a net debt to a net cash position of £4.9m in December 2013. "This is Hilton's first net cash position since IPO," it said. Although Hilton's investment programme in the UK and in Sweden would return the company to a net debt position by the end of 2014, "the balance sheet clearly has significant capacity to support further business expansion as opportunities arise", it added.
Numis said Hilton's full-year results showed the company was "nicely on track". "Markets in Europe remain challenging, but this should not surprise," it said, adding Hilton remained fundamentally in a "very sound situation".
Shore Capital reiterated its 'buy' recommendation for Hilton and said "the future remains bright" for the company in the medium term.