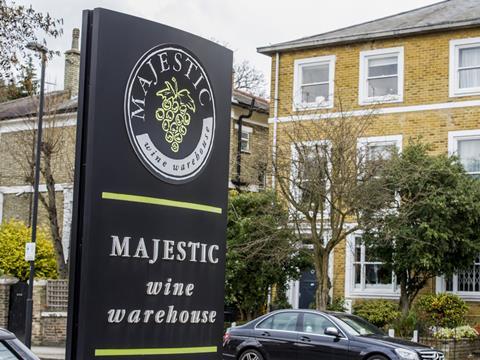 Specialist wine retailer Majestic reported "marginal" decline in sales in store during 2013, while its online growth also slowed.
Like-for-like sales across its national store network fell 0.1% in the year to 31 March 2014 following a slow start to the year, it said.
Online sales growth slowed to 5.8%, compared to 14.7% the previous year. E-commerce, one of the retailer's key pillars for growth, now accounts for 11.4% of the retailer's overall offering, up 0.3% on this time last year, but the company is planning to grow this to 15% within five years.
Total sales grew 1.4% to £278.2m, driven by Majestic's commercial business-to-business division, which grew by over 20% to £37.3m, and fine wine sales, which increased by 19.7% to £18.7m.
Profit before tax also grew, up £0.1m – better than many City analysts had anticipated following March's profit warning. The company also increased its market share by 0.1% to 4.2%.
CEO Steve Lewis said the retailer had made good operational progress over the year despite tough trading conditions and had delivered a "solid" performance.
"We are confident that we can take advantage of this market opportunity by our ongoing investment in new stores, developing our staff, technology and central facilities," said chairman Phil Wrigley. The numbers demonstrated Majestic's ability to both hold share in a challenging environment as well as its growth potential, he said.
This may result in "flatter profit growth" he added, due to the short-term costs of moving to a new head office in May and taking on a larger distribution centre in Hemel Hempstead, which will come on stream at the end of June.
The company opened 13 new stores during the year, and said it was on track to having 330 stores by 2021.