What do you know about One Stop? If the extent of your knowledge is that it's a convenience store chain owned by Tesco, you're probably not alone.
Despite having more than 700 stores, and racking up sales of more than £720m in the year to 23 February 2013, One Stop is grocery's best-kept secret. So little is known about the retailer that even people at Tesco didn't know about it when chief executive Tony Reed took the helm in early 2011.
"When I joined, it was a bit of a secret externally but, actually, within Tesco it was as well. People often said 'so what's One Stop?'" the down-to-earth, no-nonsense Reed admits.
"If owners let us do the buying, we can teach them how to be better retailers"
But that perception is changing. In April last year, One Stop stunned the industry by laying out plans to move into franchising. Since then, there's been a steady stream of news from the chain: the acquisition of 33 stores from Spar retailer Alfred Jones, breaking through the 700-store barrier and the launch of an app.
And that's just for starters. "We've got strong plans going forward and we're going to get bigger," promises Reed, in his first interview with the trade press. So how does he intend to turn the chain that he describes as "very hard-working, very agile and very nimble" into the UK's leading c-store operator?
Reed came on board at One Stop in March 2011. A Tesco lifer, he had managed the retailer's biggest stores, but was "thrown in the deep end" just after the Office of Fair Trading gave the green light to One Stop's acquisition of indie chain Mills Group.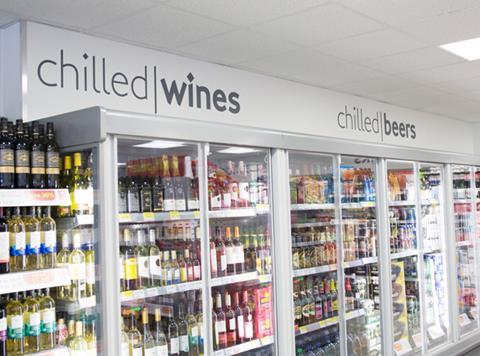 "What I found when I joined was a gem of a business that was very well run and doing OK," Reed recalls. "There was a lot of good in it and I wanted the business to grow."
Fast-forward three years and Reed is now turning to indies to realise those ambitions. After a pilot in five stores in England and Wales, One Stop has now officially launched its franchise model and is aiming to add a further 15 to 20 stores by the end of February.
Pilot store profits
"We've probably been working on it for the past 18 months to two years," Reed says. "There are roughly 20,000 symbol stores and 15,000 unaffiliated stores out there. That's 60% of the c-store market that we're not in.
"Once we decided to do it, we had a good look at the models already out there and tested our own. We piloted five - in a CTN, Post Office, convenience stores and a new store. Behind the scenes we've also been building the business, putting the infrastructure in place, recruiting a team, opening a new office and gaining accreditation from the British Franchise Association. All that takes time. We didn't want to rush it, but now we feel ready."
Trading in the pilot stores speaks for itself. Sales have increased 60% on average and profits are "significantly up", store owners have told Reed.
Snapshot
Name: Tony Reed
Job title: CEO, One Stop
Born: Lambeth, South London
Lives: splits his time between the Midlands and Hertfordshire
Family: Married to Sarah. Two children - Laura and Marc
Career: A Tesco lifer, Reed joined Tesco as a shelf-stacker at its Brixton store on his 15th birthday in 1978. He worked his way up through the business holding a number of roles including store director, commercial category director for bakery and MD of superstores north. He took on the One Stop role in March 2011.
Hobbies: Reed is a keen sportsman. He cycles, plays golf and supports Chelsea.
Charity work: Reed has raised over £70,000 for Action Medical Research For Children through charity cycling. However, he has been unable to cycle for six months after a crash during an event in August, when he broke his collarbone and fractured his hip and ribs.
"We've freed up the owners' time so they can serve their customers better rather than having to go to their cash & carry," Reed adds. "We asked them 'do you want to be a retailer or do you want to be a buyer?' If they let us do the buying, we can teach them how to be better retailers. We genuinely believe we can help indies grow their sales and profits and run their stores better." Franchisees have to commit to buy 95% of their stock from One Stop. With this comes One Stop's prices and industry-envied special offers - something Reed says benefited Mills and Alfred Jones stores. When those stores were bought, prices were reduced 20%-25%.
When One Stop's franchise plans were first announced in April, some independents expressed concern that One Stop would be telling franchisees how to run their stores, but Reed says this is a "misconception".
"It's their shop," he insists. "We can recommend, but we don't tell them what to do. We want the franchisees that are in it for the long term, who will work with us and challenge our teams to do a better job - to get cheaper, to get the right range or to simplify the model. We're getting a lot from them as well."
Reed won't reveal how many franchise stores he would like One Stop to have in the future, because he insists it's the quality of the stores, not how many it has, that will matter in the long run. But he does admit its current pipeline is in double figures and growing all the time.
The franchise model is an exciting development for One Stop, but there's been lots of other activity at the c-store chain. One Stop was created in 2003 when Tesco acquired T&S Stores in a shock £377m deal. Over the next three to four years it sold off the Dillons and Supercigs part of T&S and converted a large number of the remaining stores to Tesco Express. One Stop was left with about 500 stores. It stayed around that size until 2011, when the Mills Group deal was approved.
"The Mills deal gave the business a real lift," recalls Reed. "We'd finished the Tesco Express conversion programme, but hadn't grown much since then. Suddenly, 76 more stores came in and the whole business wanted to prove it could run them really well."
And it did. The stores were converted to One Stops in 90 days at a rate of about five a week. In the first year, like-for-likes rose 20%. All the stores are still trading today and making a profit, Reed says.
Acquisition trail
In September last year, One Stop was given clearance by the OFT to acquire 33 Alfred Jones c-stores. It has already converted 24 of the stores in just 30 days and sales are 30% up.
"Since Mills, we've only bought 20 to 25 stores a year but behind the scenes, we've been working with people like Alfred Jones. We worked on the Mills deal for a year and on Alfred Jones for two years. If both parties think there's an opportunity, then you've got to stick at it. There were many times when we thought it was too hard, but we like doing hard things."
"We enjoy the skill Tesco has - its ways of working, the scale benefits and being part of a bigger group"
Even though Reed admits opportunities for acquiring chains are dwindling because there are fewer c-store businesses around, he's always on the lookout.
"If something is available and we think it is viable then we'll have a look at it. The business is very disciplined about how it spends its capital. We're accountable for achieving the right returns on investment. Disciplined capital spend is in the DNA of One Stop."
This business strategy comes back to One Stop's ownership because, Reed says: "if the business doesn't perform, you can't expect Tesco to invest."
Tesco's ownership of One Stop is something of a sticking point for many in the industry, with accusations of Tesco using the chain to increase its presence in the c-store sector by stealth. It's even been labelled a 'Tesco shadow brand'. But Reed insists these accusations are completely unfounded.
Tesco backing
"We don't hide our ownership and Tesco isn't afraid to acknowledge us," he says. "Tesco has a history of investing in businesses - Dobbies, Giraffe, Blinkbox, Harris + Hoole, Euphorium. We're proud we were the first - a template so it could go on to buy other businesses."
He adds that One Stop is a completely separate business to Tesco, although he has a "couple of calls" with Tesco HQ a week and updates on quarterly performance. Indeed, Reed argues Tesco Express is One Stop's second-biggest competitor after The Co-op.
"Tesco Express and One Stop are different businesses. Expresses are bigger they have a different sales mix they trade more on the high street and in more mid to upmarket areas. One Stops are smaller, have a sales mix that reflects its CTN heritage, and are generally in low to mid-affluent neighbourhoods."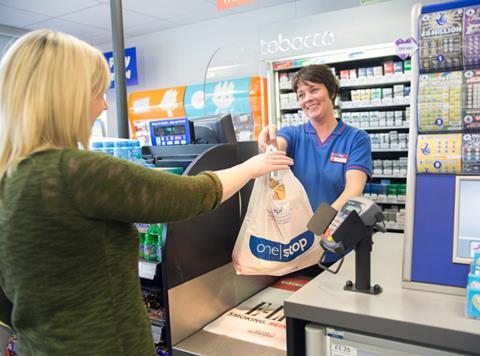 Although rivals may see it otherwise, Reed believes having Tesco on his back is a good thing. "We enjoy the skill Tesco has - its ways of working, the scale benefits and being part of a bigger group," he says. "It's a nice balance between being supported and helped, but also being allowed to do your own thing."
And One Stop intends to do its own thing in a big way in 2014. It has a number of new company-owned store openings in the pipeline and "further expansion plans". Chilled and fresh ranges, which have been steadily extended in recent years, are also set to grow further, and its own-label range has just been given a makeover.
But for Reed, the key to any future plans are his colleagues - all 10,000 or so of of them. Throughout his career he has mentored and coached staff, and has been a key supporter of women's leadership programmes and Tesco's global graduate programme.
"We are really sensitive of the people who join us, especially those coming from Mills Group or Alfred Jones, because they're nervous. They've never worked for a big business and everyone asks the question 'is my job going to be safe?'" he says.
"It's a big company, but it doesn't feel like one. The team feels like they can contribute to the thinking and priorities. And they feel they've got the freedom to react to whatever occurs. It has a real can-do attitude."
'Can do', and now 'can talk'. The secret's finally out, so expect to hear a lot more from One Stop in the future.