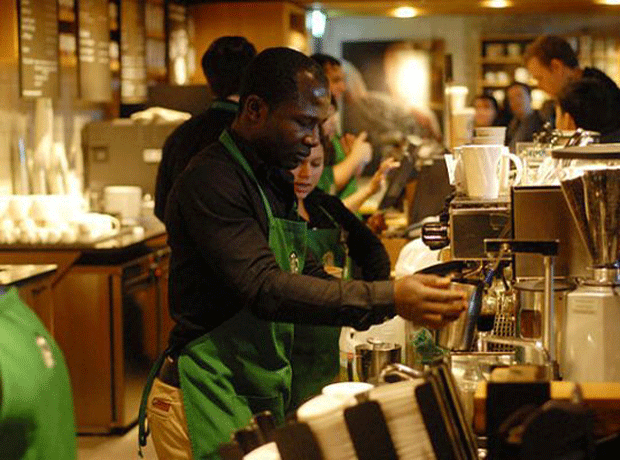 Starbucks UK has said it has no plans to switch its milk supply to 100% organic following calls for Starbucks US to ditch conventional milk to ensure GM-free milk supply.
The coffee giant has been urged to use only organic milk in its stores by US-based NGO Green America, to ensure that none of the milk it uses comes from cows fed a GM diet.
Organic cows are not allowed GM feed in their diet.
"We keep all aspects of our business under regular review and our milk supply is no different. At this current time we have no plans to change our milk," said Simon Redfern, director of corporate affairs for Starbucks UK.
Arla Foods, which supplies Cravendale filtered milk to Starbucks for use in its UK stores, confirmed that Cravendale was "conventional milk" and therefore came from cows whose diet was not guaranteed to be GM-free. "Only organic milk is guaranteed to come from cows not fed GM feed," said an Arla spokeswoman.
The call for Starbucks to switch to organic milk is part of Green America's ongoing GMO Inside campaign.
The campaign has already seen some success after General Mills announced in January it would start labelling its original Cheerios as containing no GMO ingredients. The announcement followed a Green America 'No GMOs, Cheerios' social media campaign launched last year.
"Starbucks already serves soy milk that is organic and non-GMO. Consumers also deserve dairy milk held to the same standard and level of quality," said Green America's GMO Inside campaign director Nicole McCann.
Green America claims a switch to organic milk by Starbucks is "commercially feasible" on the basis that Pret A Manger, "another quick service food and coffee chain" already commits to serving organic milk and "sells coffee at competitive prices", it said.
"The age of transparency is here and I expect Starbucks will shortly realise it's in its best interest to eliminate GMOs from its supply chain," said GMO Inside co-chair John W Roulac.
Green America claims to be "the nation's leading green economy organisation".