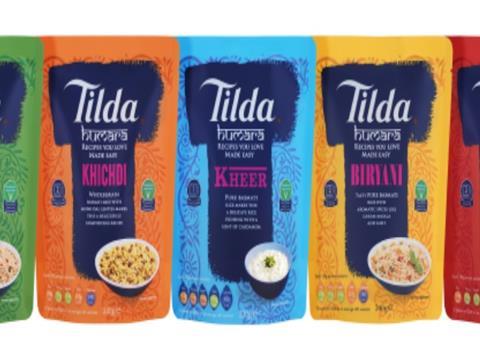 Hain Celestial – owner of brands including Ella's Kitchen and Hartley's Jam – has acquired UK rice supplier Tilda.
Credited with being the first company to bring basmati rice to the Western world, Tilda was founded by the Thakrar family in 1972 and started out by selling basmati to the Asian community who had immigrated to the UK in the late sixties and early seventies.
The company now supplies more than 50 countries and generated around $190m (£116m) in net sales last year. Nielsen data puts Tilda's UK retail sales at £61.9m, up 6.6% year-on-year [52 w/e 18 October 2013].
Tilda director Shilen Thakrar said the business needed to join with a company with the size and scale of Hain Celestial to realize the full potential of its rice brands.
"We have an enviable reputation for continuous innovation and have brought many successful new products to the market," he added. "The global market for basmati rice has grown strongly over the last several years. At the same time, the growth in the ready-to-heat market has also been strong."
Hain Celestial planned to grow the Tilda brand further using its existing distribution platform in the US, Canada and Europe, said Hain Celestial founder and CEO Irwin D Simon. Tilda's existing markets in the Middle East, North Africa and India would give Hain Celestial routes to expand its global brands including Earth's Best, Ella's Kitchen, Rice Dream and Almond Dream, he added.
"Tilda is an important part of Hain Celestial's worldwide expansion to offer organic and natural products to a global consumer base," said Simon.
Hain acquired Premier Foods' jams, jellies and spreads business – including Hartley's, Sun-Pat peanut butter and Robertson's marmalade – in 2012, and last year bought organic babyfood brand Ella's Kitchen.