This article is part of our 2016 Confectionery digital feature
Despite sugar's status as the enemy in today's market, its most obvious stomping ground - confectionery - has returned to growth after a troubling 2015 with sales up 1.6% [Kantar Worldpanel 52w/e 31 May 2016]. So, which formats are driving this? We've teamed up with Statista to find out.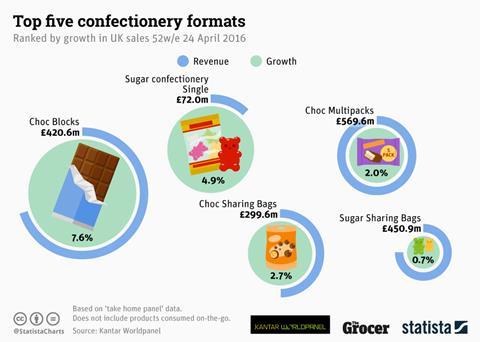 "The blocks and sharing bag formats are driving the growth of the chocolate sector with growth of 7.6% and 2.7% (take-home) respectively," says Kantar Worldpanel analyst John Walker. "Some of this trend can be linked back to the increase in people consuming confectionery in front of the TV in the evening with this rising from 18.6% to 20.3% over the last couple of years."
Among the worst performing formats this year are chocolate singles, chocolate biscuit bars and gum multipacks, which may have suffered from retailers' 'healthy checkouts' initiative. "A poor performance for singles has in part been driven by the movement of singles away from front-of-store tills to create healthier checkouts," adds Walker.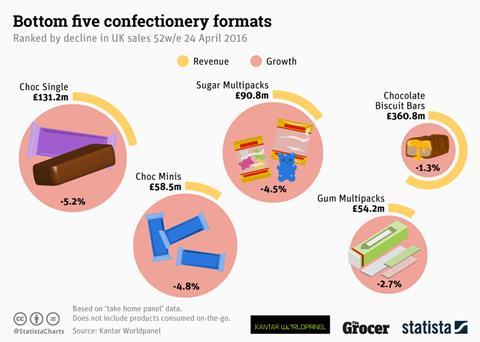 In partnership with: www.statista.com
Next article - Chocolate hit by the grocery shrink ray

Previous article - Global NPD: Can sweets really give you clearer skin?