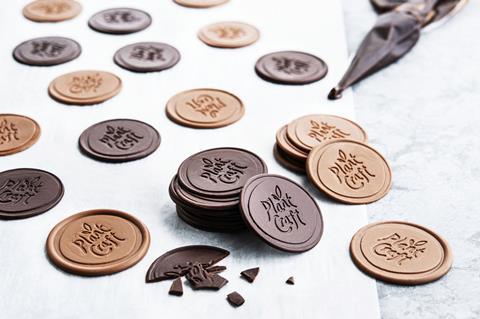 Upmarket chocolatier Barry Callebaut has created a 100% dairy-free chocolate it claims mimics "the typical milk chocolate flavour and texture".
Dubbed 'M_lk Chocolate', it is made with "an ingredient of natural origin, exclusively available to Barry Callebaut", said the brand. It is the product of two years of development.
Barry Callebaut will open a new factory in Norderstedt, Germany, in 2021, which would be "the first facility capable of supplying dairy-free chocolate to the European market, with annual production capacity expected to reach tens of thousands of tonnes", it said.
"The next generation of consumers is looking for experiences that are tasty, good for them and good for the planet. With that in mind, we aim to accompany the industry in this plant-based revolution," said Barry Callebaut chief innovation, sustainability and quality officer Pablo Perversi.
Barry Callebaut has also unveiled a full range of vegan and dairy-free products, called Plant Craft, spanning chocolates, cocoa products, nuts, nut fillings, biscuits and edible decorations.
It's the latest in a series of major launches from the chocolatier. In September 2019, for instance, it unveiled a "next generation" chocolate made from 100% of the cacao fruit, making use of commonly discarded elements such as its peel, pulp and juice.
In 2017, it made headlines when it unveiled the fourth kind of chocolate – ruby – joining dark, milk and white. Nestlé became the first big-name fmcg business to incorporate it into one of its brands when it launched Kit Kat Ruby in 2018.
Magnum has since jumped on the bandwagon, unveiling a ruby ice cream this January.