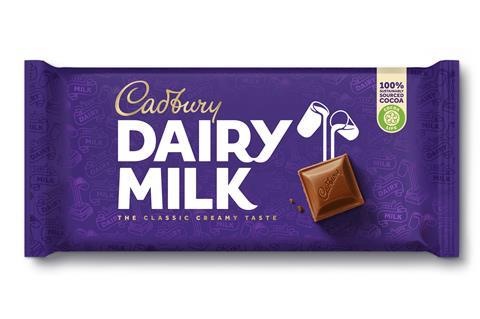 Mondelez is relaunching Cadbury Dairy Milk with a new "progressive" look.
The UK's biggest chocolate brand has been reimagined with a new logo and a redrawn Cadbury wordmark, with new packs rolling out across its Dairy Milk, Whole Nut and Caramel lines from this month.
The new look "reinforces the unique and distinctive Cadbury Dairy Milk assets and product story at a time when consumers are looking for more authentic and higher quality offerings", said Mondelez.
It "takes inspiration from the hand of the founder of Cadbury, John Cadbury, by creating a beautifully crafted signature with a more contemporary feel", it added.
The Cocoa Life logo highlighting the brand's sustainability credentials has also been enlarged.
"The new identity is grounded in the original intent behind the brand, linking where Cadbury came from with what it means to shoppers today – a truly authentic brand and great tasting, quality chocolate," said Dairy Milk brand manager Pippa Rodgers.
The move comes on the back of a stellar year in the mults for the brand: it added an impressive £68.6m to its value, rising 12% to £642m over the 52 weeks to 5 September 2020 – massively outperforming the chocolate category, which lost 1.6% of its overall value amid flagging on-the-go sales and Covid woes [Nielsen].